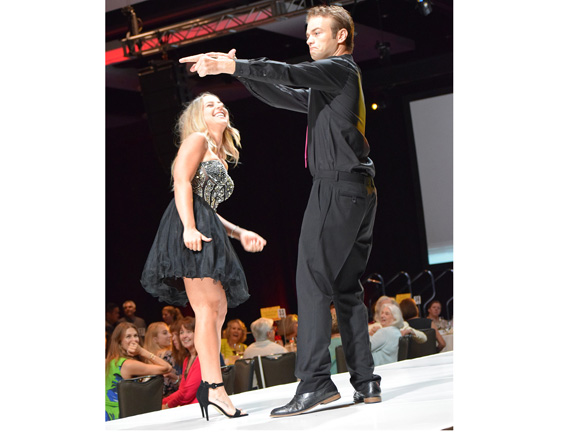 It is getting 'haute' at St. Madeleine Sophie's Center as the non-profit is hosting their annual Haute With Heart Fashion Show online through Aug. 29 to raise funds despite the ongoing COVID-19 pandemic
This year, the goal is to raise $100,000.
Development Director Joe Perucca said the school usually holds the large, annual fundraiser in person each August. In past years, the large event has featured a silent auction as well as a live auction and a grand finale where students strut down the runway in outfits featuring local designers.
"Unfortunately, because of COVID we couldn't hold the fashion show in person this year but in discussing it with our team here, we decided to host it on Facebook. And, since this is 2020, we came up with 20 days of Fashion and Fun," Perucca said.
All funds raised go toward the El Cajon-based center which offers programs for about 400 adults with varying levels of special needs as well as about 75 senior citizens who attend classes at the center.
"So far, we're up to almost $50,000. Before we even launched on the 10th, we reached out to our donors so we started with $40,000. In five days, we've raised about $10,000. You know, apart from the donations, it's so good for our students to participate in the event," Perucca said.
Each of the 20 days will celebrate the abilities and achievements of one highlighted student on the Facebook page. Anyone wanting to make a donation to the center can do so through the website at: stmsc.org
Each participating student has three posts featuring information about them posted on the St. Madeleine Sophie's Facebook page.
"The first post is sort of biographical, it might be a collage of photos or art projects the student has worked on. Then, with what we receive from the family and friends we do the next two posts," Perucca said.
He says they are fun to scroll through, with students talking about
their interests.
"You know, they have all these wonderful videos and posts and quotes,
some talk about their favorite outfits, Perucca said.
The logo for the event is based on artwork created by a student at the school, Monica Burns.
"I am so happy my flapper was picked for 20 days of fashion and fun," Monica said in a press release.
In addition to creating the online event, staff at the facility has been busy readying the site for when students are able to return in person.
"We're getting prepared, working on upkeep of all the buses and vans, we put in new cement for wheelchairs, upkeep on the garden. We have a beautiful campus with a classroom, a beautiful aquatic center with a heated olympic size pool, Sophie's Art Gallery on Main Street," Perucca said.
While the facility is closed for physical distancing efforts, a weekly social hour is being held online.
"The day of the Haute With Heart finale, we're having a fashion show online at 1 p.m. so we'll invite all our students to come on for an hour-long social hour focusing on clothing," Perucca said.
Perucca said they are optimistic the event will hit the $100,000 goal.