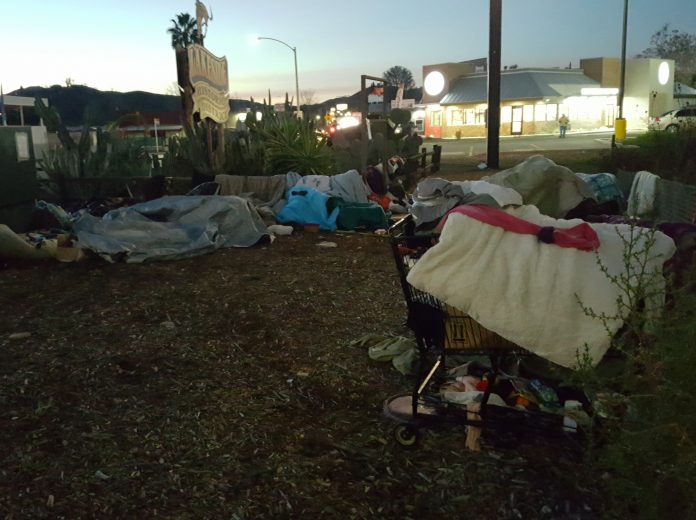 The annual Point In Time Count was held throughout San Diego County this past Friday, Jan. 25. Also known as "We All Count," the event is headed by the Regional Task Force on the Homeless and serves to document our county's homelessness once a year in an early morning, four-hour snapshot.
The goal is to bring more resources (read: money) into the region to combat the problem. Federal funds would be used to identify, implement, and support efforts to alleviate and prevent homelessness.
On the last Friday of every January since 2005, RTFH has used city and county workers in combination with community volunteers to seek out and survey the situation.
In 2018, the final numbers showed San Diego with the fourth largest homeless population in the nation, behind only New York City, Los Angeles and Seattle. An accurate counting is important and translates into a fair share of the federal money available for this region.
For purposes of this count, the county is divided into six areas. Lakeside falls into the eastern region. With 12.7 percent of the county's homeless population, it is fourth in numbers locally. Not surprisingly, the central area – Downtown San Diego – has more than half of all homeless in the county.
I volunteered for the count in an effort to serve my community and get firsthand knowledge of the homeless plight in Lakeside.
A couple of dozen volunteers showed up to help.
Our day officially began at 4:00 a.m. The Lakeside survey participants met at the Rise City Church on Woodside Avenue. We were divided into teams of two to three people, and then received our maps and forms and marching orders.
The survey form was the most important tool of the count. We had two different forms. The main form is detailed and served to identify the various issues of a person's homelessness. The second form was for observations only, for those folks unwilling to speak with us that morning. Those numbers are just as important.
We also carried a bag of packaged socks to serve as an enticement/reward for help, as well as gift cards from Starbucks and McDonalds.
We headed off into the cold dark morning.
I was paired with Terry Burke-Eiserling, a well known and very active community member, and Yvette, a county worker from the Probation Department. Our target area was Downtown Lakeside and Lindo Lake Park – a large area but one very familiar to Terry because of her work at the library there. We left our car in the park's west lot and started our search, heading south from there.
(The names of all who we encountered have been changed.)
Almost immediately we found Dana asleep on a bench near the tennis courts. Terry recognized the woman from previous contacts in and around the Lakeside Library, so there was an immediate connection which helped us in our interview. The four-page, 22-question main survey took a little time to complete, something I was concerned might have a negative impact on our ability to maintain conversation. Dana was willing, though a little groggy, and our first contact was soon done. We left Dana with a new pair of socks, a gift card to Starbucks and some peace and quiet to finish out her night.
We checked a couple of parked cars on Vine Street and found two men sleeping. One was simply waiting for his workplace to open across the street; the other was not interested in speaking with us, but did admit he was homeless. We filled out the observation form and moved on.
We saw a couple more cars in the park's south lot and found Lisa fast asleep in her truck – until we tapped on her window. I'm not sure who was more startled when she jumped up in response. After the initial scare, Lisa was very forthcoming with her situation, having lost her house to the economy and being forced to live in her truck, which makes her fearful every night. She was very appreciative of the socks and McDonald's gift card we gave her.
Our team wandered through the center of the park, but only encountered a few early morning walkers.
We found more occupied cars parked in the north lot. One man had just gotten off work and was relaxing in his car. The other man – in a motor home that is regularly seen in the lot – refused to talk to us. That was just as well, because the asphalt in front of his motor home door was covered with fresh vomit.
We found only one more person in the park – Dana's sometimes boyfriend Mark. While they usually sleep together, an argument earlier in the night sent them to neutral corners. Mark appeared sleepy but did speak with Terry.
When we headed north out of the park, we found Bob sleeping behind an electrical box on Vine Street. While it was obvious he was still intoxicated, he was pleasant and even had a sense of humor. Bob was a veteran who occasionally gets medical help through the Veterans Administration.
By this time the eastern sky was lightening up and the streets were becoming active with cars and people heading to work.
At the 7-11, we briefly spoke with a young man who denied being homeless, yet later we saw him walking into the riverbed at the north end of Vine Street. The closed and fenced car wash was clear of all humans, though it is often the site of a large homeless congregation during the day. We crossed the street and headed for the Cactus Garden.
The Cactus Garden is seen by many townsfolk as a focal point of the homeless problem in Lakeside. The little garden is supposed to welcome people into the north end of town, with its inviting "Lakeside Historical District" sign topped by an iconic cowboy riding a bucking bronco. The sign is easily seen by thousands on their daily commute along Highway 67. However, it is also an unfortunate snapshot of the homeless situation in the community. It has become a homeless headquarters of sorts, with people using the site for resting, sleeping and storage of personal items such as shopping carts, clothes, boxes, bags and the like – including all sorts of waste and waste products. Cleanup measures have been ongoing but are only temporary solutions.
The homeless also seem to use the site as a safe place, because of the high visibility and central location. Many Lakesiders are concerned with the negative message and example this sends to the public.
On this morning, we found items and personal effects stacked and strewn in and around the little garden, including Target shopping carts secured to the Caltrans fence and blankets covering that fence. We found only one person sleeping there, but we almost missed her.
Janice has been homeless in Lakeside for some time (she was unable to tell us for how long). Some know her and many have seen her – she is confined to a wheelchair. This morning, she was buried under several layers of blankets, still cold but willing to speak with us. If she had not spoken up, we would have walked right past her.
By her own admission, she is sometimes left to keep an eye on the property stored there. Her daughter works nearby, so Janice does not want to go far. Yvette bought her a cup of coffee from the Burger King and we left Janice with a gift card – which she was not sure she would even get to use, believing one of her fellow homeless would steal the card for themselves.
While talking with Janice, we saw three "Major Cleaning" notices that had been posted there by the County. While no date was noted, the general rule is that these notices must be posted 72 hours prior to a planned cleanup. The sheet announced, "area cleaning will commence at this location (listed as Mapleview at Maine) on January 25, 2019."  It warned that all personal belongings, including bulky property, must be removed before January 24 – an advisement that apparently had not been heeded by 6:30 a.m. on the 25th. (An area check on Jan. 27 revealed a clean site, with the exception of Janice's wheelchair and was few items stacked around it. Janice was not seen.)
We did not find anyone sleeping along Maine Avenue, though this has not always been the case.
On Channel Road, we found Tom idling his car, parked in front of the Christian Help Center. He was a young man who, after securing a job in San Diego and moving here from Arizona, found it impossible to afford a place to live. He is one of the working homeless; Tom still has his job, but must find a new place to park every night. He was surprisingly upbeat, though clearly depressed about his situation.
While cutting through the gas station at Channel and Woodside, we saw Lisa again, driving her truck through the lot. She saw and recognized us, smiling and waving and showing us a McDonald's breakfast bag she had apparently purchased using the gift card we had furnished. It was clear she appreciated the gift. One wonders what was ahead of her this day.
The last stretch we had time for was along Vine Street, north of Mapleview. This industrial and commercial area is a popular temporary parking site, as there are no residents to report the all nighters who stay here. First we found Fernando, a 70-plus year old man who lives in a parked motor home with his two large Labradors. Fernando is otherwise alone, awaiting a supposedly scheduled hip surgery. In fact, he owns a truck as well and uses that to get around town. A very talkative fellow, he obviously appreciated the little attention we gave him and followed us while we spoke to others on the street.
Two of the other parked cars were occupied but no one inside was interested in speaking with us – one drove off after we awakened him, though it took him about five minutes to get his truck started.
Finally, we spoke to three twenty-something youths – two men and a woman – in a van. Again, Terry recognized the young lady and was able to establish a rapport. One of the men claimed to have throat cancer, telling us (with some difficulty) he was unable to afford any medical evaluations or treatment. The other man turned out to be a former Lakeside resident who no longer had a place to stay other than this vehicle.
While walking Vine Street, there was clear evidence of narcotics use in the area. Syringe plungers and caps were strewn about the street gutters, though fortunately no needles or rigs were seen.
The official count ended at 8:00 a.m. Our instructions were to return to the Rise City Church to submit our forms and check out. I was personally surprised at the low numbers my team encountered – I was expecting many more. Perhaps it was the time of year – the night was cold but not freezing, something that cannot be said about many other parts of the country. Also, we were not able to canvass 100 percent of our assigned area; the size of the area and the rather lengthily questionnaire we were asked to complete slowed us down considerably.
Our final tally after a good four hours was ten full contacts and four "observed" only. Of the full contacts, ten were men and four were women. Though not part of the official count, we had contacted another four people in cars who we determined were not homeless. A couple of our people mentioned recent contacts with the Homeless Outreach Team and/or Sheriff's deputies. Also unofficially, at least seven of our contacts were with persons who frequent the community.
No raw numbers are yet available. Last year's official report was published four months after the count, in May 2018. That survey indicated 74 homeless people in Lakeside.