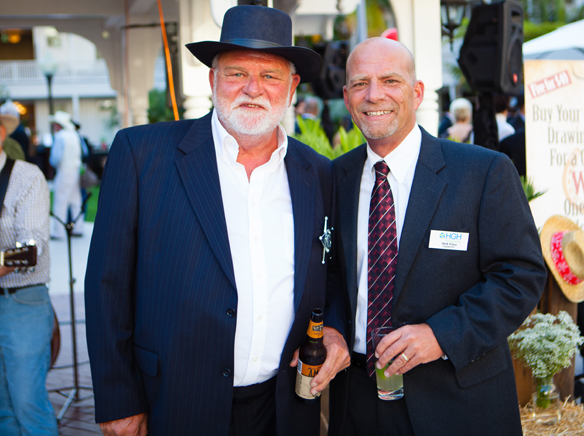 Working with infants, adolescents and adults with developmental disabilities, the Home of Guiding Hands is holding its 42nd Annual Gala on Saturday, June 11 at the US Grant Hotel, San Diego. This year's Gala Honorees are long time HGH philanthropist and supporters Jim and Jean O'Grady.
Working with infants, adolescents and adults with developmental disabilities, the Home of Guiding Hands is holding its 42nd Annual Gala on Saturday, June 11 at the US Grant Hotel, San Diego. This year's Gala Honorees are long time HGH philanthropist and supporters Jim and Jean O'Grady.
This with this year's theme, "Cabaret Rouge," the US Grant is a perfect venue for this black and red cabaret theme and always a favorite, as the HGH team, staff, residents and donors can step it up in true bohemian style. This is perfect for all involved, which are as diversified as the many programs HGH serve, and the people that it serves. This event is just one more way that HGH strives to integrate its clients into community events, and get the chance to meet the people that support the programs that enable them to have a better quality of life.
Working with HGH for nearly six years now, President & CEO Mark Klaus said although most of its funding comes from the State of California that the fundraising efforts goes above and beyond what the state does not pay for—quality of life. State requirement for its licensed residential homes are minimal, providing residents transportation back and forth to work or vocational training and depending on the residents one or two community outings. But he does not believe that rates provided by the state gives the residents the quality of life the HGH believes they deserve.
"If I only got to get out every day to go to work and get out for two days a month, that's not really a quality of life. That's more existing," he said. "And that is where the funds from the Gala go for. We report back to the Gala every year, here is where and how we spent your money. We went to Disneyland, we took residents to Las Vegas, and they had an opportunity to go to a People's First Conference, or take art classes, yoga. These are things that all of us and our neighbors do."
Klaus said State funding pretty well pays for "three hot's and a cot."
"To me, that's not living. It's those kind of things why we have our Gala. We are open, honest and accountable. That's important. We are probably one of the largest employers in East County with 676 employees, full and part time. Our payroll is $16 million plus," he said.
HGH was incorporated in 1961 and began providing services in Lakeside in 1967 with a 14-acre campus with 200 to 300 children, teens and under, and at that time the facility was considered a state-of-the-art environment. But full of stigma, and the social order in which developmental disabilities were treated then, 12 years ago it sold the campus and began buying homes in East County housing five to six residents, taking away the sterile campus style environment and giving residents the ability to live and integrate within the community.
When Klaus began working at HGH, it served around 300 people, primarily adults in residential settings and respite services. In looking at the changing demographics, asking residents and parents about their needs, HGH has seen a tremendous amount of growth.
It currently supports more than 1,600 people annually in San Diego and Imperial County. It has 34 homes that support adults with developmental disabilities, mostly four to six people homes, two in San Diego, the rest in East County.
In a collaborative effort, HGH absorbed a smaller organization and is now serving children. Now with homes for children, the youngest HGH resident at 8-years-old and the oldest resident 84.
"They live in your neighborhood, they live in my neighborhood, and if you drove by the homes you wouldn't know that they were homes for people with developmental disabilities," said Klaus, "Our goal is to provide good quality homes, good quality services and access to the community. Our mission is very simple. To improve the lives of those we serve."
Klaus said it is not up to HGH to decide what quality of life means to the residents and that they take their goals, visions and the things they want out of life to come up with programs and community interaction to help them achieve these goals. And that is something that the state does not pay for and the vision behind all of its fundraising activities.
This has helped HGH grow in leaps and bounds, now providing early intervention services for children from birth to 3-years-old. This program helps intervene by detecting early life developmental delays and disabilities. With certified teachers that go into the homes several times a week, this program's goals in family oriented.
"A parent must be present because HGH is not only working with the child, but giving parents the tools that they need to work with the child the other 12 hours a day and more, seven days a week," said Klaus. "With developmental delays our goal is that when that child ages out of the program at 3 years, that they are at or above age level. With this early intervention, children with developmental delays are at 70 percent at, above or exceeded that age level."
With his commitment in education and helping people be as independent as possible, Klaus said he knows how well this program works first-hand with his own grandson.
"They moved here when he was 1-year-old," he said. "He wasn't talking, he had a flat affect, wasn't walking or doing anything. He went through our early intervention program, he just turned 4, and I give credit to the program and the teachers that we have at HGH. They came to our home three times a week, pushed myself, pushed my wife, my daughter who is a single mom to start working with him. And with me, after being in this industry for 30 years, I thought knew it all, until then, when we needed the services. I'm at a different place."
HGH supports around 300 kids a year with that program in both counties. The Imperial County community came to HGH, needing that support. Klaus said it only made sense to move services out there, because there is nothing therapeutic in a three-hour drive for an hour of services. All of these services are provided in home and HGH believes to provide the best service is in a natural environment.
Its respite services are at around 600 now, and all staff is fingerprinted and background checked. Though the program is funded through the In Home Respite Services, with parents consent HGH can also do respite outside of home. Respite providers can take them out into the community, get them engaged in activity and community and help them in developing a personal relationship within the community and those they interact with on a daily basis.
"We still support about a dozen people that came to HGH as children in 1967," said Klaus. "HGH is the only family that some of these residents have ever known coming from a state hospital setting to what HGH has grown into. When I moved here, I looked at what HGH had to offer. It's really looking at not what we have, but what the people in our community need and want. We've expanded many programs, even transportation. Not just to work and back, or vocational program, but nights and weekends. Whether it's going to a Padres game, San Diego Zoo, prom, we have these assets that we are utilizing even more for our residents to enjoy the community."
For more information about the Gala and other ways to support Home of Guiding hands visit www.guidinghands.org.