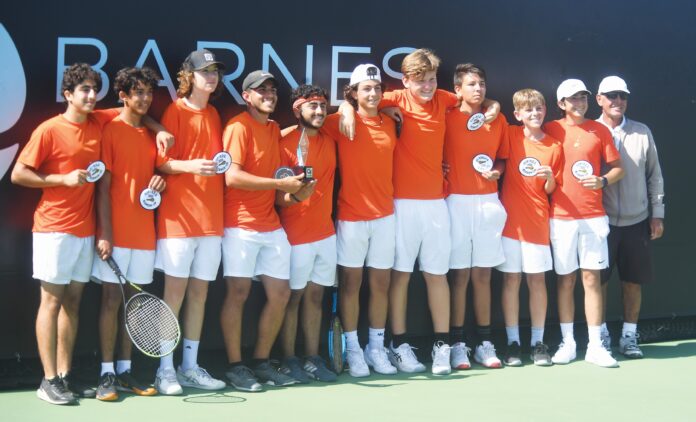 The Valhalla High School boys tennis team posted a runner-up finish to La Jolla in the 2003 San Diego Section Division II championship finals.
It's been a while since the Norsemen have returned to the section spotlight, but they did last Saturday after posting a runner-up finish to Sage Creek in the Division II championship round at the Barnes Tennis Center in Point Loma.
Third-seeded Sage Creek emerged as this year's division champion with a 12-6 win over top-seeded Valhalla.
VHS coach Don Ackerly, who has coached in the program for the past two decades, was proud of his team even in defeat.
"The guys really out-performed and out-played what I thought they would," Ackerly said. "We had a fantastic season. They're a superb group."
The Norsemen finished in a tie for second place with Santana in this year's Grossmont Hills League standings behind the regular season champion Grossmont Foothillers before earning the No. 1 seed in the Division II team playoffs.
Grossmont received the No. 14 seed in the Division I playoffs while Santana received the No. 15 seed. Both the Foothillers and Sultans lost to higher-seeded teams in the opening round.
The Norsemen, however, kept winning.
Valhalla eliminated 16th-seeded High Tech High San Diego, 11- 7, in the opening round on April 26, then defeated eighth-seeded Classical Academy, 14-4, in the quarterfinals on April 27.
The Norsemen topped fourthseeded Mission Bay, 13-5, in the semifinals on April 28 to advance to last Saturday's championship match against the defending division champion Bobcats.
The section finals were the first held in three years and the first section finals in any sport held this spring.
The boys tennis championships date to 1961 when La Jolla defeated Grossmont, 23-5, to win the first section title. The tournament is one of the oldest high school championships of its type in the country.
Valhalla left its mark on this year's tournament.
Top singles player Brandon Kassab entered the playoffs with an overall 35-22 record while No. 2 singles Jackson Juhl was 29-27. No. 3 singles Evan Knuteson was 32-27.
The No. 1 doubles team of Drake Jacques and Joe Kassab was 53-6, including 21-3 in league, while the No. 2 doubles team of Ryan Gappy and Dan Moreno was 57-1 overall, 23-1 in league.
Gus Jacques and Donovan Zeto comprised the No. 3 doubles team for the Norsemen. There were three sets of brothers on the team: Brandon and Joe Kassab, Drake and Gus Jacques and Donovan and Dylan Zeto. Ackerly had to rearrange his lineup for the championship because of a family commitment.
Doubles play exceled.
Drake Jacques and Evan Knuteson finished 2-1 against Sage Creek with a 2-6, 6-3, 6-0 showing while the tandem of Gappy and Moreno also finished 2-1 with a 6-2, 6-3, 4-6 performance. Gus Jacques and Donovan Zeto also finished 2-1 with scores of 6-2, 6-3, 4-6 against the Bobcats.
The Norsemen lost all six of their singles matches as Dylan Zeto lost 0-6, Brandon Kassab lost 2-6, 3-6 and Joe Kassab lost 1-6 with a pair of 0-6 defaults.
Juhl was involved in marathon matches throughout the day while finishing 1-6, 1-6, 4-6. He was mobbed by teammates for this performance in his last match.
Gappy received the team's sportsmanship award as voted on by the Sage Creek coach.
Japanese transfer Kouta Kodama, a sophomore, swept all three of his singles matches — 6-1, 6-1, 6-2 — to lift the Bobcats to victory.