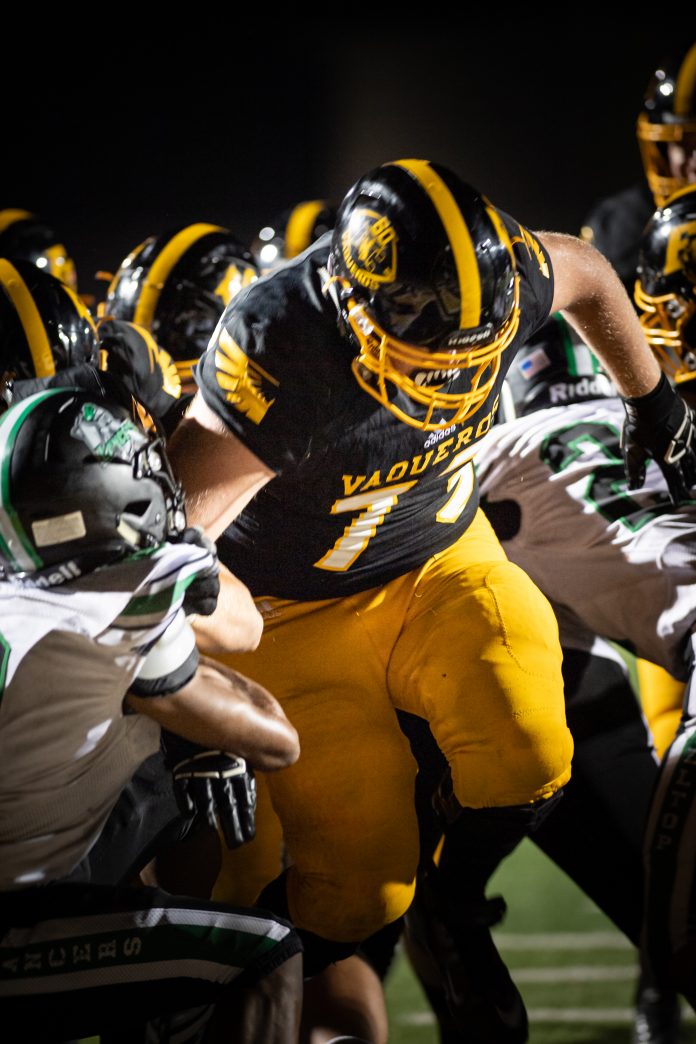 The Helix Highlanders stunned nationally-ranked Cathedral Catholic, 45-27, in a highly-anticipated rivalry rematch at Benton Hart Stadium last Friday night.
Scottie senior Elelyon Noa rushed for 116 yards and now has 5,218 career rushing yards to move into second all-time on the East County rushing list behind Monte Vista grad Jahmon McClendon.
However, it was the quarterback tandem of Kamryn Brown and Delshawn Traylor that made big plays to help stun the country's ninth-ranked outfit coming in.
Brown completed 13-of-17 passes for 164 yards, including a 30-yard score to sophomore Christian Washington and a 44-yard touchdown to Noa.
Washington also had a 93-yard kickoff return to swing the momentum back to the Highlander side after a pair of Dons touchdowns in the third quarter.
Traylor, meanwhile, had  a 62-yard run for the game's first score and Keionte Scott added a 33-yard touchdown on a fourth-down run late in the second quarter.
Elijah Laing gave Helix (3-1) a 17-7 lead with a 30-yard field goal.
Helix, which staked its claim to the No. 1 spot in the local polls, will face St. Augustine (4-0) next week at 7 p.m. at Mesa College in another "Gauntlet Series" matchup between the current top three teams in the county. Still, the upset failed to jostle the Dons from the top of the computer power rankings, which still have the Highlanders third, behind their two section rivals.
Helix lost to St. Augustine in the Division I championship game last season, 21-20, in overtime. The Highlanders beat the Saints, 25-14, in the regular season.
The ratings would suggest a letdown for the Scotties in an expected close matchup on the road but the win over the Dons opened everyone's eyes.
No. 6 Steele Canyon (3-0) at Otay Ranch (2-2) – Cougar junior back Wes Neely had 220 yards of total offense and a pair of touchdowns and Steele Canyon registered another shutout in a 28-0 win over Bonita Vista last Friday.
Steele Canyon's Villamu-Ah-You Morse had two tackles for loss, while teammate Colton Guerrero had a team-high five tackles.
Otay Ranch spent a week in the top ten a couple of weeks ago but the Cougars' defense is on a level that few local offenses can truly conquer.
Valley View (1-3) at No. 10  Grossmont (3-0) – Foothiller junior Robert Tucker had a breakout performance with six touchdowns, as he had 275 yards on the ground and 116 yards receiving as Grossmont won over Olympian, 52-28 after trailing 14-10 at halftime, giving head coach Tom Karlo his 100th career win.
Grossmont senior quarterback Jaime Odom threw for 277 yards and rushed for 93 yards and a touchdown as the Foothillers had 658 total yards.
Chris Alba had 21 tackles, including three for loss, for the Hillers, who play their first five games at home this season.
The Foothillers are in the midst of a record-breaking offensive season and should pile up more numbers against the visitors from Moreno Valley.
Santana (4-0) at Montgomery (4-0) – One of the biggest games in the county this week matches the top two teams in the Division IV power rankings.
Nathan Temple passed for 284 yards and four touchdowns last Friday as Santana shutout Sweetwater, 48-0. Randy Smith caught a pair of touchdowns for the Sultans in the win.
The Aztecs are coming off an upset of Kearny and average eight yards per carry, as well as, two sacks per game on defense.
Valhalla (2-1) at Mount Miguel (1-2) – Valhalla ran into a fellow upstart last Friday in the Hilltop Lancers, which dethroned the Norsemen, 27-13, handing them their first loss.
Kegan Baker rushed for 130 yards and a touchdown for Valhalla, which lost to the Matadors at home last season, 25-13, despite 154 passing yards from quarterback Luke Pillsbury.
The Matadors are coming off a 35-20 road loss at Santa Fe Christian after falling behind 28-0 after three quarters.
The combination of junior quarterback J.D. Laverdiere and senior receiver Jahiem Allen-Pompey hooked up three times in a fourth-quarter frenzy but never threatened.
Laverdiere had 358 yards through the air and surpassed 4,000 career passing yards. Allen-Pompey had 10 receptions for 235 yards.
Central (3-1) vs. Christian (2-2) (at Valley Stadium) – The Christian High Patriots distanced themselves from Monte Vista with an impressive 46-6 road win over the Monarchs last Friday.
Senior running back Nate Stine rushed for four touchdowns and junior quarterback Gabe Krug had 156 yards passing, along with a 65-yard touchdown run, for Christian.
The Central Spartans are coming off a loss – which is rare for them – to Gila Ridge, of Yuma.
The Spartans advanced to the Division III title game last season, losing to the Morse Tigers, the team which eliminated the Patriots in the semifinals a week earlier.
Vincent Memorial (4-0) at El Cajon Valley (3-1) – The Braves' three-game winning streak was halted by Clairemont last Friday, as El Cajon Valley took a scoreless game into the fourth quarter before falling, 13-7, to the host Chieftains.
Senior Joe Malone had a 17-yard keeper for the only El Cajon Valley score, which tied the game.
Now, the resurgent Braves get a shot at home against the top-rated team in Division V with very little to lose at Priest Field this week.
Monte Vista (1-3) at Imperial (1-3) – The Monarchs are looking to bounce back off the loss to the Pats but will have their work cut out for them on a trip to face the Tigers.
Isaiah Garnder scored a touchdown for Monte Vista last week, but the Monarchs will be underdogs in the IV.
Foothills Christian (4-0) at Borrego Springs (2-1) – The Knights outlasted the visiting Avalon Lancers, of Catalina Island, 40-36, at Junior Seau Field on Friday night.
Knights quarterbacks Tony Mroz and Kevin Helfers combined for 436 yards of total offense. Mroz passed for two touchdowns and ran for another, while Helfers rushed for two scores.
Junior Jason Oliveira had a 95-yard touchdown on a pass by Mroz.
Tanner Corey had an interception for the Knights, who are the top-rated 8-man squad in the section.
FCHS has held over Borrego in the series of late, but the Rams are the fifth-rated 8-man outfit.