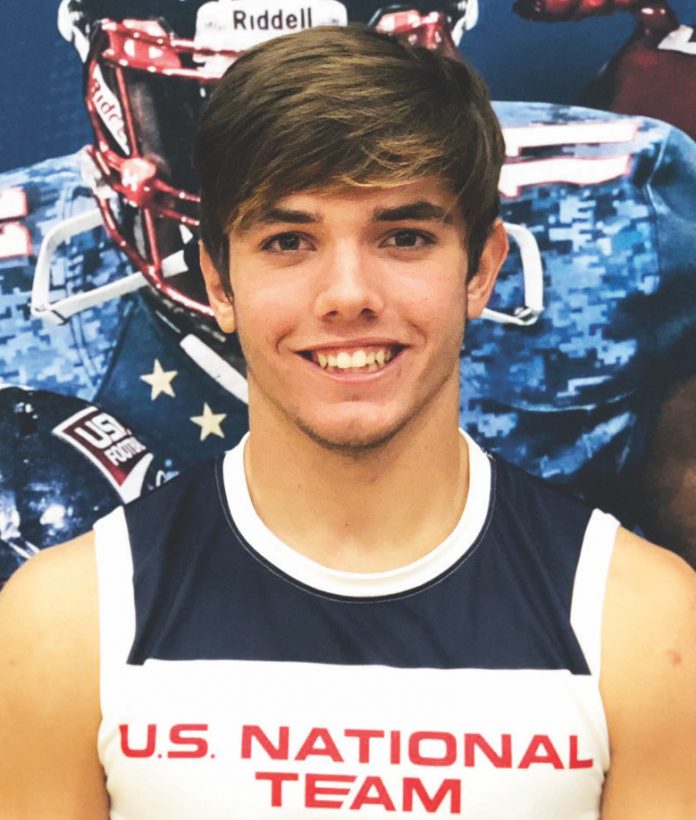 Granite Hills High School senior quarterback Justus McComb appears to be building something special after receiving a scholarship offer and signing to compete at the next level at Southwest Minnesota State University.
While the 2020-21 high school football season in California remains on pause due to the COVID-19 pandemic, student-athletes continue to make plans for their future.
This Eagle wants to fly high.
McComb, who has passed for 2,779 yards with 26 touchdowns while rushing for 500 yards and tacking on seven rushing touchdowns over the past two seasons at the El Cajon school, said he made his decision to commit to SMSU following a "great Zoom call" with Mustangs head coach Cory Sauter on Dec. 21.
"First off I want to say I am so blessed to have this opportunity this year as kids just like me might not have these opportunities because of their struggles of this year," McComb posted on his Twitter account (@justus_mccomb). "I want to thank my coach (Kellan Cobbs) for believing in me and giving me a shot when I had a lot of people telling me I couldn't and a lot of doubters, and everyone else that has believed in me and helped me along the way.
"I also want to thank my parents for everything they have done for me, sacrificing days and money so I can pursue my dreams. They have always been my biggest supporters and believers. I also want to thank coach Sauter and SMSU for believing in me and giving me this great opportunity."
McComb also cited his spirituality in helping guide him along the path to success.
"Lastly, and most importantly, I want to thank my Lord and Savior Jesus Christ for this major blessing and opportunity in my life," the Granite Hills senior said. "Throughout this process he has closed doors that I didn't know why, but he has a plan for me, and I am so grateful for it. With that said I am 100 percent committed to Southwest Minnesota State University."
"We are excited for him to be able to continue to grow as a player and as a person," Cobbs said. "Not playing this year has been hard on all the seniors, so we are just excited that his football career will be able to continue. He has worked very hard to put himself in this position and we wish him the best of luck."
McComb, who stands 6 feet tall and weighs 185 pounds, considers himself a dual-threat quarterback, attacking opposing defenses with both his arm and his feet.
McComb passed for 2,691 yards with 24 touchdowns and rushed for 494 yards and seven TDs as the Eagles finished 5-6 last season, with a 25-16 loss to La Costa Canyon in the opening round of the Division I section playoffs.
He broke 10 school records during the 2019 season.
McComb has a career completion rate of 60.4 percent and 99.2 quarterback rating. He has averaged 231.6 passing yards per game. His longest pass completion to date has been for 77 yards.
He is a three-sport athlete at Granite Hills, also competing in track and field and basketball.
The Eagles were scheduled to kick off the 2020-21 football season on Jan. 8 but that has since been revised due to additional protocols supplied by the California Department of Public Health.
The San Diego Section expects to make an announcement on the 2020-21 high school football season this month.
Southwest Minnesota State University, located in the southwest part of the state, competes at the NCAA Division II level. The Mustangs participate in the Northern Sun Intercollegiate Conference for football.