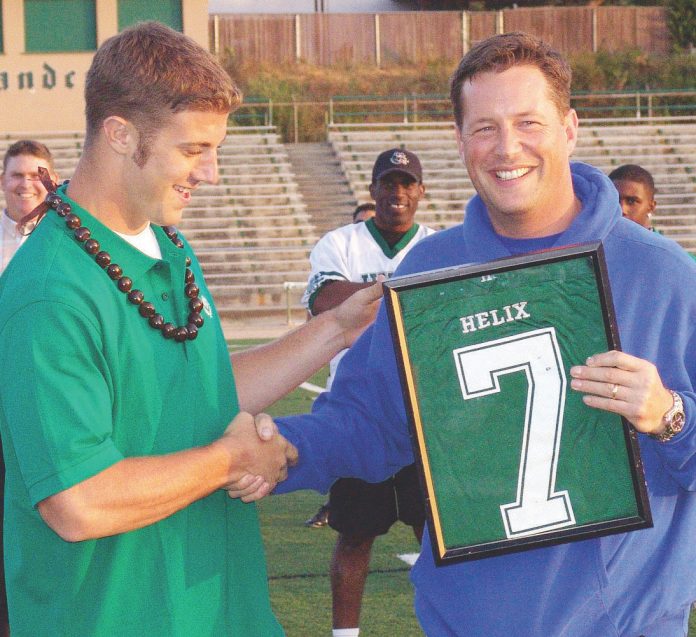 Helix High School alumnus Alex Smith has experienced his highs and lows as a player since becoming the NFL's No. 1 draft pick in 2005 by the San Francisco 49ers.
He somehow managed to survive a revolving door of offensive coordinators and head coaches during eight seasons in San Francisco, including one year in which he was unable to play while recovering from an injury.
He earned starts and was benched. Somehow, he persevered to lead the 49ers to the NFC championship game against the New York Giants in 2011, only to end his season following a freakish 20-17 overtime loss.
He was back again the following season before suffering a concussion following a 6-2 start that ultimately gave back-up signal-caller Colin Kaepernick his chance at NFL stardom.
Smith signed with the Kansas City Chiefs ahead of the 2013 season and led the Chiefs to four playoff appearances in five years there while making regular pilgrimages to San Diego as a homecoming to face the Chargers in AFC West match-ups.
Smith took the Chiefs to the divisional round in 2015 after posting a 30-0 win over the Houston Texans in the wild card game.
But the Bonita Vista Middle School alumnus once again found himself providing the tutelage to a young replacement in current Kansas City quarterback Patrick Mahomes, now considered one of the elite signal-callers in the league.
Smith was traded to the Washington Redskins (now Washington Football Team) ahead of the 2018 season but injury once again reared its ugly head when he suffered a compound fracture in his tibia and fibula in a November game against the Texans.
He missed all of the 2019 season while recovering from 17 surgeries to save his right leg due to infection.
Perseverance and determination — along with a four-game winning streak — have made him the leading candidate to win the 2020 Associated Press NFL Comeback Player of the Year Award.
A sense of pride and responsibility have certainly generated a lot of support on the home front.
"The Helix community is very proud of Alex," said Helix Charter athletic director Damon Chase of Smith, who last visited the La Mesa campus in March. "He is an outstanding example of character, grit, determination and the power of a positive attitude. He is humble, hardworking and dedicated to his family and team. He has shown the world what a wonderful human being he is as he chronicled his journey overcoming a devastating injury."
Comeback kid
Smith stepped into the shoes of injured Washington starter Kyle Allen, in a reversal of fortune role, to help lead a 2-7 team back into the NFL playoff race.
The biggest vote-getter in his bid to claim this year's NFL Comeback Player of the Year Award was likely Washington's stunning 23-17 upset win over the previously undefeated Pittsburgh Steelers on Dec. 7.
The victory assured that the 1972 Miami Dolphins, coached by the late Don Shula, the winningest coach in NFL history, would remain the league's only unbeaten team.
The Steelers had rocketed to an 11-0 start in pursuit of the Dolphins' iconic 17-0 record en route to winning Super Bowl VII.
That was before Smith did them in.
Smith, starting his fourth consecutive game for Washington, helped his team dig out of an early 14-point deficit to lead a remarkable comeback. It was Washington's first win against the Steelers since 1991.
Smith was born in 1984.
The former Helix High School standout passed for 296 yards and one touchdown to lead Washington, which remained in contention for the NFC East title along with the New York Giants in the mediocre division.
But there was nothing mediocre about the win over the Steelers, who had entered the game as the No.-1 ranked team in the American Football Conference.
Smith helped engineer a 14-play, 82-yard drive to start the second half that narrowed the score to 14-10 following a one-yard run by Peyton Barber.
Smith tied the game, 17-17, on a 15-yard touchdown pass to Logan Thomas and helped guide the visitors to the go-ahead score on a 45-yard field goal by Dustin Hopkins by hitting Cam Sims on a 29-yard pass to the Pittsburgh 25-yard line.
An interception by Jon Bostic in the dying minutes of regulation sealed the win for Smith & Co.
Washington added another 45-yard field goal for insurance with 17 seconds left.
The Washington defense denied Pittsburgh on two red zone possessions as Smith helped orchestrate a 20-3 drubbing of the Steelers in the second half on their home turf.
"Certainly, we got a lot of character in our locker room," Smith told the media.
Inspiring stuff.
It now looks like he will have to dig deeper after suffering another leg injury that put him back on the bench.
The road ahead
Washington significantly improved its chances of qualifying for the upcoming playoffs by recording a key 23-15 road victory against the 49ers on Dec. 13.
Smith completed eight of 19 passing attempts for 57 yards in the win, Washington's fourth consecutive victory.
With the win and a 26-7 loss by the New York Giants to the visiting Arizona Cardinals, Washington moved into sole possession of the NFC East Division lead with a 6-7 record. The Giants dropped to 5-8 in second place while the Philadelphia Eagles (4-8-1) and Dallas Cowboys (4-9) both gained ground on New York with victories.
Philadelphia stunned the pro football world with a 24-21 home field win over the visiting New Orleans Saints, who had entered the game as the No. 1-ranked NFC team.
Dallas, which had lost six of its last seven games, got a much-needed victory by defeating host Cincinnati, 30-7, to keep its playoff hopes alive.
Smith, who left the Dec. 13 game at halftime due to a leg injury, improved to 4-1 since taking over starting quarterback duties for the team last month.
The game against San Francisco was played in Glendale, Ariz., after the 49ers were forced to move their base of operations following an edict to shut down all sports activities in Santa Clara County.
San Francisco opened up an early 7-0 lead a one-yard run by Jeffery Wilson but Washington responded with 23 unanswered points to spirit away the victory. The designated visitors rallied with 13 points in the second quarter and tacked on 10 more points in the third quarter.
Washington posted the win without scoring an offensive touchdown.
Chase Young (47-yard fumble return) and Kamren Curl (76-yard interception return) scored defensive touchdowns while Dustin Hopkins converted on three of four field goal attempts to finish the game with 11 kicking points.
Smith battled a mild calf strain throughout the game after suffering a leg injury in the team's previous game. Blood was noticeable pouring out of his sock after being spiked during Washington's upset win over the Steelers.
"Quickly, obviously got worse to the point where it really, really affected me and my ability, certainly dropping back and being able to decelerate and push off," Smith said in a midweek press conference ahead of Washington's Dec. 20 clash with the Seattle Seahawks. "Felt like it was affecting me a ton, especially on those last several drives, really battling with that mentally, how much it was affecting me and limiting me out there."
San Francisco scored on a six-yard pass from Nick Mullens to Kyle Juszczjk and added a successful two-point conversion early in the fourth quarter to pull to within eight points on the scoreboard. However, the 49ers could not inch any closer as the Washington defense stopped them on four potential fourth-quarter possessions.
Washington finished the game with four sacks, two fumble recoveries and one interception.
Top draft pick Dwayne Haskins finished the game for Smith, compiling 51 passing yards on seven of 12 attempts without a turnover.
With Smith unable to practice during the week, Washington head coach Ron Rivera said Haskins would start the team's game against the visiting Seahawks, a 20-15 loss.
Smith, who obviously still has a strong arm at 36, has completed 146 of 220 passes (66.4 percent) for 1,420 yards with four touchdowns and six interceptions. It's been trying at times behind center, however, with 19 sacks for negative 122 yards.
In 173 career NFL games, Smith has passed for 35,488 yards with 197 touchdowns and 107 interceptions.
He's looking to come back in the final weeks of the 2020 season and add to his own legend.