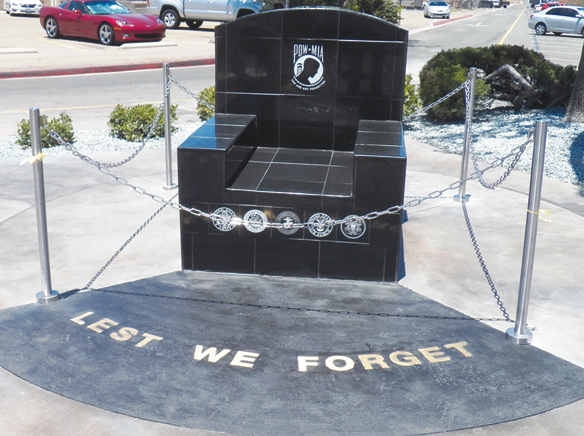 The old virtues may be forgotten for a time. Once remembered, they resonate as before.
The old virtues may be forgotten for a time. Once remembered, they resonate as before.
The Heartland Youth for Decency in 1970 consisted of a group of East County teenagers who were determined that, despite the roiling contentiousness over the Vietnam War, a neglected act of decency was to provide equitable treatment to their neighbors who had fallen in the conflict. Just as war dead had been remembered for sacrifice throughout U.S. history. They advocated and supported constructing a simple monument honoring East County troops who had perished in the Vietnam War. The HYFD Vietnam War Memorial was built at the northwest corner of Spring Street and University Avenue in La Mesa and dedicated on June 14, 1970. This was one of the first such memorials ever to casualties of Vietnam.
Now mature, HYFD volunteers re-gathered in La Mesa on June 14, for a 44th anniversary rededication of the memorial, with nearly 400 attendees. For the past several weeks, event coordinators sought surviving family members and friends in the area to attend the ceremony.
These HYFD founders added another groundbreaking chapter to their efforts, unveiling a permanent POW/MIA empty chair sculpture to the memorial grounds, to acknowledge those whose fate remains unknown.
"We are making history again today," said Oresta Zalopany Johnson, daughter of Orest Johnson, the mason who laid the stonework for the memorial. "This chair acknowledging the prisoners and missing is the first in California as a permanent empty chair remembering those still unaccounted for."
Artist and HYFD member Dan Evers, who donated his labor for what he calls "this living memorial", designed the chair.
A featured speaker at the event was Mel Moore, a retired Navy captain, who 44 years ago was a prisoner of war in the Hanoi Hilton.
"What a glorious day we have here, for dedication and tribute to this monument, " he said. "I have no regrets about being a prisoner of war. The experience taught me what is important and what is not important in life."
He said the volunteer efforts on behalf of the memorial were a key "to preserve what we have."
The restored monument features a blank plaque, to be engraved with the name of any Heartland serviceman whose remains are discovered and repatriated.
The "matriarch" of the memorial, Virginia Evers, who in 1969 had the original idea, encouraged the youth group she and her husband counseled to spearhead the efforts.
"I get all filled up when I look at the monument," she said. "I am so happy I was instrumental in seeing it was built."
Impetus for the renewal derived from recent events, in which the memorial had fallen into disrepair and suffered vandalism. Oresta Johnson visits the HYFD Vietnam War Memorial on special occasions to remember her father and place a rose amid the stones. On January 13, 2013, her father's birthday, she was distressed to discover that two of the memorial plaques had been stolen and that royal blue graffiti tagged the entire left side of the stonework. The irrigation system was broken. The flagpole was rusting. She sought helpers to begin cleaning and repairs. The two missing plaques were reproduced and readied for remounting, but mason James Elliot observed one of East County's fallen was missing.
In 2013, Oresta Johnson reconnected with former HYFD leader Denise Evers Rhoads to track down another five names of Vietnam casualties that needed to be added to the memorial. There were 57 names on the original dedication day. There are 74 now.
Art Madrid, Mayor of La Mesa, spoke briefly about how the memorial "made up for the disrespect that Vietnam War veterans suffered on their return." Mayor Madrid presented Keys to the City of La Mesa to HYFD rededication coordinators Oresta Zalopany Johnson and Denise Evers Rhoads.
HYFD is seeking sponsors to help with donations funding maintenance of this rededicated, restored place of remembrance.
Constructed in difficult days, the memorial has survived through other troubled times. Expansion of trolley line tracks took part of the land. The city of La Mesa was forced to transfer ownership of the memorial on Flag Day 1997 to adjacent La Mesa American Legion Post 282, after city coffers were threatened with bankruptcy from litigation on behalf of atheist plaintiffs, who objected to city land containing a cross. More information about the monument's history and its future can be found at www.hyfd.org.