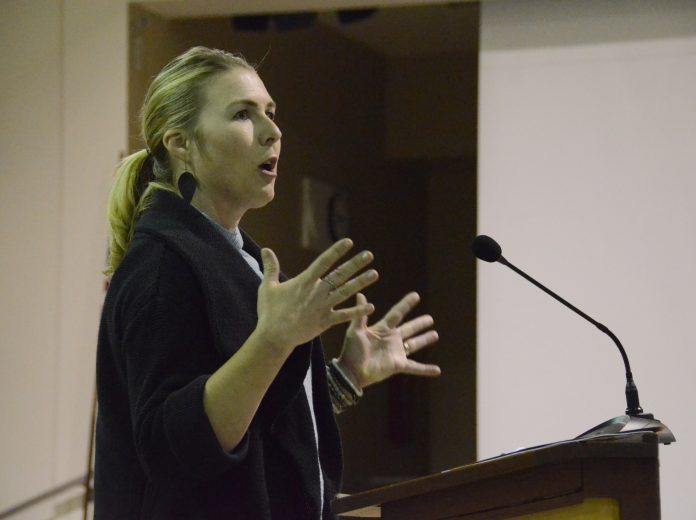 Alpine Union School District students went on spring break on Friday, March 23. On Saturday, March 24, the district sent out a notice that the bus system would be turned over to the Grossmont Union High School District for operation and upkeep, effective April 9 upon the closure of break.
The weeks that have followed the implementation of this change have created numerous safety concerns regarding the well-being of children, as well as practical concerns for the community involved.
Alpine Union School District students went on spring break on Friday, March 23. On Saturday, March 24, the district sent out a notice that the bus system would be turned over to the Grossmont Union High School District for operation and upkeep, effective April 9 upon the closure of break.
The weeks that have followed the implementation of this change have created numerous safety concerns regarding the well-being of children, as well as practical concerns for the community involved.
"This has been pretty tough," said John Brasil, a parent and community member. "This is the first time we've run into a problem where we feel like we're just not getting any answers. We feel like we're getting the runaround."
Brasil was one of nearly a dozen parents who showed up at the AUSD board meeting on April 19 to address concerns about the changes.
Those changes include adjusted bus routes, cutting the number of buses from seven to four –a fifth one was added after several days – as well as altering stops and pick up times.
Sarah, Brasil's wife, said there were no problems with the routes before the changes were made.
"Why are we completely changing the whole course?" she said. "It doesn't make any sense to me at all. It has now made our issue and 'unsafe' issue when it sounds like the whole idea of all this was to make things more safe. I just don't understand. This is not okay."
The Brasils said they moved to Alpine because they wanted to raise their children in a safer environment.
AUSD Superintendent Dr. Richard Newman said the district is working with GUHSD to respond to concerns.
"Our overriding interest, above all else, is to make sure that we have the ability to safely transport Alpine students to and from our schools," he said. "We have recently reduced our bus routes from seven to five. We communicated about the route changes on multiple occasions during spring break and continue to make adjustments to better serve our families and students. Our goal is to improve our transportation program and provide increased training to our bus drivers, update our transportation software, improve maintenance and upkeep to our buses, assist in managing our aging bus fleet, provide up-to-date route information, and, above all else, provide safe home-to-school transportation."
Newman said the district is working to improve the situation.
"The district appreciates our community's support as we work to improve the reliability and efficiency of our transportation department while providing safe and consistent bus service," he said.
The changes to the routes and pick up times have engendered a number of other problems. Some stops were switched to the left side of the road, forcing elementary and middle school students to cross highly trafficked streets to reach their pick up spots.
Bus schedules have been changing without proper notification to families, so many students have missed their pick up times or waited alone at stops for upwards of an hour.
Noel Staples, an AUSD parent, said her children have been lost twice on the bus route already.
"This week specifically, we're dealing with erratic bus drop-off and pick-up times," she said. "I go online to see what's posted, I'm doing my due-diligence. They change every day and what I get online is not what I get from the bus drivers who I know and trust. I understand that their hands are tied. They have an increased workload, they're kind of micromanaged. I understand that they can't give me the answers that I used to be able to get from them before the switch happened. So it's been very frustrating for me."
Staples said she has contacted GUHSD on several occasions, and reached out to them for help when her children were not dropped off at the bus stop where she was waiting for them, but received no help.
"I've waited at bus stops for an excess of an hour," she said. "I don't know where they are, I try to call and get pushed over to voicemail. They need to change. I deserve better. I need to know my kids are safe."
Concerns for smaller students are great. Many are having difficulty recognizing their buses, which are not clearly labeled, or their drivers, who change frequently under the new system. Many of them are now having to sit on the bus for more than an hour, without access to toilets. Late pick-ups have forced students to miss breakfast or eat it in class, and early pick-ups leave them at school well before they need to arrive.
Older students face their own set of challenges with the new bus routes.
Many of the new stops, created to conform with California Highway Patrol regulations, are on shoulders of road without sidewalks.
Because of the shortage of buses, students are being packed into seats, according to AUSD parent Heather Long.
"My daughter's bus close to 66 kids on a 48-seat bus," she said. "They're sitting three and four to a seat."
Because of the irregularity of the bus, Long has had to cancel her daughter's after-school tutor, and she and her family members are missing hours of work to drop off and pick up their daughter every day.
She is not the only one. Nearly every parent at the April 19 board meeting expressed distress over how much time at work their families were missing because the buses have become so unreliable.
Christina Chovan, a special education teacher, said she cannot miss work to drop off her son at school because she has 22 students who depend on her every day.
"I say, as an educator, I have 23 kids that I need to take care of and I would like to feel that my school district is taking care of the one that needs to go to school while I take care of the others," she said.
Chovan said her son has struggled to adapt to the changes.
"It's heartbreaking when your five-year-old tells you, 'I don't want to go to school anymore,'" she said. "He doesn't sleep anymore. My five-year-old doesn't sleep anymore because of this bus."
Sarah Klingshirn said her daughter has been feeling a stress in her stomach since the changes began. Like the Brasils, Klingshirn said they moved to Alpine from Riverview specifically for the busing.
Klingshirn was one of the parents who addressed the board on Thursday. Her testimony included her experience trying to pick up her daughter at Alpine Elementary school on Friday, April 13.
"I started tracking down the bus and there was a sea of buses," she said. "When I got there, what you feel like, on a very small level, was like a school shooting or a bomb threat. There were so many parents and drivers trying to manage, console, and direct all these kids going from one bus to another. There was a feeling of chaos and panic."
Klingshirn described watching a fifth-grade-age girl grab her little sister's hand as they tried to figure out which bus they needed to be on. In the confusion, the bus driver was unable to answer their question.
"In the twenty seconds of this little girl not knowing where she's going, her face is falling, tears are coming down, and she's just trying to be brave for her sister," said Klingshirn. "Our kids should not be feeling the pinch of this."
Although Klingshirn said she can handle change, this was not implemented well, she said.
"Consistency is something that kids thrive on," she said. "It's your basic for making kids feel safe and successful. And we need to get that consistency back. We had that with the Alpine Union. We had it with our buses, our drivers, our routes. When your gut keeps telling you that something's not right, this isn't right. There's something that needs to be fixed about this."
Grossmont's representative, CJ Rasure, an Apline resident himself, attended the board meeting to address some of the questions brought up by parents.
"This is not why I wanted to be here today, to talk about the failures of the last two weeks," he said. "I'm here to make it work because I live here. My kids are going to go to school here. I'm going to see you all on the soccer fields and I want to be able to have nice conversations with you all. I'm part of the community."
Rasure said that bus stops were altered in compliance with CHP regulations where field of view needs to be 500 feet when the speed limit is greater than 25mph. Rasure also said that Grossmont would be able to improve safety technology on buses like cameras and a GPS system, as well as update training for drivers and substitute drivers when the need arises.
"We sure know some little things, some refresher training that a lot of the Grossmont drivers get, that I don't think Alpine's had, and we want to give them the opportunity to have the best training and professional development," he said. "Grossmont brings a lot to the table."
Parents have been voicing concerns over working with the high school district.
"Grossmont is turning a deaf ear, they won't return our calls," said Long. "We need someone to listen to us."
Holly Hernandez, a school bus driver of 23 years, said the plan was poorly planned and implemented.
"In 23 years, I have never dropped a student off and thought to myself, 'is this kid going to make it on the shoulder of the road to their house?'" she said. "I have never thought when I pulled up to a bus stop, 'are my kids going to be on this side of the road when I get there or is there going to be a terrible accident?'"
Hernandez said GUHSD has missed the mark.
"It's not for a lack of trying, but Grossmont doesn't get it," she said. "Alpine is a small, family community where we have always taken care of each other and each other's children, always."
Questions regarding the timeliness of the change were also brought up at the board meeting.
"Why was this done so quickly?" said Hernandez. "The idea being told was that we want more efficient busing, more reliable busing, and safer busing. None of these things have come to fruition. None of them."
The contract was passed at an early-morning special board meeting in the sheriff's office, said Hernandez, which made it difficult for many to attend.
"This whole issue of a special contract coming up so quick at a special board meeting at 7:30 in the morning when people are working, with very little motive, people are starting to wonder why," she said. "When discussion took place about having buses staged in Alpine for many reasons, including possible need for evacuation at school sites, Alpine Union School District showed little or no concern in this area. Parents and children have been so upset over all the unknowns and daily changes that almost all are either angry or worried every day."
The Californian School Employees Association addressed AUSD in a letter posted on their website.
"AUSD currently has a pool of transportation experts that are not being utilized," wrote Labor Relations Representative Dan Ortiz. "When AUSD drivers are reporting to you and GHUSD that a stop or a condition exists that is not safe, they should not be ignored ever. If safety isn't a big enough reason for you, perhaps considering that this situation is influencing students not getting to school at all in some cases, which can cause an ADA funding loss to the District, or can infuriate enough parents to have them move their children to other schools. Also causing a drop in ADA funding. These are all scenarios that we see happening, which in turn will affect the AUSD funding, and precipitate further cuts. CSEA should in no way be held responsible by a loss of AUSD funding that could have been prevented. Your lack of funds due to lack of planning and poor service to parents, should not be passed on to the Alpine community in the form of future service reductions."
Hernandez called the situation heartbreaking, addressing further concerns about the need for more buses in case of fire evacuations and correct student rosters on each bus.
"We ask for real dialogue between all of the entities that play a role here, that makes these decisions," said Hernandez. "CSEA never saw this contract until 14 hours before it went to you guys to be approved at 7:30 in the morning in the Sheriff's office. This contract has missing words, typos and is half a million dollar contract. How does that happen? Done in a rush."
"It's just heartbreaking. The whole thing is heartbreaking."
GUHSD has not responded to requests for comment. AUSD board has not released a statement following the CSEA's most recent public letter regarding the safety concerns.
Klingshirn said she the district needs to be more transparent with the community.
"I know there are a lot of parts of this, a lot of layers," she said. "I know where not privy to all the district discussions that go on behind the scenes, but still I feel like if that's the case there should be more transparency with this."
Klingshirn concluded her remarks to the governing board to ride one of the buses themselves.
"Maybe you hop on and see what the trek is like," she said, "because it's not a fun ride."