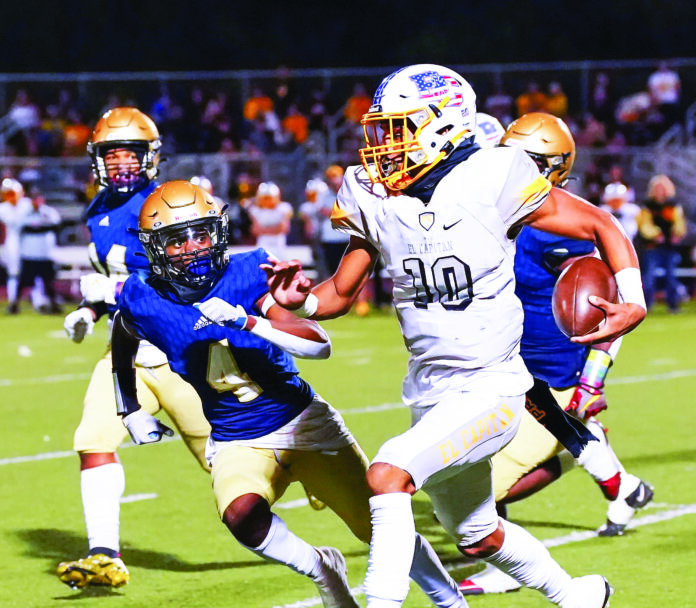 Grossmont Valley League football teams earned a large measure of respect by placing four teams in last Friday's San Diego Section quarterfinal playoffs.
Grossmont Valley League champion West Hills, with its sterling 11-0 record, received the No. 5 seed in the Division III playoffs while league runner-up El Capitan, at 9-2, received the No. 7 seed in the division. Santana, the third-place team in this year's GVL standings with an 8-2 overall record, received the No. 8 seed in the division.
El Cajon Valley received the No. 10 seed in the Division IV playoffs.
All four East County teams met higher-seeded opponents in the quarterfinals. While there were five upsets in the opening round of the playoffs, and three last week, none of the Grossmont Valley League's four second-round entrants was able to muster enough points to advance to this Friday's semifinals.
Fourth-seeded Ramona (8-3) ended West Hills' perfect season in very unkind fashion by handing the visiting Wolf Pack a 51-0 defeat.
Second-seeded Mater Dei Catholic (9-0) blasted El Capitan out of the playoffs with a 55-0 shutout victory.
Top-seeded Mt. Carmel (10-1) eliminated Santana, 34-14, while second-seeded Mission Bay (9-2) ended El Cajon Valley's season by a score of 35-7.
West Hills finished its season with an overall 11-1 record, El Capitan at 9-3, Santana at 8-3 and El Cajon Valley at 3-9.
West Hills had out-scored opponents 365-172 this year in advancing to last weekend's quarterfinals, including a 41-28 victory against 12th-seeded Bonita Vista in the opening round of the playoffs.
But the Bulldogs proved to be a formidable opponent in muzzling the Wolf Pack.
Ramona's money man, senior Cash Jones, rushed 18 times for 99 yards and scored three touchdowns while senior quarterback Devin Sobczak passed for 912 yards and two touchdowns. The Bulldogs scored seven touchdowns — four rushing, two receiving and another on an interception return.
The game started slowly enough, with the hosts leading 7-0 through the opening quarter. But the pace quickly picked up as Ramona built a 28-0 lead at halftime. The Bulldogs led 42-0 entering the final quarter.
West Hills accumulated 194 all-purpose yards in the game – 68 rushing, 45 passing, 69 on kick returns and 12 on interception returns.
Senior Braden Oberg completed six of 12 passes for 43 yards while sophomore Collin Dill was one-for-one for two yards.
Sophomore Diego Calderon rushed five times for 18 yards while senior N Greene had three carries for 17 yards. Dill had eight carries for 14 yards while Oberg had 11 carries for 14 yards. Senior Dylan Snyder had two carries for five yards.
Senior Max Conaway led the Wolf Pack receiving corps with four catches for 37 yards.
The Bulldogs had six sacks, three interceptions and two fumble recoveries to detour the West Hills offense.
Junior Rye Schultz had one interception for the Wolf Pack.
Ramona advances to meet Mt. Carmel in Friday's semifinals. The winner will meet Friday's winner between Mater Dei Catholic and third-seeded Santa Fe Christian (10) in a battle of unbeaten teams.
SFC eliminated sixth-seeded Brawley, 38-35, in last Friday's quarterfinals.
The division championship game is scheduled Nov. 27 at Escondido High School. Kick-off is 7 p.m.
West Hills head coach Casey Ash remained philosophical about his team's ending to its season.
"The season will be remembered by most for the trophies and the records, but it was the interactions and interactions that I will remember most fondly," the Wolf Pack coach said. "A special group of kids embraced our culture and worked hard to be the best versions of themselves — the accolades came as a result of those efforts."
Final statistical leaders for West Hills included Oberg with 1,409 passing yards and 16 touchdowns while rushing for 732 yards and nine touchdowns, Dill with 481 rushing yards and nine touchdowns, Calderon with six rushing touchdowns, Conaway with 654 receiving yards and 10 touchdowns and Snyder with 404 receiving yards and six touchdowns.
Defensive leaders included junior Braden Wilson and senior Trevor Imbimbo with four sacks apiece, junior Donovan Mjelde and senior Cohen Benavente with three interceptions apiece.
(2) Mater Dei Catholic 55,            (7) El Capitan 0
The host Crusaders had to wait two weeks to take the field again after their final regular season game against Olympian was canceled because of COVID-19 protocols and they received a first-round playoff bye.
The Mater Dei Catholic players were obviously anxious to get back to the field — and winning on the gridiron.
Crusader head coach John Joyner admitted it was "tricky having two weeks off."
"We stayed on top of our guys and told them we wanted to be hungry not rusty," Joyner said. "They prepared, got healthy and came out and got off to a fast start. I was very happy with their maturity throughout that time off."
Mater Dei Catholic got off to a 14-0 start through the opening period of play, then racked up a 27-0 scoring advantage in the second quarter to take command of the game with a 41-0 halftime lead.
The second half consisted of most reserve player action.
The Crusaders scored eight touchdowns — four passing scores by junior Dominic Nankil.
Nankil threw touchdown passes of 50, 48, 40 and 48 yards as part of a 213-yard performance. In order, Cruz Estrada, Jaylen Hall, Surahz Buncom and junior Rollin George caught the scoring passes.
Hall opened scoring on a five-yard rushing touchdown while senior Brian Dukes scored on a nine-yard fumble return, junior Nico Mosley scored on a 35-yard run and junior Noah Allen scored on a 34-yard pass from sophomore Zach Dare.
While the offense lit up the scoreboard, the Mater Dei Catholic defense continued to run the show. The Crusaders bottled up 1,000-yard rusher Savigon Yokley, limited the Vaqueros to a total of 10 rushing yards in the game and 21 total yards in the first half.
It was the first time El Capitan had been shut out since 2016.
"We had our backup QB Rollin George play Yokley in practice," Joyner explained. "He did a great job giving us a similar look and we knew we wanted to pressure him but also make sure we were disciplined with our pressure.
"The defense has been tremendous all year. So fast, so physical and really leads us every week. So proud of the coaches and players on the defensive side of the ball."
El Capitan veteran coach Ron Burner said the game was a mismatch on the field — and in the CIF seeding.
"We played a team that has no business in Division III, period," Burner said. "CIF should have moved them up to Division I with all the Division I players on their team. They have claimed they have 15 of them, so how do you explain them in Division III?
"It was the best football team I have ever coached against period. Our guys did the best they could and never gave up, but it truly was a David versus Goliath matchup. I can say I am very proud of how hard my team played all year long and, even though we came up short in the end, we had the fourth best season in El Capitan history — tied with the 1993 team. Only 2006, 2013 and 2014 we had better seasons. It was a great group of young men and I can't wait to see what next year brings."
(1) Mt. Carmel 34, (8) Santana 10
Senior Cayden Gent passed for 247 yards and two scores and senior Jayden Virgin accounted for three touchdowns total via the run and the pass to guide the host Sundevils to the quarterfinal victory.
The Sultans, who were limited to seven first downs in the game, were hampered by three interceptions (one returned for a touchdown) and two lost fumbles administered by the Mt. Carmel defense.
Santana trailed, 6-3, through the first quarter and 13-3 at halftime. But the hosts quickly put up the first touchdown of the second half to lead 20-3. The Mt. Carmel led grew to 34-3 later in the game.
Santana's lone touchdown came in the dying seconds as sophomore Alex Rico passed 37 yards to senior Logan Jorden.
Junior Jackson Scott opened scoring for the Sultans with a field goal.
Former Chula Vista, Hilltop and Eastlake coach Drew Westling is the head coach at Mt. Carmel this season, leading the Sundevils to their first 10-win season since 1992.
(2) Mission Bay 35, (10) El Cajon Valley 7
Kal-el Gordon rushed for 204 yards and scored a seven-yard touchdown but the game otherwise was dominated by Mission Bay senior signal-caller Clash Osborn, who passed for 209 yards and three touchdowns.
The Bucs led 28-0 at halftime and 35-0 through three quarters.
ECV senior quarterback Daniel Jacobs completed four of 10 passing attempts for 44 yards — 30 yards to sophomore Shane Hopson on one catch.
Sophomore Paris Dixon returned three kickoffs for 69 yards while sophomore Chris Cosio added an extra-point kick conversion for the Braves.
Sophomore Omar Jaimes led the ECV defense with eight tackles while senior Ruben Cosio recovered a fumble.
The Mission Bay defense collected four sacks and one interception.
Gordon finished the season with 1,401 rushing yards with 11 total touchdowns (nine rushing scores).
(1) Mira Mesa 34, (9) Christian 16
The visiting Patriots (6-5) ended their season with a quarterfinal loss to the Eastern League champion Marauders (7-3).