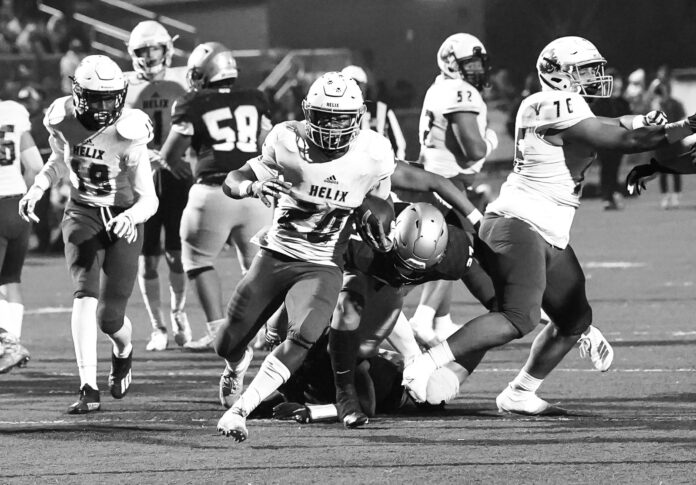 The Helix Charter High School football team got another chance to exchange post-game hugs last Friday. But it wasn't in victory formation.
Instead, players shed tears at the end of an otherwise highly successful season.
The Highlanders won this year's San Diego Section Division I championship in dramatic fashion as senior Christian Washington scored from a yard out with 1:13 remaining in regulation play to cap a 28-21 come-from-behind victory over the Lincoln Hornets.
The Scotties drew Division III section champion Mater Dei Catholic (37-10 winners over Ramona) in last Friday's Southern California Division 2-AA state bowl playoff game. Mater Dei Catholic hosted the game, which featured its own dramatic ending.
With Helix driving for what appeared to be the game-winning touchdown in the final minute of play, Mater Dei Catholic sophomore Isaiah Bruxton broke up a fourth-and-nine pass from Highlander sophomore quarterback Ryland Jessee to preserve the host Crusaders' 24-21 victory.
As a result of the crucial defensive stop, Mater Dei Catholic (12-0) will meet Modesto Central Catholic (13-1) in Friday's state championship game at Saddleback College. Kick-off is 4 p.m.
Central Catholic out-lasted Fresno Bullard (9-5) by a score of 44-41 in last Friday's Northern California regional playoff.
"When you get to this level, when you have two teams that are closely ranked, it will be a close game, that's what the math says," Helix head coach Robbie Owens said. "We were a little one dimensional with Christian on that last drive. We just couldn't get that first down.
"They had a couple big plays and that was the difference. We are a young group. I'm proud of how we developed over the season."
The Scotties' season ends at 9-4.
Mater Dei Catholic head coach John Joyner admitted it took a supreme effort from his Mesa League championship team to hand the reigning Grossmont Hills League champions the narrow loss.
"We needed everyone on our team to contribute to get this win," Joyner said.
Game on
Helix scored first in last Friday's encounter when Crusader junior receiver Cruz Estrada fumbled a pass reception while moving up field. Senior Xavier Van recovered the ball at the Mater Dei Catholic 47-yard line.
The Highlanders' first possession ended with an 18-yard touchdown run by Washington with 6:29 to play in the first quarter.
7-0 Scotties.
Mater Dei Catholic benefitted from a muffed punt on Helix's part, recovered by junior D.J. Overstreet, to set its first scoring drive in motion.
A pass interference call set up a five-yard scoring pass from junior Dominic Nankil to junior Chris Snyder to tie the score 7-7 with 58 seconds left in the opening quarter.
The teams combined for 24 points in the second quarter — 14 by Helix and 10 by Mater Dei Catholic.
The Crusaders took a 14-7 lead on a meandering 66-yard breakaway touchdown run by sophomore Anthony McMillian early on in the quarter while Washington tied the score, 14-14, on a five-yard run six minutes later.
Mater Dei Catholic went ahead, 17-14, on a 25-yard field goal by sophomore Ricky Osuna. But there was time still left on the scoreboard for one last big play in the period as Washington took a swing pass from Jessee and bolted 68 yards down the sideline to put the East County visitors ahead once more at 21-17.
A punt to the one-yard line by Helix senior Noah Horvath kept the South County hosts from doing any further damage as the first half came to an end.
Surprisingly, there would be only one touchdown scored in the second half. It came on one play — an 80-yard catch-and-carry down the middle of the field by junior Jerry McClure.
The Highlanders got the ball back on a punt with 4:31 left in the game, starting in great field position at the Crusader 45-yard line. Facing fourth-down and one, Washington broke through to set up a first down at the 22-yard line. Helix advanced the ball to the 20-yard line with exactly one minute to play.
An incomplete pass brought up third-down and eight yards to go with 55 seconds left. The Scotties moved the ball four yards closer to the goal line to bring up fourth-and-four.
Helix attempted to goad Mater Dei Catholic into an offside infraction. Instead, the Scotties were dinged for a motion call to move the ball five yards farther from the goal line.
With the extra yardage tacked on, the Highlanders opted for a pass play to the home sideline, deep in Crusader territory, where the Mater Dei Catholic defense rested its case.
Helix attempted 46 rushing plays — 40 by Washington for 205 yards. Washington finished the game with 273 total offensive yards. He scored all three of the Scotties' touchdowns.
"We just fell short a little bit," Washington said. "A couple guys went down at the end; we had a bunch of new people in. Otherwise, it was a great season."
Jessee completed six of 16 passing attempts for 115 yards — the bulk of it to Washington on one play — with one touchdown and one interception.
Horvarth, who was successful on all three extra-point conversions, averaged 38 yards on four punts. He deposited the ball inside the 20-yard line three times besides averaging 54.3 yards on four kickoffs.
The teams were slated to meet each other in the third week of regular season play but the game was cancelled because of COVID-19 protocols on the behalf of Mater Dei Catholic.
The Crusaders and Highlanders did meet during the shortened 2021 spring season, with Mater Dei Catholic recording a 19-2 non-league victory.
San Diego Section Commissioner Joe Heinz was at last Friday's game. He said it was fairly rare that local section champions meet in the state playoffs.
"It's not every year that it happens at all," he said. "We were excited to have the playoffs, all the matchups. We're excited to have all these teams (six divisional section champions) in the regionals. Hopefully, we'll be able to have a state champion."
Of the six San Diego Section teams that competed in last weekend's regional playoffs, three advanced.
Besides Mater Dei Catholic pushing through to the Division 2-AA championship game, Division II section champion Scripps Ranch (13-1) will meet Santa Clara Wilcox (10-4) in the Division 2-A championship game (Saturday at noon at Saddleback College) while Open Division champion Cathedral Catholic (11-2) will tackle Folsom (11-3) in the Division 1-AA championship game (Friday at 8 p.m. at Saddleback College).
Cathedral Catholic senior Lucky Sutton rushed for 431 yards in the Dons' 71-62 win over Orange Lutheran (10-5) and scored seven touchdowns — six rushing and one receiving.
All-Stars
Fifteen East County players will compete as part of the South team in Saturday's 31st annual Alex Spanos All-Star Game. Kick-off is 4 p.m. at Escondido High School.