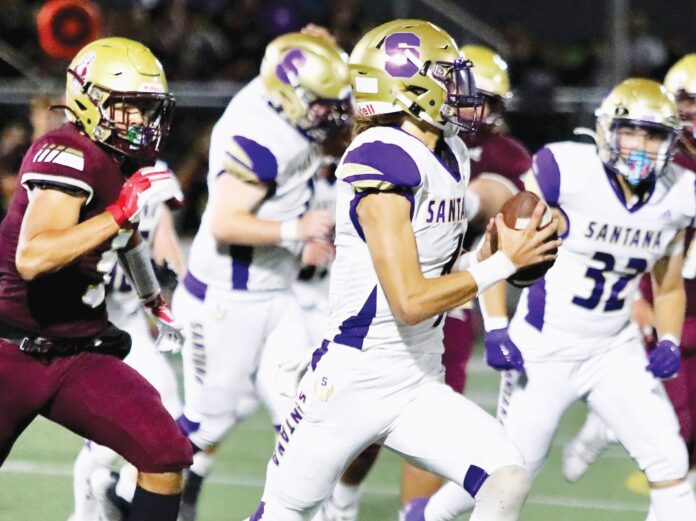 The high school football season is divided into three phases: nonleague play, league play and postseason play.
The Grossmont Conference's seven Grossmont Valley League teams are entering the second phase of the season after league play kicked off last week.
Six of the seven league members faced off against one another, with three games yielding three teams with 1-0 league records to start the chase for this year's league championship banner.
El Capitan defeated visiting El Cajon Valley, 55-21, to kick off the teams' middle part of the season in a Thursday night encounter on Sept. 15.
In a pair of games last Friday, West Hills topped host Mt. Miguel, 21-7, while Santana defeated host Valhalla, 48-6, to pick up its first win of the season,
West Hills (3-2 overall) and Santana (1-4) both take 1-0 league records into this week's round of games while El Capitan (1-0, 3-2) has a bye.
West Hills will host Valhalla (0-1, 0-5) while Santana will play at Mt. Miguel (0-1, 2-3). El Cajon Valley (0-1, 1-4) will host Monte Vista (0-0, 1-3) to round out the second week of league play.
Monte Vista had a bye in last week's league schedule while dropping a 29-7 non-league decision to visiting Sweetwater.
Each of the seven GVL teams will play six league games, with one team each week receiving a bye because of the uneven number of teams in the league.
Bring it on
El Capitan outgained the visiting Braves 397-252 in total offensive yards in claiming the teams' league opener. The Vaqueros scored eight touchdowns, including two by junior Julian May and one each by senior Clifford Wilson, sophomore Ayden Benegas, senior Bruce Newland III, junior Davion Phillips, senior Angel Diaz and senior Chad Allread.
Newland passed for 99 yards without an interception while Diaz rushed for 104 yards on 11 carries. May racked up 102 total yards with 59 rushing yards and 43 receiving yards. He had a big night overall with 210 all-purpose yards by tacking on 108 yards on kick returns.
El Capitan totaled 298 rushing yards. Phillips had seven carries for 53 yards while Benegas had three carries for 44 yards and Wilson had three carries for 33 yards.
Sophomore Chance Lachappa caught one pass for 23 yards while junior Andrew Conyers had a 10-yard pass reception.
Senior Austin Cordeiro led the Vaqueros defensively with 10 tackles. Lachappa and Allread both had fumble recoveries.
Senior Aden Ramirez averaged 51.7 yards on nine kickoffs while senior Laila Rodriguez amassed seven kicking points in the win. Junior Darick Dubose completed four of 12 passing attempts for 26 yards in the loss while rushing six times for 77 yards to lead El Cajon Valley with 103 total yards.
Senior Daelin Richardson (11 carries, 83 yards) led the Braves with two rushing touchdowns while junior Paris Dixon (two catchers, 18 yards) and junior Chris Cosio (two catches, 18 yards) each had one receiving touchdown.
Senior Kal-el Gordon rushed nine times for 38 yards while Cosio added four carries for 28 yards. Dixon collected eight tackles on defense while senior Yasir Blair had one sack.
West Hills 21, Mt. Miguel 7
Junior Diego Calderon (nine carries, 54 yards) scored two rushing touchdowns (four and 17 yards) while junior Collin Dill (15 carries, 79 yards) and junior Nate Stevens (one catch, 20 yards) both scored single touchdowns to push the host Wolf Pack back into the win column following a 43-14 non-league loss to visiting Point Loma the previous week.
Dill passed for 63 yards to finish the game with 142 total offensive yards. Junior Alexander Grubbs caught one pass for 34 yards while senior Fredrick Rowbotham had one carry for 28 yards.
The Wolf Pack defense recorded four sacks – one each by Stevens and seniors Braden Wilson, Jack Tracy and Lance Briseno. Senior Tyler Haley had three punts for a 38.7 average and was successful on all three extra-point conversions. Junior Dylan Smith fielded one kickoff for a 26-yard return.
"Mt. Miguel kept us off balance in the first half," West Hills coach Casey Ash said. "We had a couple of breaks go our way in the second half, and they suffered some injuries and ran out of steam."
The Wolf Pack defense limited Mt. Miguel to 60 passing yards and 81 rushing yards in the game.
Junior Jeremiah Castillo (seven rushes, 36 yards) caught a 29-yard scoring pass from junior quarterback Matthew Barton for the Matadors' lone touchdown in the game. Castillo finished as the team leader with 65 total offensive yards.
Junior Aaron Carter rushed twice for 45 yards while senior Chris Akridge had three catches for 35 yards.
The loss was the third consecutive for Mt. Miguel after a 2-0 start to the season. The Matadors (0-1, 2-3) will host Santana (1-0, 1-4) this Friday in a bid to climb up the league standings.
Highlights for Santana in its first win of the season included two receiving touchdowns by junior Michael Valenzuela and rushing touchdowns from senior Nick Leger, junior Linden Benson, senior Fabyan Ibarra and junior Zachary Bader.
Junior Arsalan Ghazialam caught a scoring pass from junior Braxton Estes to account for the Norsemen's lone touchdown in the game.
West Hills and El Capitan remain the league's top two-ranked teams — the Wolf Pack 43rd among section teams and the Vaqueros 44th.
Sweetwater 29, Monte Vista 7
The Red Devils (3-2) limited the host Monarchs to 90 total offensive yards in recording the non-league victory. Senior Daniel Renteria led Monte Vista with 43 rushing yards while senior Alejandro Robles had 27 passing yards. Sweetwater led, 16-7, at halftime before adding 13 points in the third quarter to break open a close game.
San Diego Section Football Rankings MaxPreps through Sept. 18
1. Cathedral Catholic (2-3), 2. Lincoln (4-1), 3. Madison (4-0), 4. Carlsbad (3-1), 5. Helix (4-1), 6. Poway (4-1), 7. Granite Hills (4-1), 8. Mira Mesa (3-1), 9. Mater Dei Catholic (0-4), 10. La Costa Canyon (3-2), 11. Mission Hills (2-3), 12. Torrey Pines (2-3), 13. El Camino (3-2), 14. Rancho Buena Vista (5-0), 15. Central Union (2-2)