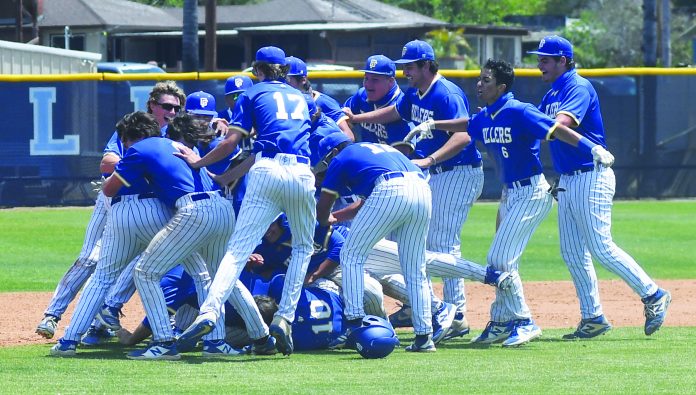 The Grossmont High School baseball team has continued to find ways to win this season and it has amounted to a rather prolific 16-2 overall record, 2-0 start in league play, and a lofty No. 2 ranking among San Diego Section teams.
The Foothillers' latest dramatic victory came in the championship game of the "Bill Dickens" Grossmont-Metro-City Tournament on April 24 as coach Jordan Abruzzo's team scored a 5-4 walk-off victory against the Eastlake Titans.
Grossmont used similar magic in upending Eastlake, 10-9, in the finals of the Aztec-Foothiller Classic on April 10.
The Foothillers advanced to the Open/Classic Division championship game of the 70th San Diego Lions tournament on April 1, finishing runner-up to La Costa Canyon.
Abruzzo's team has certainly gotten the most out of its season so far.
Grossmont won all six games in the Aztec-Foothiller Classic. The East County team had to overcome an 8-0 Eastlake lead after just one-and-a-half innings, however, to cap the tournament with a championship victory.
Senior Evan Vasilou clubbed a bases-loaded double in the bottom of the seventh inning to plate two runs to complete the two-hour comeback with the walk-off win.
Junior Noah Barnes led the victors with four RBI in the game on three hits while scoring twice. Senior Jaden Wilcox, one of three pitchers used by Grossmont, picked up the win.
Fast forward two weeks later and the hero of the day turned out to be senior Caleb Hommel, who smashed a single up the middle in the bottom of the seventh inning to score two runs to rescue his team from a 4-3 deficit against the Titans.
It was the third walk-off win against sixth-ranked Eastlake (12-5) this season.
"It's been a different guy all season," Abruzzo said. "Every single guy on the team has contributed."
The fateful seventh inning opened with walks to seniors Isaiah Gomez and Justin Brown. A wild pitch advanced runners into scoring position. Rather than load the bases with an intentional walk to Hommel, the Titans elected to pitch to him, which proved to be a mistake.
The first pitch to Hommel was a strike; the second pitch was deposited sharply into center field.
Hommel finished the game with three RBI while junior Mason Dirkes picked up the win in relief.
Gomez tops the team with a .491 hitting average in 18 games while Hommel tops the team with 27 RBI.
Grossmont players point to team chemistry as being a key factor in the team's success this season.
"We have a great group of seniors," said Brown, who served as the quarterback on the school's football team. "We stick together on and off the field. We have great chemistry — one through nine."
"It's a great group and fun to be around," Abruzzo added. "This gives us more confidence that we can play with the top teams in the county."