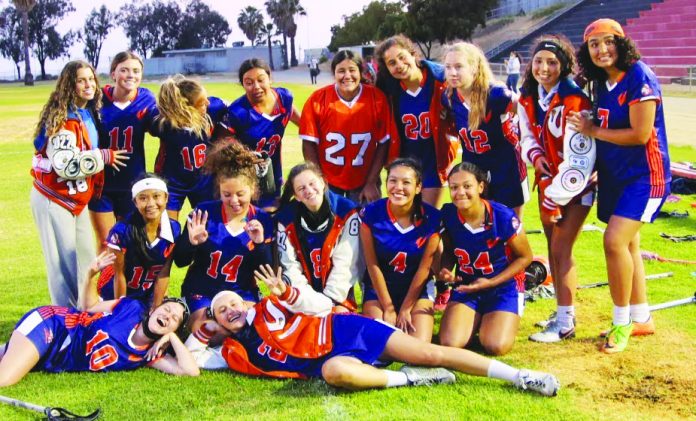 The Valhalla High School girls lacrosse team has shown key growth despite being sidelined for much of the COVID-19 pandemic.
The Norsemen ladies faced off the season with four consecutive victories in non-league play, winning five of their first six games, and appear to be holding their own with a 6-4 record through the opening month of play, including a 2-2 mark in league competition.
Wins have come against Ramona (10-4 on April 7 and 10-9 on April 13), San Diego (9-4 on April 9), Castle Park (12-4 on April 15), Grossmont (8-6 on April 19) and Monte Vista (10-2 on April 21).
Losses have come against Mission Bay (7-6 in overtime on April 16), Granite Hills (18-2 on April 26), Canyon Crest Academy (14-4 on April 27) and Helix (11-4 on April 28).
Granite Hills entered this week undefeated at 10-0 and ranked sixth among San Diego Section teams while Canyon Crest Academy and Helix both were ranked among the section's top 20 teams.
Valhalla, ranked 29th, did make the top 30 cut among the 47 section teams this spring.
The team's record — and ranking — are noteworthy in that the VHS program, founded by coach Benjamin Upham, is only three years old and was cancelled last season due to the pandemic.
The fledging squad, comprised mostly of freshmen and some who had never played the game before, experienced its growing pains during its inaugural season in 2019 with a 2-12 record.
With off-season club participation, many players have improved fundamental skills and conditioning. The influx of players from the school's soccer team, most notably senior Nicole Ayyad, has helped buttress the team's experience and fitness levels.
Twins Kalissa and Brielle Moore anchor an aggressive and physical defense in front of goalkeeper Iris Workman while sophomore Riley Shaw leads a speedy Valhalla midfield and attack.
With a core roster of primarily juniors, the future for the VHS girls lacrosse program is looking promising.