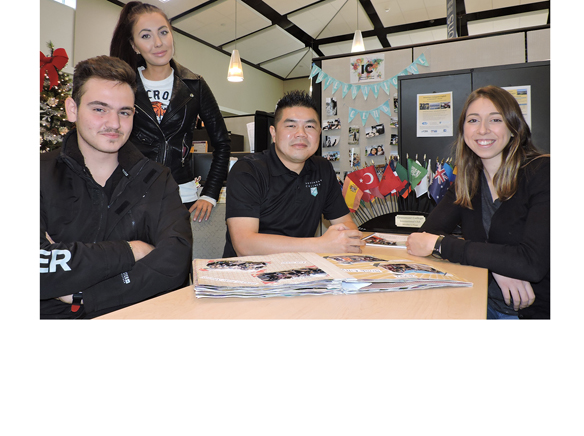 The Governing Board lauded three classified staffers at the Grossmont-Cuyamaca Community College District as this year's picks for an employee excellence award.
The Governing Board lauded three classified staffers at the Grossmont-Cuyamaca Community College District as this year's picks for an employee excellence award.
Grossmont College International Student Specialist Bryan Lam; Cuyamaca College Admissions and Records Assistant, Senior, Ariane Ahmadian, and District Services Research and Planning Analyst Katie Cabral were honored as the 2017 recipients of the Chancellor/Classified Senate Award. One member of the support staff from each college and district office is recognized.
"The contributions of our classified professionals are valued beyond measure, and this year's three award winners exemplify excellence in their service to students and the campus communities," Chancellor Cindy L. Miles said. "Our support staff are key to our remaining East County's leading source of top-notch higher education and workforce training."
Bryan Lam
Lam wears many hats as an adviser, confidant and activities coordinator to the 600 international students representing 50 countries at the El Cajon campus. When a travel ban imposed by the Trump administration generated confusion and anxiety for international students, Lam sprang into action, contacting affected students and devising mitigating plans.
"What was most admirable was how Bryan demonstrated care and concern for these students," said Wayne Branker, Admissions and Records supervisor. "He went above and beyond to make sure they always had an open line of communication with the campus and by finding the right resources they needed, whether it be housing, travel arrangements, or just an ear to listen to and a shoulder to cry on."
Lam was also praised for building camaraderie by planning events for international students including dances, community service projects and field trips to universities. He has also given back to the college community, including serving as vice president of Grossmont College's Classified Senate and as a member of many college committees.
A 2004 Grossmont College graduate who went on to earn a bachelor's in political science from UCLA, Lam began working at Grossmont College seven years ago at the Career Center. Stints at the counseling office and the transfer center followed before he was promoted in 2015 as an international student specialist.
While a student at Grossmont, Lam worked as an English language tutor for international students. After graduating, he worked in Japan for two years as an English teacher at a private junior high and high school in Tokyo.
He notes with pride that Grossmont College has the largest international student population of all of the community colleges in the San Diego region, and has the most international students transferring to Southern California universities.
"The best thing about my job is that I get to work with people from all over the world who bring in different experiences and stories to share," said Lam. "It offers me an opportunity to show how awesome it is to be at Grossmont and what it really means to have a wonderful college experience. It brings me great joy to help international students."
Ariane Ahmadian
As president of Cuyamaca College's Classified Senate, which advocates for staff on non-labor matters, Ahmadian is credited for increasing the visibility and job satisfaction of classified professionals and encouraging more involvement in district committees.
"In the capacity as Classified Senate president, she has really shined," Cuyamaca College President Julianna Barnes said. "She has made valuable contributions in participatory governance and has illuminated the importance of the classified professionals' voices on matters that impact them."
Ahmadian received an associate degree from Cuyamaca in 2013 and is currently working toward a bachelor's in organizational management through a program that the college began offering in 2016 with Point Loma Nazarene University.
Ahmadian was hired in 2009 as a student worker at Cuyamaca College's Admissions and Records Office until she was hired for a permanent position three years later as an A&R assistant, senior. This year, she was promoted to an interim position as an Admission and Records specialist in the college's Pathways Academy, a guidance and counseling program for students from underserved communities.
"Getting to be part of something that has such significance for our students and for their success, and ultimately for our community, makes everything worthwhile," Ahmadian said.
Ahmadian is also involved in the college's dual enrollment program, which allows high school students to take college classes. Whether it was improving enrollment forms or making sure administrators were kept up to date on enrollment numbers, the program has been a success at the college in large part due to her contributions.
Her wide-ranging interests have also benefitted the college through her launching of a cultural competence workshop, an orientation handbook for new classified professionals, and Classified Appreciation Week, which kicks off each year with a breakfast.
"Ari is a true leader on the Cuyamaca College campus and at the district overall," Barnes said.
Katie Cabral
Cabral's connection with the college district began in 2014, when she worked for three years as a part-time psychology instructor at Cuyamaca and Grossmont colleges. She put her teaching position at the East County campuses and other area community colleges on hold after she was hired a year ago as an analyst for the district's Research, Planning and Institutional Effectiveness office.
Cabral has proven herself to be a consummate team player, said Brianna Hays, a senior dean at Cuyamaca College, where Cabral is based.
"From the moment Katie started at Cuyamaca, she changed the face of research for the campus," Hays said. "Her presence and positive attitude have a tremendous impact on our office climate, work, and productivity."
Cabral has been described as an innovator, developing creative ways to present the data behind Cuyamaca's successful efforts at helping students complete transfer-level math and closing achievement gaps. Hays said Cabral's creativity has also served her well in devising simple illustrations to explain complex data.
The Bay Area native moved to San Diego to attend the University of California, San Diego, where she earned her bachelor's in psychology. She earned her master's degree in social psychology and evaluation at Claremont Graduate University, and later returned to UC San Diego as a mental health programs evaluator and researcher.
"My favorite part of being a campus-based researcher is collaborating with a wide variety of practitioners and decision-makers, including, students, faculty members, student services staff members, administrators, and my research colleagues," Cabral said. "Through this inclusive work, my aim is to promote a culture of continuous improvement to eliminate equity gaps and support success for all students inside and outside of the classroom."