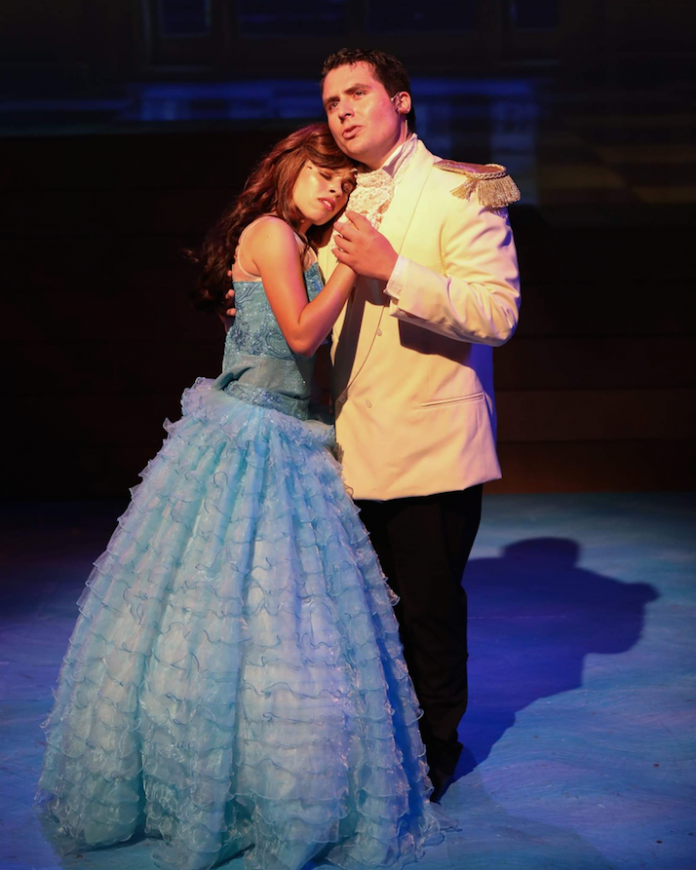 There's something out there called the Rayleigh effect, wherein underwater light becomes so acute as to "bleach" some hues blindingly white, inky black and everything in between the further down you go. Undersea color is a miraculous thing to behold, putting the surface to shame as it defines the briny deep for the stunning aquatic home it is.
A little forethought might have fueled that approach to the set and costume designs for Disney's "The Little Mermaid," Grossmont College Theatre Arts Department's sixth summer conservatory entry; as it is, both collectives look pretty much the same amid history's most contentious battle (i.e., an affair of the heart).
But if that's this production's biggest hurdle, it stands to reason that this year's personnel pretty much get an A regardless.
In the end, this is a darn good entry, with a highly spirited cast, a solid story and just enough comic relief to underscore the fairytale. Two standout performances mark the piece behind some judicious direction and choreography. As expected, the kids will eat up the spectacle almost as eagerly as the adults.
Amid her obsession with all things landward, young central character Ariel is — well — a fish out of water. Eventually and predictably, her renegade spirit will latch onto the human Prince Eric, unbeknownst to King Triton, her oppressive father. Triton is a widower at the hands of the fish-scarfing humans, who to no one's surprise have made a mess of the world above.
Hopelessly in love with Eric, Ariel sets out to make a Faustian deal with sea witch Ursula, her aunt. She seeks to become human for three days, relinquishing control of her voice and soon newly endowed with legs — but if she can't elicit Eric's kiss in that time, she'll revert to a sea creature and remain Ursula's slave.
Triton takes matters a giant altruistic step further; love triumphs, and Ariel and Eric sail away amid marital bliss.
Disney fans will have no trouble finding similarities between this show and another entry under the same iconic banner.
True, "The Lion King" just released as a live-action film and which has mounted locally as a musical entry three times, is wildly dissimilar as regards the action and intent — but both stories live and die by their parallels.
Sibling versus sibling; family versus family; kingdom versus kingdom; fervent advocacy for the central character's well-being: They're all here in exactly the same fashion, as if Disney were capitalizing on the 11 years between "Lion King's" 1997 stage opening and "Mermaid's" live debut (never mind that the "Lion King" film is criminally underproduced).
Director Brian Rickel plays very effectively to the sentiment, especially as he marks the fine line between fantasy and absurdity. He and choreographer Jill Gorrie have helmed "Positoovity" and "Positaggity" to a T, with a hilarious Cole Atencio giving his all to his gangly Scuttle and his army of gulls. Ditto for Jake Strohl's Chef Louis in the "Les Poisson" entries, which redefine culinary teamwork.
The show's softer side finds a very good Adelaida Martinez as the vulnerable Ariel, whose ear-to-ear grins give way to melancholy in the doleful, well-sung "If Only." Miguel Simpson's Eric complements Ariel's disenfranchisement well, although Simpson often grapples for the correct pitch in his songs' solo parts. Strohl's Triton is properly embittered; the problem is that when it's appropriate, librettist Doug Wright never changes his tune.
Various sisters, major domos and domestics feed off the kaleidoscope behind the iconic Alan Menken's music (note "Daddy's Little Angel," featuring Delicia Nieto's fine Ursula) and Michael McKeon's unclad set, a nod to the mysteries of the deep. There's rarely a misstep in the bunch, and most of those fall to Howard Ashman and Glenn Slater's lyrics.
Broadway San Diego brought in the Hans Christian Andersen fairytale two years ago, to everyone's delight. Primary colors were as much a character as anyone else, their use positively colossal in Ariel's evolution.
There's a parallel sense of collaboration in this "Little Mermaid," the relative absence of color notwithstanding. It may be a technically slight production, but that sure doesn't make it a bad one.
This review is based on the matinee performance of July 27. Disney's "The Little Mermaid" runs through August 3 at the Stage House Theatre, 8800 Grossmont College Drive in El Cajon. $15-$12-$10.