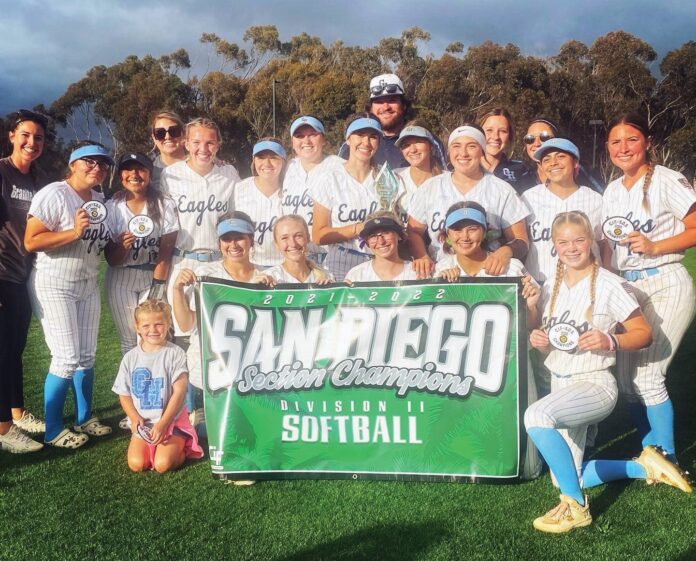 The Southern California regional softball championships took place May 31 to June 4 following the conclusion of sectional playoffs.
Eight teams were included in each of four brackets with quarterfinal round play followed by semifinals and a championship game.
Overall, nine San Diego Section teams were admitted to this year's regional brackets, including Open Division runnerup San Marcos, Open Division semifinalists Del Norte and Ranchio Buena Vista, Division I champion Mater Dei Catholic, Division I runner-up Cathedral Catholic, Division II champion Granite Hills, Division III champion Calexico, Division IV champion Escondido Charter and Division V champion Fallbrook.
Mater Dei Catholic, seeded seventh, proved to be the Division II bracket buster by defeating top-seeded Torrance in the championship game.
Eastern exposure
Granite Hills, making its first appearance in the regional playoffs, won its quarterfinal contest, 9-1, over Calexico on May 31.
"It was our school's first time in regionals and there was a lot of energy," head coach Michelle Miller said. "We kept on our high streak and offensively, we have never been better. We put up eight runs in the first two innings and our pitcher, Taylor Rose, kept them to only one run."
The Lady Eagles, however, could not advance in the bracket following a 7-4 semifinal loss to visiting Long Beach St. Anthony (19-10) on June 2.
If it's any consolation, Granite Hills (20-13-1) ended its season with a loss to the eventual regional champions after St. Anthony slipped past second-seeded Temple City, 2-1, in the division final.
"Our team definitely turned it on at the right time," Miller said. "We were seeded fourth (in the section finals), which was huge for us. After losing to Helix in the second round and dropping into the loser bracket, our team exploded with a four-game winning streak that took us to the championship victory. I'm so proud of this team and how hard they worked to get this championship."
Senior Chloe Knepp received the team's sportsmanship award. Top players throughout the playoff tournament for the Lady Eagles also included senior Taylor Rose, sophomores Kiki Sandoval and Sofia Mujica and freshmen Audrey Smale and Kaleigh Baugher.
Sandoval scored two runs and drove in three runs in the come from-behind 8-4 championship game over third-seeded Poway while Rose pitched a complete game victory.
Mujica went three-for-four with a home run in the regional opener while Sandoval also went three-for-four with a double and home run to help spur Granite's 12-hit attack.
Smale drove in three runs while Rose limited the Lady Bulldogs (24-8) to three hits.
The Lady Eagles fought back from an early 5-0 deficit in the semifinals, scoring twice in the bottom of the sixth inning to close to within three runs on the scoreboard.
On the cusp
Foothills Christian, the Pacific League co-champion, received the No. 1 seed in the Division V section bracket and won its opening two playoff games — 10-0 over ninth-seeded Borrego Springs and 2-1 over fifth-seeded Calipatria — to advance to the semifinals. But the Lady Knights would find the going rocky from there.
Third-seeded Fallbrook defeated Foothills Christian, 8-0, in the opening game of the semifinal double-elimination format to advance to the championship game. The Lady Knights responded with a 10-0 elimination game victory against Calipatria to earn a rematch with the Lady Warriors.
But Fallbrook (12-15) prevailed 16-3 in the division final the next day to earn a trip to the regional playoffs.
Foothills Christian ended its season with a final 19-3record, 11-1 in league play.
Freshman Emma Romeka led the Lady Knights with a 0.561 hitting average while leading the team with 34 RBI. Senior Carly Robbins was next up with a 0.552 hitting average and 30 RBI. Freshman Reese Winchester batted 0.456 with 24 RBI, also in 30 games, while freshman Gabby Wolford batted 0.386 with 19 RBI.
Romeka finished her debut high school season with a 17-2 pitching record, 2.18 earned-run average and 128 strikeouts in 86.2 innings.
Similarly, Grossmont Hills League champion Helix Charter advanced as far as the Division II semifinals.
Helix tied El Capitan with an 8-2 league record atop the Grossmont Hills League standings before embarking on a four-round odyssey as the top seed in the section playoffs.
The Lady Highlanders edged ninth-seeded Mission Bay, 2-1, in the opening round of double elimination play and shut out Granite Hills, 2-0, in second round play to advance to fourth round play.
But Poway stood in the way with an 11-2 win in the semifinals. Granite Hills then delivered the coup de grace with a 4-2 win in the double-elimination game.
Freshman Lauren Farace hit 0.402 in 31 games for Helix while junior Angel Riggins batted 0.393 in 26 games. Senior Sophia Ramuno hit 0.360 in 31 games while senior Amber Young batted 0.348 in 31 games. Ramuno keyed the team with 29 RBI while Farace paced the team with 39 hits, including seven doubles, and 31 runs scored.
Ramuno was 18-6 in 25 trips to the pitching circle with 257 strikeouts in 165.1 innings and a 1.31 ERA.
Valhalla, which tied for the Grossmont Valley League top spot with West Hills (with both teams sporting 7-1 league records), played four games in the Division II bracket before being eliminated by eventual champion Granite Hills. The Lady Norsemen (21-9) defeated 12thseeded Clairemont, 4-0, in the single-elimination play-in round and later staved off elimination with a 7-1 win over seventh seeded El Camino in the challenger bracket.
Senior Maryn Jordan led Valhalla with a 0.511 batting average in 30 games with 45 hits and 27 RBI. Junior Cadyn Ruffer hit 0.471 in 29 games with 40 hits and 26 RBI while junior Mckayla Fish batted 0.431 with a team-leading 28 RBI.
Fish paced the pitching staff with a 14-5 record in 22 appearances with a 2.70 ERA and 138 strikeouts in 101 innings.
San Diego Section 2022 Softball Champions
May 27-28 at UC San Diego
OPEN DIVISION
(4) Otay Ranch 2, (2) San Marcos 0
DIVISION I
(1) Mater Dei Catholic 13, (2)
Cathedral Catholic 12
DIVISION II
(4) Granite Hills 8, (3) Poway 4
DIVISION III
(3) Calexico 4, (1) Holtville 2
DIVISION IV
(2) Escondido Charter 4, (3) TriCity Christian 3
DIVISION V
(3) Fallbrook 16, (1) Foothills
Christian 3