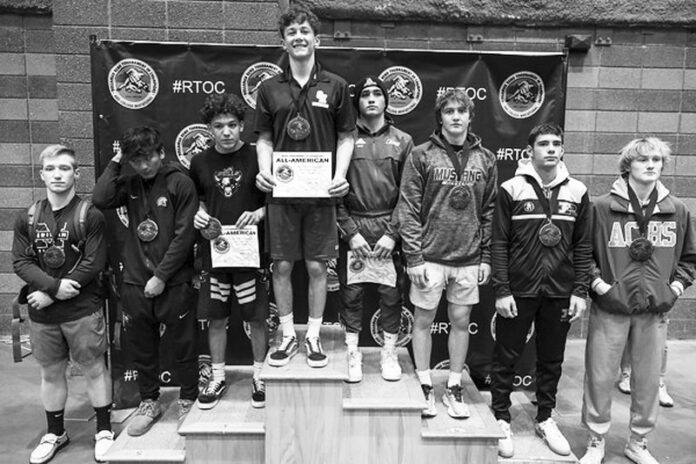 The Granite Hills High School's wresting team continues to search out the best competition around and competed in last weekend's 45th annual Doc Buchanan Invitational in Clovis — the one with cowboy hats awarded to weight class champions.
The Eagles had two grapplers place runner-up in one of the nation's top high school events: Abram Cline at 106 pounds and Collin Guffey at 155 pounds. Cline, a junior, dropped a 6-3 decision to Buchanan freshman Rocklin Zinkin in the championship round, while Guffey saw his trip to the finals halted by Palm Desert's Beau Mantanona by a 5:45 pin.
Cline advanced to the championship round with a 3-2 win over Clovis' Thunder Lewis in the semifinals while Guffey advanced with a tie-breaker win over Weston Dalton from Colorado's Pueblo East.
Cline edged Nathan Braun, from Bergen Catholic, N.J., by a score of 4-2 in the quarterfinals while Guffey defeated Buchanan's Leo Contino, 2-0, in sudden victory.
Cline captured a 7-0 decision from Zaidyn Quinonez from Pomona, Colo., in the round of 16 while Guffey recorded a 12-0 major decision over Roosevelt-Eastvale's Brian Leon.
Cline and Guffey were among four San Diego Section wrestlers to reach the championship round, joining Poway's Angelo Posada (second at 163 pounds) and Luke Condon (second at 173 pounds).
Wrestlers from six states were represented in the finals: California, Massachusetts, Oregon, New Jersey, Oklahoma and Colorado.
The Eagles finished the national-draw tournament with three place-winners. Joining Cline and Guffey on the awards podium was Jayson Suetos, who placed eighth at 129 pounds following a 12-2 loss by major decision to Monache's Jacob Perez. Buchanan won the team title at this year's event with 242.5 points while Palm Desert was second with 171 points. The team champion Bears had 11 wrestlers advance to the medals podium.
Poway had four place-finishers.
Edwin Sierra placed fourth at 116 pounds while Laird Root placed fourth at 155 pounds to join Posada and Condon in the awards ceremony.
Reno TOC
Guffey was coming off a career high after winning the elite Reno Tournament of Champions to end the 2022 calendar year.
The tournament is nationally ranked.
The Granite Hills mat man finished 7-0 with a run of six pins and a 4-0 decision over the state's second-ranked wrestler at the time in the finals.
"Guffey has been wrestling tough all year — always pushing himself in the room and doing extra to make sure he gets better," Granite Hills head coach Jesse Sheard said. "He's super focused on perfecting his technique and fixing his mistakes. He's 18-0 right now. He has won Granite Hills Invitational, LCC Jimmy Hamada and Reno Tournament of Champions."
The Eagles have had one league dual meet so far against Steele Canyon on Dec. 21. Granite Hills won the junior varsity half by a score of 59-9 while claiming the varsity half with a near-perfect score of 75-6.
"We have a great group of kids this year," Sheard said. "They're always focusing on getting themselves and their teammates better. This group — from top to bottom — has a great bond which makes it fun for everyone. We currently have 15 guys ranked in the state and are ranked 12th as a team."