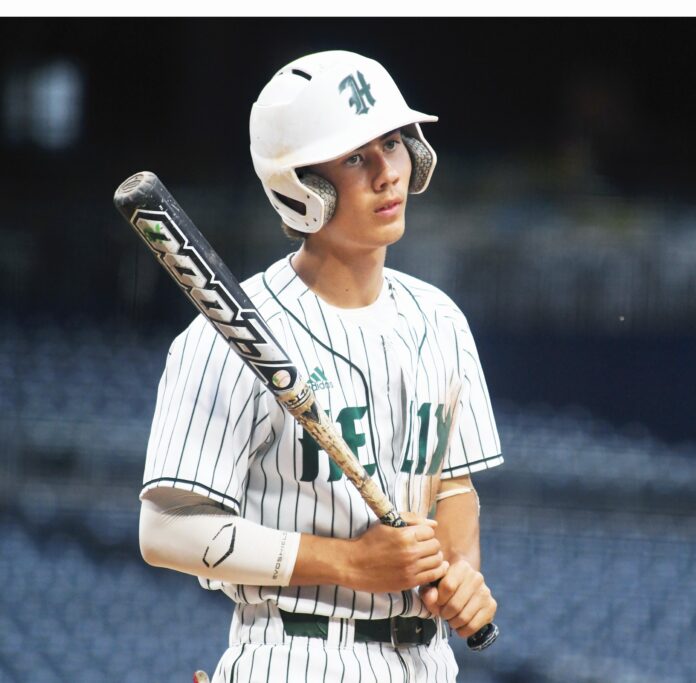 Every Major League Baseball player has a beginning. They didn't just fall out of the sky ready to produce on the field or on the mound.
Padres all-star outfielder Juan Soto? He had to start somewhere playing as a kid. Ditto for fellow Friars all-star pitcher Josh Hader.
Now, former Helix Charter High School standout Jordan Thompson has to make a mighty decision after being selected by the Los Angeles Dodgers in the 15th round as the 460th player in this year's MLB Draft.
The 20-round, 614-player draft took place July 9-11 in Seattle in Star Game.
Hang a star
Undrafted in high school, Thompson elected to attend Louisiana State University as an alternate route to the Majors. His decision appears to have paid off after LSU advanced to — and won — this year's College World Series championship.
"Very happy for him," Helix baseball coach Cole Holland said. "He has worked so hard to get to where he is. He deserves everything coming his way."
Thompson, who grew up in Eastlake and got his start in youth baseball at nearby Sweetwater Valley Little League, played two varsity seasons at Helix Charter. As a junior, he finished with a 1.17 ERA in 13 appearances, striking out 32 batters in 50 innings, while earning selection to the Padres High School All-Star Night event.
Thompson reached base three times via two singles and a walk, scored one run and drove in another in a highlight reel performance under the lights at Petco Park.
LSU came calling next. The former Highlander made an impact from the start of his collegiate career by earning Freshman All-SEC in 2021 and a berth on the 2021 NCAA Regional All-Tournament Team.
Thompson completed his junior season with the Tigers by earning recognition on the 2023 NCAA Regional All-Tournament Team.
Regarded as a superb defensive player with a contact-oriented approach to hitting with home run power to the pull side, Thompson — the 2019 Grossmont Hills League Pitcher of the Year and 2019 First Team All-CIF honoree — has appeared in 195 games (194 starts) for LSU over the past three seasons with a career 0.260 hitting average, 30 doubles, two triples, 25 home runs, 115 RBI and 136 runs scored.
Thompson finished the 2023 season with a 0.246 hitting average, 50 runs scored, 12 doubles, one triple, 11 home runs and 53 RBI in 71 games, all starts. He ranked in a tie for third on the team in RBI.
The Tigers played eight games in the College World Series, starting with a 6-3 win over Tennessee on June 17 and a 3-2 loss to Wake Forest on June 19.
LSU won its next three games, including a pair of rematches with Wake Forest on June 22 and June 24, to advance to the best-of-three championship series against the Gators.
The Tigers won the first game, 4-3, on June 24 but dropped the second game by a lopsided score 24-4 on June 25. It was LSU's turn to pour on the fire in a finals-clinching 18-4 victory on June 26.
Thompson drove in three runs with a pair of singles and a sacrifice fly in the deciding Game 3 after going three-for-eight in the NCAA Super Regional against Kentucky with three RBI and two runs scored.
Tiger tales
LSU's College World Series championship certainly caught the attention of MLB scouts. Tiger pitcher Paul Skenes was selected by the Pittsburgh Pirates as this year's overall No. 1 draft pick. His slot signing bonus is a hefty $9,721,000.
LSU teammate Dylan Crews was selected No. 2 overall by the Washington Nationals with a slot signing bonus of $8,988,500.
Crews led the national champions with a 0.426 hitting average to go with 100 runs scored, 18 home runs and 70 RBI in 71 games. Skenes compiled a 13-2 record in 19 appearances with a 1.69 earned-run average and 209 strikeouts in 122.2 innings.
Thompson is one of two Sweetwater Valley Little League alumni to be selected in this year's MLB Draft, joining Nate Nankil, who was tabbed by the Oakland A's in the eighth round as the 196th pick overall.
Nankil represented SVLL in the 2015 Little League World Series and El Cajon Diamond at the PONY-13 International World Series the next season.
Sweetwater Valley, which posted a monstrous 17-game winning streak through five tournaments, including the West Region championship, finished third overall in the U.S. bracket.
A year later, Nankil, along with two SVLL alumni (Jacob Baptista and Ariel Aarmas), helped El Cajon Diamond win the PONY-13 International World Series championship.
Nankil had three RBI in a 12-0 championship game victory over Panama. El Cajon Diamond posted a 15-1 record en route to winning the 2016 PONY-13 World Series championship.
Following his headline-making stint in youth baseball, Nankil played three seasons at Bonita Vista High School. The Barons' 2020 Player of the Year, Nankil hit 0.308 in 88 career games at BVHS with 39 RBI, 44 runs scored, 17 doubles and four home runs. On the mound, he fashioned a 4-8 win-loss record with three saves, a 2.71 earned-run average and 41 strikeouts in 62 innings.
Nankil, who has grown into a 6-foot-3, 191-pound frame as a junior in college, just finished his third season at Cal State Fullerton where he has posted career numbers of 63 runs scored, seven home runs, 69 RBI and 21 stolen bases (in 24 attempts) to go with a 0.280 batting average in 144 games for the Titans.
An outfielder, Nankil batted 0.316 with 39 RBI, 40 runs scored, 21 doubles and five home runs in 55 games at Fullerton this spring.