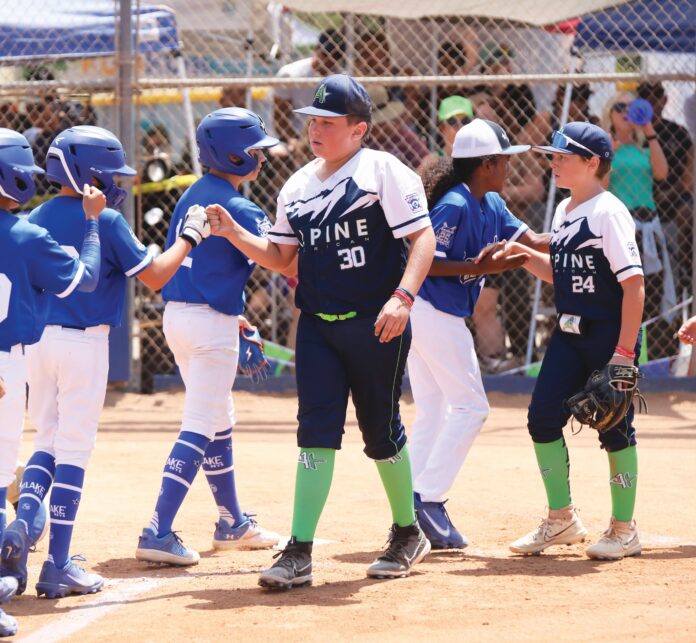 It looks as if California District 41 Little League has something tasty stirring in the pot after advancing three of its all-star teams — 10U, 11U and 12U — to California Section 7 championship games earlier this week.
The Section 7 tournament is the next step up from district championship tournaments. Section champions advance to the Southern California divisional level — the last stop for the 10U and 11U age groups and one step closer to the West Region Little League World Series qualifying tournament in the 12U age group.
Section championship games were Tuesday following the start of the tournament on Saturday.
Headlining the trio of District 41 championship game qualifiers were Santee National Little League in the 10U division, Rancho de Oro Little League in the 11U division and Alpine American Little League in the 12U division.
Road to the LLWS
Alpine American opened the section tournament by defeating District 22 champion El Centro, 11-0, and then taming District 42 champion Eastlake Little League by a narrow 1-0 score on Sunday to improve to 2-0 in tourney play.
Cash Wise homered in the tournament opener as Alpine American pounced early and often on the District 22 champions.
Sunday's pitching matchup featured Alpine American's Carson Reis against Eastlake's Eddie Acosta. The only run in the game was scored by Alpine American's Cash Calderon on a close play at the plate.
Meanwhile, El Centro and Eastlake met in an elimination game on Monday that Eastlake handily won, 17-0, in just three innings to get a second crack at the District 41 champions.
Should Alpine American win on Tuesday, it would advance directly to the SoCal divisional tournament July 22-31 at North Mission Viejo Little League while an Eastlake win on Tuesday would force a double-elimination game on Wednesday.
Regardless of the winner, it's been a memorable journey to get this far on the road to the Little 10U All-Stars Santee National Little League advanced to meet District 42 champion Sweetwater Valley in a game scheduled to be played at Brawley Little League in Imperial Valley.
Sweetwater Valley defeated Santee National, 9-8, in the opening round, with Santee National winning two elimination games to draw a championship game rematch with the District 42 champs.
Santee National defeated District 66 champion Lemon Grove on Sunday and topped District 22 champion Brawley on Monday to remain in championship contention, though still needing two wins over Sweetwater Valley to advance to the divisional round.
The Santee National-Sweetwater Valley winner advances to the SoCal tournament being hosted by Norco/Corona in Eastvale.
11U All-Stars
Rancho de Oro advanced to meet District 42 champion Sweetwater Valley in a game scheduled to be played at Spring Valley Little League.
Rancho de Oro opened section play with a 13-0 win over District 66 champion Spring Valley and notched a berth in the title contest with an ensuing 7-3 conquest of Sweetwater Valley after the District 42 champions had defeated District 22 champion Yuma in their tourney opener.
Spring Valley defeated District 22, 12-11, in a fiercely contested elimination game on Sunday and Sweetwater Valley won an elimination game on Monday, 7-0, over Spring Valley to rematch with Rancho de Oro, which needed one win to advance to the divisional round at Newmark Little League in San Bernardino out of a possible two-game series.