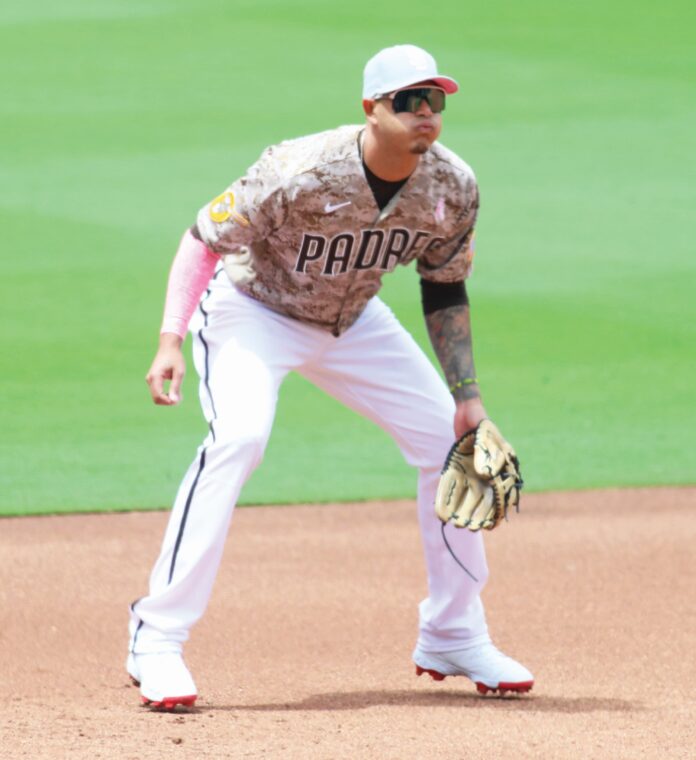 Sixty games into the 2022 Major League Baseball season, the Padres were tied with the 1998 and 2020 teams for the best start in franchise history.
Following the Pads' 4-1 win over the Cubs in Chicago on June 14, the San Diego club was off to its best start in franchise history with a record of 38-24 through 62 games.
As of June 17, the Padres (41-25) were tied with the Los Angeles Dodgers (39-23) for the National League West lead.
The Pads seem to be following a familiar script thus far this year, hopefully the ending will be far better than the untimely crash that greeted last year's squad down the stretch run.
The Padres' pitching staff collapsed in the late going, and the hitting seemed to dry up as well, in a stretch that saw the team drop 43 of its final 67 games to finish a whopping 28 games behind the division champion San Francisco Giants.
While this year's pennant race is still in the developing stages, both the Padres and Dodgers have to be wary of the Giants, who sat just 3.5 games back as of last Friday.
The Arizona Diamondbacks (31-25) and Colorado Rockies (28-37) appear less threatening at the moment while trailing the two front-runners by 10 and 12.5 games, respectively.
The Padres were 55-40 in mid-July 2021 but finished 79-83 when the regular season was done.
San Diego native Joe Musgrove led the team with an 11- 9 pitching record with a 3.18 earned-run average and 203 strikeouts in 181.1 innings.
The Padres utilized the services of 33 hurlers last year; Musgrove, a graduate of Grossmont High School in La Mesa, was the only Pads' pitcher to post double-digit victories. Yu Darvish was 8-11 with a 4.22 ERA, Blake Snell was 7-6 with a 4.20 ERA, Chris Paddack was 7-7 with a 5.07 ERA, Craig Stammen was 6-3 with a 3.06 ERA, Tim Hill was 6-6 with a 3.62 ERA, Mark Melancon was 4-3 with a 2.23 ERA, Emilio Pagan was 4-3 with a 4.83 ERA and Ryan Weathers was 4-7 with a 5.32 ERA.
Melancon had 39 saves to his credit with 59 strikeouts in 64.2 innings. Musgrove topped the team in games (32, including 31 starts) and strikeouts while Darvish ranked second with 30 starts and 199 strikeouts in 166.1 innings.
Snell registered 170 strikeouts in 128.2 innings. Musgrove and Snell are leading the Padres' pitching staff again this year.
Musgrove improved to 8-0 in 2022 with a 1.59 ERA and 81 strikeouts in 79 innings following a 6-4 win over the Cubs on June 16 in which he went seven innings with five hits allowed and two earned runs. Darvish improved to 6-3 with a 3.35 ERA and 62 strikeouts in 75.1 innings following the June 14 win in the Windy City. Taylor Rogers is the team's early season saves leader with 20.
This is Musgrove's seventh year in MLB, his fifth in the National League and second playing for his hometown team. He was originally drafted by the Toronto Blue Jays in the first round (46th overall) in the 2011 draft right out of high school. He spent three seasons with the Pittsburgh Pirates before joining the Padres. He was part of a massive 10-player trade with the Houston Astros on July 20, 2012. He played two seasons in Houston, winning a World Series championship in 2017, before moving over the Pirates in another trade.
He pitched in Petro Park as part of the MLB Futures Game in 2016 in conjunction with the Padres hosting the MLB All-Star Game. He returned to America's Finest City as part of
a trade with Pittsburgh in January 2021.
The El Cajon native opened the month of June with a 3-0 record, 0.86 ERA and 23 strikeouts in 21 innings.
Hometown hero
Musgrove already has recorded several MLB milestones. In a game for the Pirates on Aug. 30, 2018, against the St. Louis Cardinals, he threw 21 consecutive strikes to start a game — the most since 1988 by a major league pitcher.
He threw a no-hitter against the Texas Rangers on April 9, 2021, as a member of the Padres. It was the first no-hitter in the team's 52-year history. He just missed throwing another no-hitter for the Padres in a 7-0 against Milwaukee on June 3 in which he posted eight scoreless innings and a no-hitter through 7.2 innings.
"I was pretty much relying on breaking balls, my change-up, got a couple outs on that, but ultimately, it was the fast ball that worked," he said in a postgame interview.
Musgrove is the ultimate local boy who has done good, as the saying goes, for East County. After spring training concluded during his first year with the Friars, Musgrove visited his former school for a pep talk with the baseball team. Foothiller players appreciated the time he took out of his schedule to speak with them. Even more to their delight, he stayed and watched their game.
Following the no-hitter, the Padres unveiled a larger-thanlife mural on the Grossmont High School campus. The mural, painted by Ground Floor Murals, features Musgrove in a Padres uniform with the tag line "… Meant To Be …"
Grossmont principal Daniel Barnes told local television that Musgrove was a great athlete at the school, a good student and respected by his peers and the school's staff.
Musgrove's local ties run even deeper. The family has operated a coffee shop, Caffé Adesso, in Alpine for more than 20 years. The #44 on the menu, in honor of Musgrove's uniform number with the Padres, has obviously become a popular order item since he threw the no-hitter.
Pad squad
Hitting leaders through June 17 included Manny Machado (0.328, 43 RBI, 11 home runs), Eric Hosmer (0.288, 29 RBI, four home runs), Jurickson Profar (0.253, 35 RBI, eight home runs) and Jake Cronenworth (0.246, 40 RBI, six home runs).
The Padres' team batting average is 0.243 while the team's cumulative ERA is 3.32.