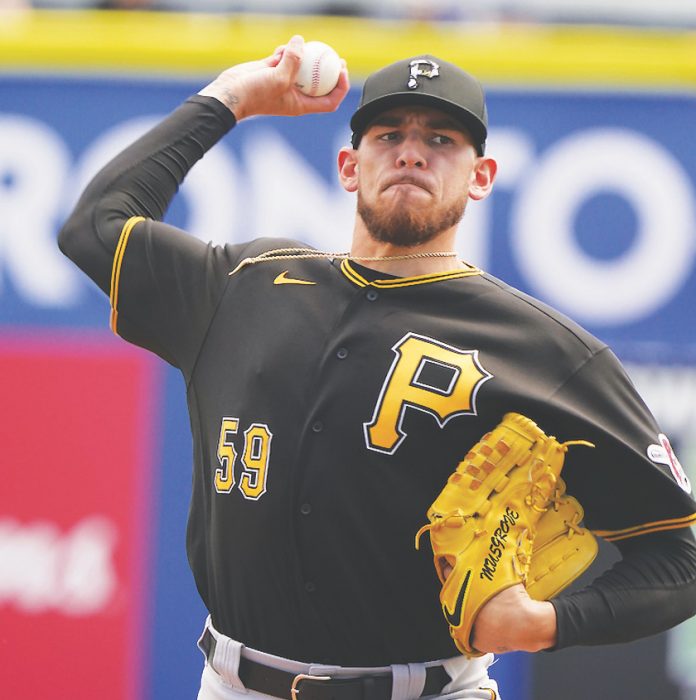 Grossmont High School alumnus Joe Musgrove is coming home to play professional baseball.
Musgrove, 28, was acquired by the San Diego Padres in a three-team trade with the New York Mets and Pittsburgh Pirates on Jan. 19 involving seven players. He joins a team he grew up rooting for as a teenager. His family held season tickets beyond right field.
Musgrove spoke with the media via Zoom the day after the trade. He was, naturally, excited not only to be realizing a dream of playing for the Padres, his hometown team, but also playing for a team that could contend for a World Series championship.
"Going into the offseason, I knew the chances of me getting traded were pretty high," he said. "Ideally, what I'm looking for is a team that is going to compete and a team that will be a contender for a World Series title every year. It just so happens to be (in) my hometown. It makes it that much more special. The memories and the place where my dream of being a professional baseball player really started was in San Diego … It's extremely special."
A right-handed pitcher, Musgrove appeared in eight games for the Pirates last season with a 1-5 record, 3.86 earned-run average and 55 strikeouts in 39.2 innings pitched. He started the season 0-5 with a rather unkind ERA before finishing the regular season schedule with a flourish with a 1.64 ERA and 34 strikeouts in 22 innings in his last four starts.
His 12.5 strikeouts per nine innings last season was a career high.
Musgrove spent three seasons with the Pirates after opening his MLB career by playing two seasons with the Houston Astros in the American League.
Musgrove brings some credentials to his new team: He was a member of the Astro's 2017 World Series championship team.
The former Foothiller joins a Padres squad bent on winning this year's National League pennant to advance to the World Series, which would be the third time, if successful, in franchise history.
Musgrove's five-year MLB career features a 29-38 record in 108 game appearances (83 starts) with a 4.33 ERA and 465 strikeouts in 496.2 innings. He was 1-0 in four World Series games in 2017.
Originally drafted by the Toronto Blue Jays in the first round (46th overall) of the 2011 amateur draft, Musgrove joins a San Diego pitching staff that has been bolstered in recent weeks by the acquisitions of Blake Snell (Tampa Bay Rays) and Yu Darvish (Chicago Cubs) in separate trades in a bid to expand the depth in the starting lineup.
The Padres, who surrendered five players to obtain Musgrove, finished runner-up to the Los Angeles Dodgers in last year's NL West standings to earn the No. 4 seed in the playoffs. The Pads eliminated the fifth-seeded St. Louis Cardinals in the teams' best-of-three wild card series before being swept by the top-seeded Dodgers in the next round.
The Dodgers went on to claim the 2020 World Series title by defeating the Rays in six games. It was the Los Angeles team's first World Series championship since 1988.
Pitching problems hobbled the Padres during post-season play. The Friars used nine pitchers in their 4-0 series-clinching win over the Cardinals.
Actually, this will be Musgrove's second homecoming at Petco Park after participating in the All-Star Futures Game during festivities associated with the 2016 MLB All-Star Game.
Musgrove, then representing the Fresno Grizzlies, started the game for Team USA.
Musgrove also pitched against the Padres at Petco Park in 2019 as a member of the Pirates.
Musgrove's 2021 salary is $4.45 million. He will remain under contract to the Padres through 2022.
Pitchers and catchers are expected to report to the Padres' spring training complex in Peoria, Ariz., by Feb. 17.
The Padres had two local players on their roster last year: infielder Greg Garcia (Valhalla High School) and Greg Allen (Hilltop High School).
Blast from the past
Musgrove definitely had an impact – and a lot of fun — during his playing days at Grossmont High School where he was part of a record-setting dynasty baseball program.
He helped lead the Foothillers to San Diego Section championship game appearances during the 2010 and 2011 seasons. The 2010 Grossmont team tied a section record with four consecutive division titles while the Foothillers' 2011 squad came up short in a bid to set a new CIF record with five consecutive division titles.
The Foothillers finished the 2010 season with a 27-7 overall record, defeating Grossmont Conference rival Helix, 8-0, in the 2010 Division II championship game. Musgrove tossed a complete game two-hitter with four strikeouts. Musgrove also went two-for-four at the plate with one run scored.
Musgrove went 11-1 on the mound his junior season with a 2.07 earned-run average, one shutout and five saves. He struck out 70 batters in 77-plus innings.
Grossmont finished 26-8 in 2011 after suffering a 6-0 loss to Rancho Bernardo in the Division I championship game. Musgrove took the loss in that game after yielding two runs in the opening three frames. He struck out five batters while allowing three hits.
Musgrove finished his senior season with a 7-5 record, 2.40 ERA and 100 strikeouts in 78-plus innings. He was a terror at the plate with six doubles, two triples, nine home runs and 32 RBI to go with a .350 hitting average.