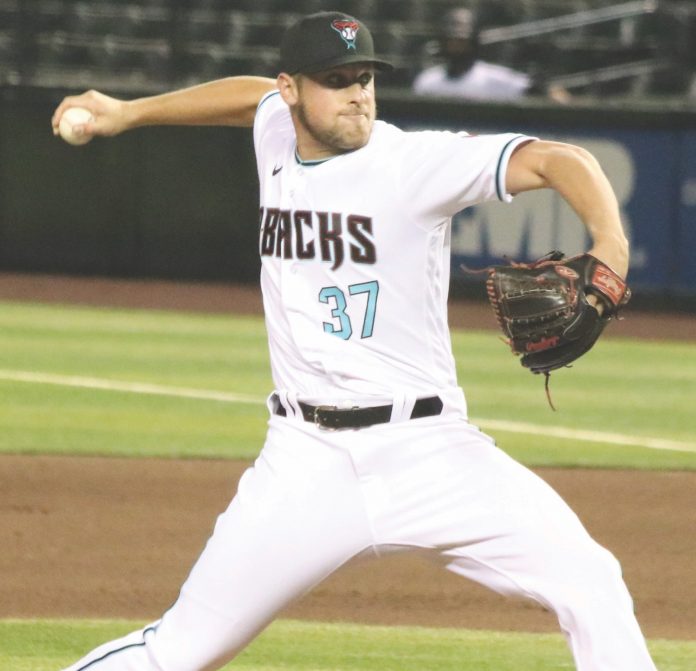 From Lakeside to Major League Baseball. It's been an understandably momentous journey completed by Kevin Ginkel.
The 2012 El Capitan High School graduate is playing his second season with the Arizona Diamondbacks. It took time to get there, and he didn't get there without the proper mentoring.
Ginkel listed former Vaquero head coach Steve Vickery as his favorite coach when making the transition from high school to community college baseball in 2014.
Vickery was inducted into the National High School Baseball Coaches Hall of Fame in 2012. He retired after 33 years as the second-winningest baseball coach in San Diego Section history with 647 wins.
During his long tenure at Valhalla and El Capitan high schools, Vickery captured 12 league titles, four section titles and four runner-up finishes.
He helped launch the careers of several of his players to the MLB level, Ginkel included.
"He taught me the little things in baseball and also showed me how to respect the game," Ginkel noted in his college bio of his former coach.
Ginkel recorded 17 wins as a junior and senior at El Capitan with a sterling 1.07 earned-run average and 113 strikeouts in 124.2 innings pitched. He held opponents to a .145 batting average while hitting .583 with one home run and five RBI in 13 plate appearances.
He won nine games during the 2011 season and went 8-2 as a senior in 2012.
He was a giant on the mound as a high schooler at 6-3 and 187 pounds his senior year with the Vaqueros. He matured to 6-4 and 205 pounds by the time he joined the pitching staff at Southwestern College two years later.
El Capitan finished 28-6 in 2011 (12-0 in league play), losing 3-2 to Cathedral Catholic in the Division III championship game.
The Vaqueros finished 31-7 in 2012 (12-0 in league play), losing 3-1 to Cathedral Catholic in the Division III championship game.
He played two seasons (2014-15) at Southwestern College prior to transferring to the University of Arizona.
As a freshman with the Jaguars in 2014, he posted an 8-3 record in 13 starts with a 2.78 earned-run average to go with 58 strikeouts in 88 innings pitched.
His time at the community college level served as a launch pad to the NCAA Division I level.
"I decided to come to Arizona because of the great baseball culture and the chance to pitch in the Pac-12," Ginkel said.
In 2016, he logged a 5-1 record on the mound in seven starts with three saves. He struck out 45 batters in 64.1 innings with a 2.80 earned-run average.
He started Game 2 of the College World Series against Coastal Carolina, allowing one earned run in seven innings while striking out 10 batters without a walk. He combined with Coastal Carolina's Mike Morrison (10 strikeouts) to become the first set of College World Series pitchers in 30 years with 10 or more strikeouts in the same finals game.
Ginkel was selected in the 16th round of the 2014 draft by the San Francisco Giants and the 26th round in 2015 by the Boston Red Sox but decided to return to school both times. He was subsequently drafted by the Diamondbacks in the 22nd round in 2016 and elected to sign a pro contract.
Ginkel made his professional debut with the Hillsboro Hops in the Northwest League (A-short season) where he went 1–0 with a 2.61 ERA in 18 relief appearances. He played 2017 with Hillsboro and in the Midwest League (A) with the Kane County Cougars, recording a combined 1–2 record and a 5.36 ERA in 40.1 innings in relief.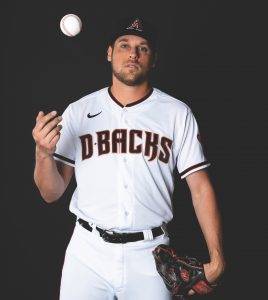 The 2018 calendar year was very kind to Ginkel.
He went 6-1 with nine saves, a 1.41 ERA and 100 strikeouts in 54 games in relief between Visalia Rawhide A-Advanced) and the Jackson Generals (AA). He recorded the final three outs of the deciding game in the Southern League championship series.
He was part of history when he pitched two innings in a combined no-hitter with teammates Justin Donatella (three innings), Daniel Gibson (two innings), Kirby Bellow (one inning) and Brad Goldberg (one inning) as Jackson defeated Jacksonville on June 14, 2018. It was the Generals' first no-hitter since 1999.
He played for Salt River in the 2018 Arizona Fall League, going 1-0 with one save, a 2.53 ERA and 17 strikeouts and two walks in 10 games.
Ginkel continued to advance in 2019. Prior to the season, the Lakeside native worked on a new delivery with former Major Leaguer Luke Hagerty in which he is bent at the knees as he comes set, which he said helps him "activate" his legs and stay back.
The former El Cap standout split the 2019 minor league season between Jackson and the Reno Aces in the Pacific Coast League (AAA) with a combined 2–2 record, 11 saves, 1.78 ERA and 62 strikeouts in 33.1 innings.
The Diamondbacks promoted him to the major league club on Aug. 5, 2019.
The fifth Arizona Wildcat to play for the D-backs, he made his debut that night against the Philadelphia Phillies, striking out one batter in two-thirds of an inning.
He earned his first career save on Sept. 16 against the Marlins by pitching one scoreless inning.
He went on to finish the 2019 season 3-0 with two saves, nine holds, a 1.48 ERA and 28 strikeouts in 24.1 innings.
He tied for the NL lead after Aug. 19 with nine holds and third overall in the Majors. Opponents hit just 0.075 with 20 strikeouts against his slider.
The Diamondbacks finished 85-77 in the National League West Division standings in 2019, placing runner-up to the Los Angeles Dodgers (106-56).
The shortened 2020 season has been another story for both the Diamondbacks and Ginkel, however.
The D-backs entered the week last in the NL West standings with a 20-34 record — 18 games behind the division leading Dodgers.
Ginkel was 0-2 with a 6.75 ERA and 18 strikeouts in 16 innings.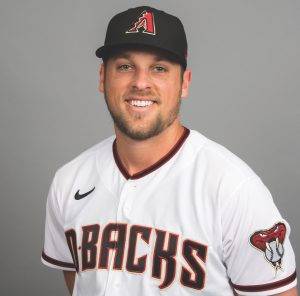 There's next season on the brighter side.
MLB on deck
•Former Grossmont High standout Joe Musgrove pitched six innings, yielding three hits, one walk and striking out 11 batters in a 2-1 loss to the St. Louis Cardinals on Sunday.
He fell to 0-5 on the season but lowered his ERA to 4.68 with 45 strikeouts in 32.2 innings.
•The Padres, buoyed by a three-run 11th inning rally, defeated the Mariners, 7-4, on Sunday to secure their first playoff appearance in 14 years. The Pads (34-20) currently rank No. 4 in the playoff bracket and will meet the No. 5 seed in a best-of-three wild card playoff series.
In 31 games with the Padres, Valhalla alum Greg Garcia has recorded a .235 hitting average to go with three doubles, 10 RBI and five runs scored.
The No. 1-ranked Dodgers (38-16) lead the NL West by four games.