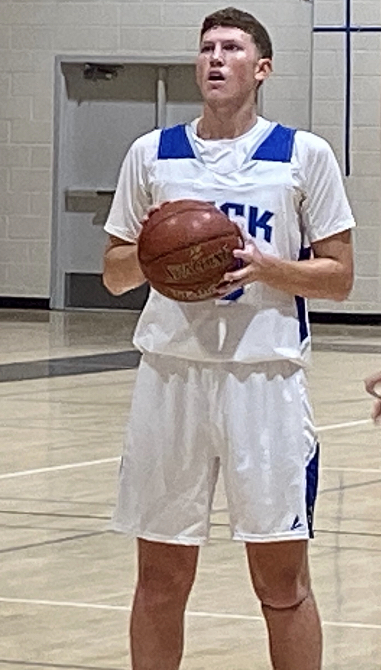 Perennial San Diego Section power Foothills Christian was the top-rated boys' basketball team in the East County following the first in-season release of the county media poll on Monday.
The Knights, who were the only local outfit to be included in the top ten in the preseason when they were listed fourth, are led by Yale-bound senior Yassine Gharram, a 6-2 guard who is a top candidate for county player of the year this season.
Other top players for the Knights included 6-foot-2 junior Darrien Carter Hollinger, the younger brother of Derrick (D.J.) Carter Hollinger, who is already averaging 7.7 points in 23 minutes as a freshman at the University of Montana, and 6-foot-4 senior Jalai O'Keith.
Foothills Christian, which lost the San Diego CIF Open Division championship game last season 51-47 to Torrey Pines, started the season just 2-2, but that record was accumulated at The Battlezone tournament in Corona, one of the major early-season events on the west coast. The Knights defeated another preseason top-ten team from San Diego in upstart San Ysidro, 100-84.
The Knights play three games this week, including a matchup with Christian High in the Grossmont Tournament. That game will be played on Friday at Olympian High at 7:30 p.m.
The Patriots, who are off to a 3-1 start, are also one of the top local outfits this season under first-year head coach Tim Brown.
Christian rolled off three-straight wins to open the season at the San Diego Regional Rumble at Madison High before bowing to second-ranked St. Augustine, 60-52, on Nov. 30.
Seniors Kobe Sanders and Patrick Roberts lead CHS, which reached the section Division I quarterfinals last season, falling to Cathedral Catholic. Sanders, a Cal Poly San Luis Obispo commit who scored 35 points in a 65-48 win over Canyon Crest on Nov. 26, averaged just over 12 points-per-game last season.
Sophomore guard Vinny Signorelli knocked down a pair of free throws a day later to help Christian High seal a 45-41 win over Del Oro, of Loomis, at the tournament.
The Helix Highlanders are possibly the top team in the Grossmont Conference this season led by another local player of the year candidate Maurice Holmes, a 6-foot-6 forward who has committed to Fresno Pacific University.
The Scotties debuted with a 2-3 record heading into this week, including a season-opening defeat at the hands of the aforementioned Saints, 76-70. Helix also split a pair of games with Mission Bay.
Senior guard Keishawn Trice scored a game-high 21 points in a 73-56 win over Sweetwater on Nov. 23. Helix will meet county top ten team Mater Dei Catholic on Saturday at the Sweetwater Tournament at 7:30 p.m.
The Highlanders are likely to play all their games on the road for a second consecutive season following the renovation of the famed Helix gym. The refurbishment turned out beautifully, however, the school has yet to secure bleacher seating inside the building.
The West Hills Wolf Pack hosted the Jeff Armstrong Memorial Tournament to open the season, honoring the late coach who passed before the start of last season.
Appropriately, the Wolf Pack opened the season against the Granite Hills Eagles in a matchup of the two local clubs that Armstrong mentored during his East County head coaching career.
And more fittingly, the game went into overtime before West Hills grabbed a 76-72 victory, as senior Kyle Dobyns tied a Grossmont Conference record with 17 free throws made (in 18 attempts) in the contest, finishing with 32 points.
The Pack dropped back-to-back games following the win to a highly-regarded Serra club and a top-ten ranked Torrey Pines team but answered with a pair of wins to improve to 3-2, including a 66-41 victory over crosstown rival Santana (1-6) last Friday, as Dobyns had 23 points and senior Jayden Morero scored 22.
The Wolf Pack, who certainly can challenge Helix in the Grossmont Hills League this season, has a pair of games this week, including a rematch with the Eagles in west Santee as part of the Grossmont Winter Classic on Friday at 7:30 p.m.
The Grossmont Foothillers, under veteran head coach Frank Foggiano, started the season off by winning two of their first three games.
Senior Mykol Rodriguez, a second-team all-Grossmont Hills selection last season, is the team's top returnee. The Hillers are off until they host the Christian Patriots on Dec. 19.
The Valhalla Norsemen are coming off one of the top seasons in school history but will be looking to build behind senior Ryan Razooky and junior Joe Avalos.
After a pair of losses to open the season, the Norsemen defeated Morse, 57-50, last Friday. Valhalla has four games scheduled this week, including a matchup at Francis Parker in the Grossmont tourney on Friday at 7:30 p.m.
The Steele Canyon Cougars (1-4) entered the win column last Friday by defeating Patrick Henry, 61-46.
Meanwhile, the Mount Miguel Matadors lost their season-opener to the Morse Tigers, 68-34, on Saturday.
In the Grossmont Valley League, the Monte Vista Monarchs may have emerged as the early-season favorite following a 5-2 non-league start.
The Monarchs have been the East County's busiest team so far, following up a season-opening loss with a three-game winning streak. Then, following a two-point loss to Fallbrook in the championship game of the Division 4 Showcase, Monte Vista entered this week having won its last two games.
Ivan Maynard and Niamiah Alston have led the Monarchs to-date, with Maynard averaging in double-digits as the team's leading scorer.
The El Capitan Vaqueros certainly can be considered co-favorites, if not the favorite, in the GVL under first-year head coach Elias Totah, a former West Hills player and assistant coach. El Cap has played a tough schedule to open the season, with losses to standout teams Bonita Vista, San Marcos and Serra.
The Vaqueros may have the leading candidate for the Valley League's player of the year in senior Jake Pfitztner.
El Cap was off to a 3-3 start entering the week, including a 48-47 overtime win over Scripps Ranch in Totah's first game as a top man.
Pfitzner is averaging 19 points and 6.5 rebounds per game so far this season, while senior Jaqori Harris is averaging just over 12 points and nearly five boards per contest.
"I believe we are a great teams this year especially playing higher competition," Harris said. "Although we are 3-3, it's earl and we still have some noise to make, including myself. We are on the rise."
The El Cajon Valley Braves (2-4) have a new coach in Raynell Mills.
The Braves dropped their first two games, but then defeated Preuss UCSD, 61-51, in overtime for their first win of the season. They also edged Victory Christian Academy, 58-56 on Nov. 30.
Junior M.J. Rivera leads the team, averaging 16.7 points and 11 rebounds per game. Senior Ralph Esto and junior Jonathan Jarquin are averaging nine points per contest.
The Granite Hills Eagles figure to be certainly better than their 1-5 start would indicate.
The Eagles defeated the Southwest Eagles, 67-39, last Monday behind 28 points from veteran John Yakou and 12 points from another experienced returning starter, McKay Roberts.
Santana enters the week on a six-game losing streak, following a season-opening victory at San Diego Academy on Nov. 19.
The Liberty Charter Lions have a pair of wins in seven starts under new head coach James Shaw. Both victories came in back-to-back games against Del Lago Academy.
Junior returnees Tyler Snell and Jonah Belprez are both averaging over 16 points per game to start the campaign, with Belprez averaging 13 rebounds, as well.