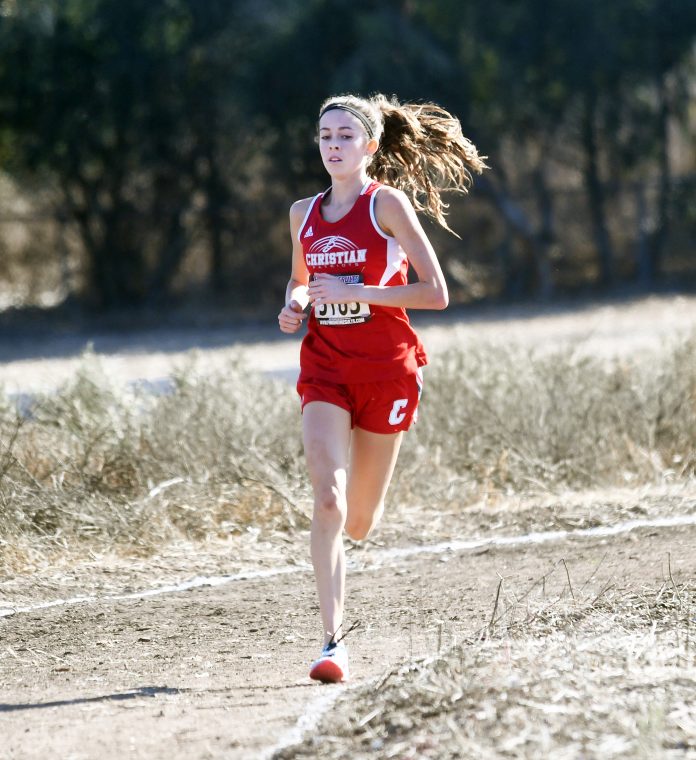 Christian High School junior Alaina Zamorano has been a model of consistency during her three years of competing in cross country events.
She's won three consecutive San Diego Section Division V individual championships and recently concluded her third consecutive top 10 individual finish at the state championship meet.
Zamorano clocked 18:14.7 to win the Division V girls race Nov. 23 at the section finals at Balboa Park's Morley Field. She set the division course record in 18:13.9 as a freshman.
The Christian junior runner embarked on her third trip to the state finals in Fresno's Woodward Park on Nov. 30, placing eighth among 197 runners in 18:42.9. The eighth-place finish placed her among the top 4 percent of finishers in the division at this year's state finals.
"I was really happy to receive another medal," Zamorano said.
The top ten finishers were given medals. Zamorano placed tenth in last year's meet, which took her 19:10.9.
"I think she did great. She ran strong. She had a great time," said Christian coach Rhonda Kirwan. "She did really well, and we're proud of her performance at state."
Zamorano had been fifth in the race prior to an impediment during the second mile. 
"I had a lot of pain in my feet," she said. "That definitely slowed me down a lot. Other than that I was really happy to get the experience again."
St. Helena junior Harper McClain won this year's Division V state title with a runaway time of 17:13.4 — 45 seconds ahead of runner-up Mia Barnett, a junior from Village Christian.
St. Margaret's freshman Liesel Blau finished third in 18:00.0.
Zamorano finished tucked between Santa Fe Christian sophomore Eloise Martenson (18:36.8) and Pacific Ridge freshman Elsa Steer (18:44.7).
Zamorano defeated Martenson for the division section title the past two years.
Zamorano remains motivated for next season. She finished sixth at the state championship meet as a freshman with a time of 18:33.5 and was 10th last year with a time of 19:10.9.
She continues to make strides in her running craft after placing 25th out of 111 runners in last Saturday's Foot Locker West Regional championships in Walnut.
Her time of 17:48.3 in the 5K race was significantly faster than the 19:08.9 time she ran as a sophomore while placing 44th among 121 runners.
The top 10 finishers in both the girls and boys West Region races advanced to compete in this Saturday's Foot Locker Nationals at Morley Field.
State of mind
El Capitan's boys and girls team both notched runner-up finishes at the section Division III finals. The Vaqueros followed that up with a standout showing at the state meet.
El Capitan finished sixth among the 24 scoring Division III girls teams with a score of 239 points. Section champion Cathedral Catholic with second in the state championship race with 154 points. Campolindo won the team title with 74 points.
Freshman Amber Chase led El Cap's high-flying girls team with an individual seventh place-finish in 18:09.5 in the 201-deep field.
The Vaqueros' five scorers also included seniors Carolinh Calvert (30th, 19:06.6) and Dayana Lopez (82nd, 19:56.3), freshman Samantha Mauzy (105th, 20:20.6) and junior Ashley Boinus (110th, 20:22.8).
The Vaqueros finished 19th among the 25 Division III scoring boys teams with 470 points.
Senior Andrew Sager led the team with a 28th individual place-finish in 16:05.5 in the 217-deep field, followed by juniors Parker Dixon (119th, 16:58.0) and Dominic Romero (145th, 17:16.2), sophomore Ryan Quamina (163rd, 17:33.1) and freshman Trey Dixon (165th, 17:37.2).
West Hills, which finished two points behind El Capitan at the section finals, finished 18th at the state meet with a score of 469 points to edge the Vaqueros by one point.
Senior Dylan Shubert led the Wolf Pack by finishing 41st among individuals in 16:12.9. Other scorers for West Hills in the race included senior Aiden Calcutt (120th, 16:58), sophomore Mark McCowin (123rd, 17:00.1) and juniors Sean Willweber (155th, 17:29.0) and Landon Morales (180th, 17:46.1).
San Diego Section champion Cathedral Catholic finished fourth with 193 points. Campolindo made it a sweep by winning the Division III boys team title with 47 points.
A total of six individual qualifiers represented East County schools at this year's state meet, including Christian's Zamorano.
•Santana freshman Mikayla Hornung finished 53rd in the Division III girls race in 19:31.1.
•Grossmont junior Madeline Minutelli finished 56th in Division II girls race in 18:48.5.
•Grossmont senior Devin Provence finished 76th in the Division II boys race in 16:12.9.
•Steele Canyon senior Trinity Birdwell finished 87th in Division II girls race in 19:06.1.
•Steele Canyon senior Richard Cleaves finished 140th in Division II boys race in 16:47.0.
Highlights for the San Diego Section included Canyon Crest senor Carlie Dorostkar winning the Division I girls state title in 16:45.4 and Sage Creek repeating as Division IV girls team state champions.
Dorostkar's time was the fourth-fasted in state meet history; the Bobcats scored a division low 44 points with four runners placing among the top nine finishers.
Foot Locker Nationals
Forty runners in each gender field —the top 10 placers from each of four regionals across the United States — will take the Morley Field course on Saturday in the bid to be crowned national champion.
The girls race steps off at 9:15 a.m., followed by the boys race at 10 a.m.
Sage Creek senior Skyler Wallace finished second at last weekend's regional meet to advance as the only San Diego County runner for this weekend's national championship race.
Wallace finished second in 17:06.3 to trail regional champion Mia Barnett (17:02.4) from La Crescenta by a whisker. 
A total of five section runners placed among the top 25 finishers in the girls race.
San Marcos junior Bella Longo, the section's Division III champion, finished 15th in 17:34.4, followed by Wallace's younger sister Stormy, a sophomore, in 16th place in 17:35.4. Del Norte freshman Hannah Riggins was 17th in 17:38.5.
Stormy Wallace finished second to her older sister in the section Division IV finals while Riggins was third at the section Division I finals.
Sweetwater senior Jose Galvan was the top San Diego County male finisher (28th) at last weekend's regionals with a time of 15:22.8 on the 5K course after finishing fifth at the section's Division I finals and 18th at the state meet.
San Diego senior Henry McClish, this year's Division I section champion, finished 29th in 15:23.4.
McClish recorded the top time among section boys at the finals, inclusive of all divisions. Galvan finished with the eighth fastest time among all boys runners at the section finals.
Contributions by Joe Naiman.