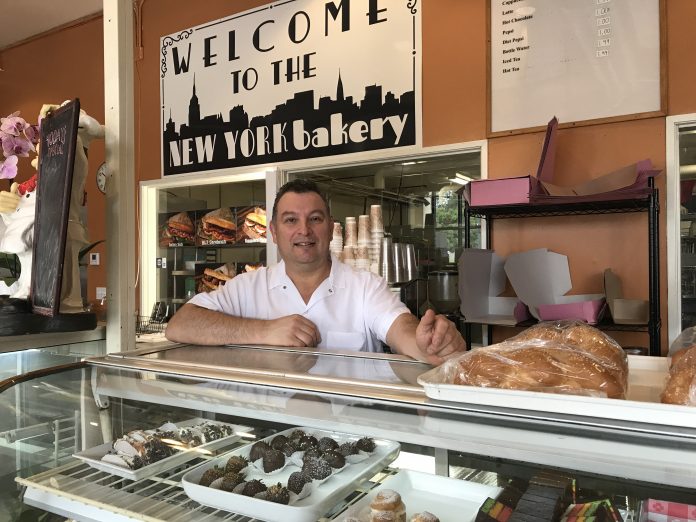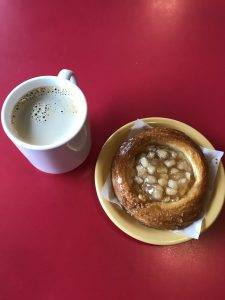 Located in the heart of El Cajon on E. Main Street, the New York Bakery has provided locals with sweet treats and savory sandwiches for over a decade. Under new management, the bakery is adding traditional Colombian dishes to the primarily Italian menu, a testament to El Cajon's diverse community.
Jose Antonio Gomez Ortiz, the newest owner of the New York Bakery, began baking around 40 years ago as a teenager in Colombia. He's excited to bring his years of experience and favorite Colombian recipes to East County customers.
Ortiz plans to introduce Colombian dishes like pandebono and almojábana, two types of Colombian cheese bread and Torta Negra Colombiana (Colombian Black Cake or "wine cake"), a pound cake with walnuts, almonds and figs and topped with wine. The Black Cake is for all ages and children don't notice the wine, Ortiz explained with a laugh.
Classic favorites such as Italian napoleons, tiramisu and biscottis remain a part of the menu, along with croissants, cheese danishes and cinnamon rolls. The bakery also offers soups and Italian sub sandwiches.
Ortiz said he wants to make the bakery a "unique" place where customers can enjoy their morning coffee and a pastry. He hopes the bakery will feel like a home for customers, complete with good service and an easy atmosphere.
"In my mind, when I go to drink coffee, I go to relax," Ortiz said.
Ortiz had worked at the New York Bakery on and off for around seven years when the former owner, Santo DiGrigoli, asked if he would be interested in taking over during the spring of this year. DiGrigoli — who founded the business in 2007 — sold the bakery because he was getting older and wanted to retire, Ortiz said.
Today, the smell of freshly baked desserts permeates the bakery while pop music plays softly in the background. The comfortable space offers indoor and outdoor seating, perfect for savoring a warm apple danish and a cup of coffee.
Before moving to the United States, Ortiz had two successful bakeries in Colombia, but his family struggled with "bad people" who would ask for money every week. Ortiz said the dangerous experiences finally forced him to flee the country with his wife and young children in 2002.
"The environment was really bad," said Ortiz. "You can't say 'no' because you want to save your life and your family."
Ortiz and his family fled to Ecuador, where he began working at another bakery. Encountering similar struggles as in Colombia, Ortiz connected with a human rights agency and sought asylum in the United States. The Ortiz family arrived in El Cajon in 2004.
Over the years, Ortiz has worked at various bakeries across San Diego County, including Howard's Bakery and Ranch Events catering. He's never shied away from any kind of work — even waking up at 2 a.m. to walk to work and make donuts.
El Cajon is home to many immigrant families like Ortiz's, with approximately 30 percent of its about 100,000 residents born outside the U.S. California itself is home to around 11 million immigrants, which is about a quarter of the foreign-born population nationwide.
Ortiz said he's noticed that the U.S. has a better attitude toward immigration than other countries because there are simply more immigrant residents in the U.S.  The New York Bakery's location in downtown El Cajon is an example of how East County is growing, as well, with numerous culturally diverse shops and restaurants.
"We love this country because we have different cultures," Ortiz said, adding that his family didn't see as much diversity when living in Colombia.
The New York Bakery has always been a family business and Ortiz intends to keep it that way. His teenage children often help run the cashier, though he says his youngest son doesn't like to work in the mornings, preferring to sleep in.
After living in El Cajon for 14 years, the family now lives in San Diego. Ortiz expressed his gratitude for the U.S. and the life he has here with his family, eager to continue serving up delicious treats and a warm atmosphere for the community.
"It feels important for me and my family. How can I pay that back?" he asked. "It's my goal to give back."
The New York Bakery is located at 245 E. Main Street in El Cajon and can be reached at (619) 334-3682.