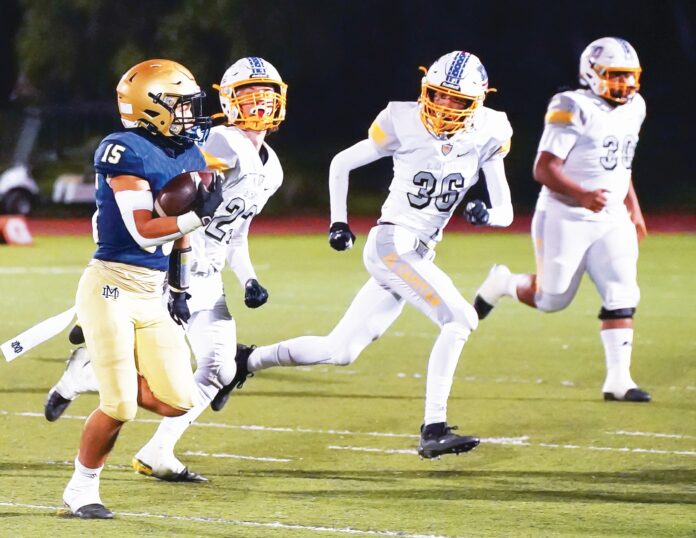 El Capitan High School's football team was involved in a dogfight with the neighboring Santana Sultans and West Hills Wolf Pack before the Grossmont Valley League title was eventually claimed by West Hills in its run to a perfect 10-0 regular season finish, a first in school history.
The Vaqueros didn't do that badly after posting a 5-1 league record and 9-3 overall finish with an exciting overtime playoff victory against Orange Glen and a berth in the San Diego Section Division III quarterfinals.
El Capitan defeated Santana, 35-0, last season while dropping a close 27-21 matchup against West Hills as the teams battled for league supremacy.
The seventh-seeded Vaqueros defeated the 10th-seeded Patriots, 41-34, in the opening round of the playoffs en route to earning a berth alongside eventual state
champion Mater Dei Catholic in the quarterfinal round.
The Vaqs' season ended with an unkind 55-0 loss to the Crusaders.
The focus is now what's ahead for this season.
"We are a bit young/inexperienced at quarterback but have two very good players who should be able to make an impact," veteran El Capitan head coach Ron Burner said. "The defense should be a force with a lot of returning players. The offensive line should be a strength with most returning."
The Vaqueros do have a huge loss to fill with the graduation of high-powered twins Savigon and Antwone Yokley. Savigon Yokley, who has committed to Reedley College, was a monster contributor on the field as a passer, rusher, receiver and, when called on, defensive player.
He passed for 1,816 yards with 22 touchdowns against just two interceptions for a 140-plus quarterback rating. He also rushed for 1,779 yards and 17 touchdowns while making 14 catches for 351 yards and three scores. He accumulated 1,809 all-purpose yards in 12 games, an average of 150.8 yards per game.
Defensively, he had 25 tackles, including 2.5 for losses and four interceptions for 120 yards.
Antwone Yokley had 47 catches for 1,074 yards and 13 touchdowns. He tallied 1,282 all-purpose yards, an average of 106.8 yards per game. He matched his twin with four interceptions on defense.
Still, there is help coming back.
Among the team's top returners are all-league selections Julian May, a junior running back/slot/defensive back; Angel Diaz, a senior running back/linebacker, Dominic Denha, a senior linebacker/halfback and Bradley Larsen, a senior offensive-defensive lineman.
Diaz rushed for 359 yards and scored three touchdowns in 2021. May rushed for 196 yards and netted 140 receiving yards with three touchdowns last season while making eight catches for 121 yards and two more scores. He averaged 62.0 all-purpose yards per game.
Denha tied for the team lead with 57 total tackles, including seven tackles for a loss.
Also back to help buttress the 2022 edition of the Vaqueros are senior quarterback Bruce Newland III, senior defensive back/receiver Jakarrie Bryant, senior offensive-defensive lineman Dustin Godbold, senior offensive lineman Luke Stevens, junior defensive lineman/halfback Saxon Plasterer and senior defensive lineman Manuel Vicencio.
Newland, who backed up Savigon Yokley for most of last season, passed for 456 yards with five touchdowns and no interceptions. Newland rushed for 58 yards and one touchdown while making one reception for 13 yards.
The team's impact newcomers include sophomore quarterback Brandt Barker, junior receiver/defensive back Chance LaChappa, sophomore running back/linebacker Ayden Banegas, junior center Devin Marsh, junior receiver Andrew Conyers and junior safety/receiver Ryder Lynn.
Barker threw for 28 touchdowns as a freshman on last year's junior varsity team — most of them to Conyers. Banegas was brought up to the varsity level for the playoffs and started and played very well, according to Burner.
The Vaqueros remain at the Division III level for the playoffs and remain in the seven-team Grossmont Valley League.
The team kicks off its season against the Coronado Islanders in the San Diego NFL Showcase Aug. 13 at University City High School.
El Capitan will tackle Canyon Hills in its regular season opener Aug. 19 at home and play its second game at Hilltop High School on Aug. 26.
League games are against El Cajon Valley, Santana, Mt. Miguel, Monte Vista, Valhalla and West Hills. El Capitan also has non-league games against La Jolla and Rancho Buena Vista on its schedule.
Homecoming is scheduled Oct. 7 against Mt. Miguel. Pop Warner Night is scheduled Sept. 15 against El Cajon Valley while the regular season finale on Oct. 28 doubles
Tony Burner trophy game.