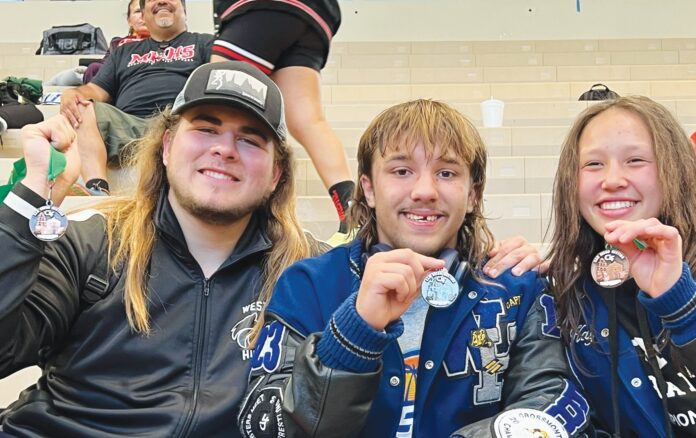 Before the 2022-23 wrestling season started, there were already high expectations for the Granite Hills High School boys team. Hopes were running high for as many as 10 state meet qualifiers in a record-breaking season for the East County mat program.
Expectations seemed to have been met, if not exceeded, after the Eagles qualified 11 wrestlers for this weekend' state championship tournament in Bakersfield.
Included in the boys field are two individual weight class champions, three second-place finishers and four fourth-place finishers and a meteoric runner-up finish in the team standings to perennial state power Poway High School.
Two Lady Eagles also qualified from the girls tournament.
Poway remained king of the mat among San Diego Section boys programs with an insurmountable 401.5 points. The Eagles placed runner-up with 286 points to edge perennial Imperial County power Brawley with 277 points.
The three teams easily out-distanced the rest of the pack in the 70-team field. Rancho Bernardo finished fourth with 174 points, followed by La Costa Canyon with 167.5 points in fifth place and Mira Mesa with 119 points in sixth place.
No other team managed to break 100 points, though Eastlake finished seventh with 95 points and Vista finished eighth with 92 points.
The top four place-finishers in each weight class in the boys field qualified to carry their seasons into the state meet while the top three individual place-winners did so in the girls field.
Last weekend's San Diego Section Masters state-qualifying tournament at Mission Hills High School made history as the first time that both boys and girls state qualifiers were determined on the same day at the same site.
The boys Masters took place last Friday and Saturday while the girls Masters took place on Saturday. A record 448 wrestlers of both genders competed for 98 state-qualifying berths.
Overall, 12 mat men and eight mat women will represent East County at the upcoming state tournament. That's a noteworthy number.
Soaring Eagles
This will be the fourth consecutive year that both boys and girls have competed on the same weekend at the state meet and the 50th year for the boys state tournament.
Granite Hills will send a parade of 11 grapplers to Bakersfield — nine on the boys side and two on the girls side.
"This is the first time in school history that we have qualified that many," Granite Hills head coach Jesse Sheard said. "They wrestled really well this weekend. It was fun to watch them achieve one of their goals. We have the state tournament this weekend and we are planning on having success there as well."
Abram Cline (108 pounds) and Collin Guffey (154 pounds) will go to the state meet as Masters champions in the boys field while Kayli Stanley (133 pounds) will follow as a Masters runner-up in the girls field.
Guffey, who is ranked second in the state in his weight class this year after placing fifth at last year's state meet, brushed aside the competition at this year's Masters with four pins in as many trips to the mat to improve his season record to 45-2. He recorded three first-period falls and pinned Madison's Tyler Brown in 4:44 in the championship round.
Cline, ranked first in the state in his weight class, finished 4-0 on the mat with three pins to improve to 27-3. He collected two first-period pins and a 9-3 decision over Poway's Devin Bobzien in the finals after placing runner-up last year while attending Olympian High School.
Overall, Granite Hills produced six finalists (five boys and one girl).
Recording runner-up finishes in the boys tournament were Carlo Arreola (115 pounds), Jayson Suetos (128 pounds) and Devon Wells (140) while Layronz Fraser (134 pounds), Ryan Carroll (147 pounds), Zach Waterhouse (162 pounds) and Keagan Kroeger (197 pounds) all finished in fourth place.
Arreola (third in the weight class at last year's Masters and another ex-Olympian grappler) finished 3-1 with three pins, dropping a 5-0 decision in the championship round to Poway's Edwin Sierra (last year's 108-pound champion). Suetos finished 3-1 with one pin and one technical fall while coming up short by a narrow 1-0 decision in the finals to Poway's Elias Navida.
Wells finished 3-1 with one pin while placing runner-up to Poway's Paul Kelly by a 13-6 decision. Stanley, the 145-pound Division I champion for Grossmont last year, finished 2-1 in this year's Masters girls tournament with two pins. She lost by a 1:17 pin in the finals to Brawley's Delarie Juarez.
Fraser finished 4-2 in the two-day tournament while Carroll, Waterhouse and Kroeger were all 3-2. Carroll finished fifth at 120 pounds at last year's Masters while Wells was fourth at 126 pounds. Suetos was fourth at 138 pounds last year while Waterhouse was sixth at 145 pounds.
Peyton Wells (third place, 162 pounds) also qualified for Granite Hills in the girls meet. She finished 3-1 with three pins, recording a 2:41 fall against Steele Canyon's Marina Gonzalez to secure the final state-qualifying berth in her weight class.
The Eagles had two more wrestlers make the awards stand (top six finishers). Junior Bumanglag (172 pounds) placed fifth with a 4-2 showing while Joseph Smith (222 pounds) was fifth with a 3-2 record and three pins.
Royce Harper (184 pounds) finished 3-2 with three pins but missed making the awards podium.
Other East County boys state qualifiers include West Hills' Ryder Dearborn (second place, 184 pounds), Mt. Miguel's Seamus Boyle (second place, 287 pounds) and West Hills' Lance Briseno (third place, 287 pounds).
Boyle, who finished fourth at heavyweight last year, recorded a 3-1 record with three pins this year. He lost by a 1:26 fall top Poway's Adam Farha in this year's championship bout.
Monte Vista's Olivia Davis (second at the preceding Division II finals) was the lone East County female champion at 139 pounds. Davis finished 3-0 with two pins and a 14-0 major decision over Olympian's Alina Solis, a two-time Division I champion, in the gold medal match.
Steele Canyon finished third among qualified girls teams with 54 points to trail Brawley (first place, 120 points) and Mira Mesa (second place, 66 points).
The Lady Cougars netted two state qualifiers: Kennedi Jones (172 pounds) and Faith Manis (191 pounds), both with second-place finishes. Manis won last year's Division I title in the weight class while Jones was second at 237 pounds.
Second-place showings were also produced by Santana's Amber Spencer (145 pounds) and Mt. Miguel's Emma Contreras (152 pounds).
Spencer finished runner-up at 139 pounds at last year's Division II finals while Contreras was third at 152 pounds. Contreras finished 2-1 with two pins at this year's Masters finals with a loss by a 5:45 pin to Mt. Carmel's Melanie Hayslip in the championship match. Spencer also went 2-1 with a pair of pins but lost by a 1:11 fall to Mira Mesa's Hannah Catungal in the finals.
West Hills' Kaya Lim (128 pounds) and El Canyon Valley's Honey Orduno Rivas (237) round out this year's East County girls state meet qualifiers with third-place finishes in their weight classes.
Hungry like the wolf
West Hills will be sending three wrestlers to this weekend's state meet — Dearborn and Briseno from the boys meet and Lim from the girls meet.
Proctor said Briseno had a "great tournament."
"He avenged his only two losses to San Diego based wrestlers," the West Hills mat boss said." He set a goal this season to qualify for state and he has obviously accomplished that."
Briseno had a marathon tournament while wrestling six times with a 5-1 record. He pinned Central Union's Diego Hernandez in 1:03 in his first match but came up short against Mt. Miguel's Boyle by a 6-3 decision in the quarterfinals. The West Hills mat man had to reel off four consecutive wins to qualify for the state meet, topping San Marcos' Tevita Taufa by a 4-1 decision in the bronze medal match.
Lim, meanwhile, had to overcome a great deal of adversity after getting caught in a head and arm in her first match and subsequently pinned in 1:36 by Torrey Pines' Ruby Julien-Newsom.
"This was a huge upset and she had to battle back through tears and frustration to earn her third place medal," Proctor explained. "Her state-qualifying match was against her good friend from church who is a senior. After winning the match, instead of jumping for joy or running to her parents to celebrate, she sat at the side of the mat with her friend and they both cried. It was the singular most amazing display of sportsmanship I have ever witnessed."
Lim, last year's 123-pound Division II champion, rebounded with an 11-2 major decision over Brawley's Aeisha Ortiz in her first consolation match and followed with a medical forfeit over Mar Vista's Tavia Osthimer, this year's Division II champion/runner- up before defeating Coastal Academy's' Madalyn McKellar by a 5-1 decision for third place.
Proctor said Dearborn, ranked 13th in the state, was "ready" for this tournament.
"He pinned everyone leading up to the finals," the Wolf Pack coach said. "The finals match was hands down the most memorable match of the entire tournament. It was back and forth and both wrestlers showed heart, determination and strength. It ended up going to the wrestler from Carlsbad (Mason Walsh with a pin with three seconds remaining in regulation) but Ryder wrestled like a true champion and I am very proud of him."
Dearborn, who finished fourth at last year's Masters, finished 3-1 with three pins at this year's tournament. He pinned Granite Hills' Harper in 1:05, put Rancho Buena Vista's Derrick Cox on his back in 1:09 and pinned La Costa Canyon's Peter Bojicic in 1:49 to highlight a power-packed showing on the mat. Briseno and Dearborn both won Division III titles as individuals the prior week in Brawley.
"Lance had his most dominant performance to date," Proctor said of Briseno. "He has worked hard all season and is peaking at the perfect time. "
"Ryder has been ranked fairly high all season long and he has consistently lived up to the hype," the West Hills coach added about Dearborn. "We call him 'Chango' in the wrestling room because he has his own aggressive and primal style"
Among East County teams, West Hills finished 10th with 87 points while Steele Canyon finished 17th with 74 points to break into the top 20 teams. Valhalla placed 23rd with 54 points while Santana finished 29th with 43 points and Helix finished 31st with 35 points to all finished in the top half of the field.
Honorable mention
East County mat men claimed four fifth-place finishes and one sixth-place finish over the two days of wrestling.
Besides Granite's Bumanglag and Smith, Valhalla's Arseel Eliya finished fifth at 115 pounds and Helix's Ames Hoevker finished fifth at 140 pounds. El Capitan's Riley Jones finished sixth at 122 pounds to join the others on the awards podium.
San Diego Masters East County State Meet Qualifiers
Boys Wrestlers
FIRST PLACE
108: Abram Cline (Granite Hills) 154: Collin Guffey (Granite Hills)
SECOND PLACE
115: Carlo Arreola (Granite Hills) 128: Jayson Suetos (Granite Hills) 140: Devon Wells (Granite
Hills) 184: Ryer Dearborn (West Hills) 287: Seamus Boyle (Mt. Miguel)
THIRD PLACE
287: Lance Briseno (West Hills)
FOURTH PLACE
134: Layronz Fraser (Granite Hills) 147: Ryan Carroll (Granite Hills) 162: Zach Waterhouse (Granite Hills) 197: Keagan Kroeger (Granite Hills)
Girls wrestlers
FIRST PLACE
139: Olivia Davis (Monte Vista)
SECOND PLACE
133: Kayli Stanley (Granite Hills) 145: Amber Spencer (Santana) 152: Emma Contreras (Mt. Miguel) 172: Kennedi Jones (Steele Canyon) 191: Faith Manis (Steele Canyon)
THIRD PLACE
128: Kaya Lim (West Hills) 162: Peyton Wells (Granite Hills)