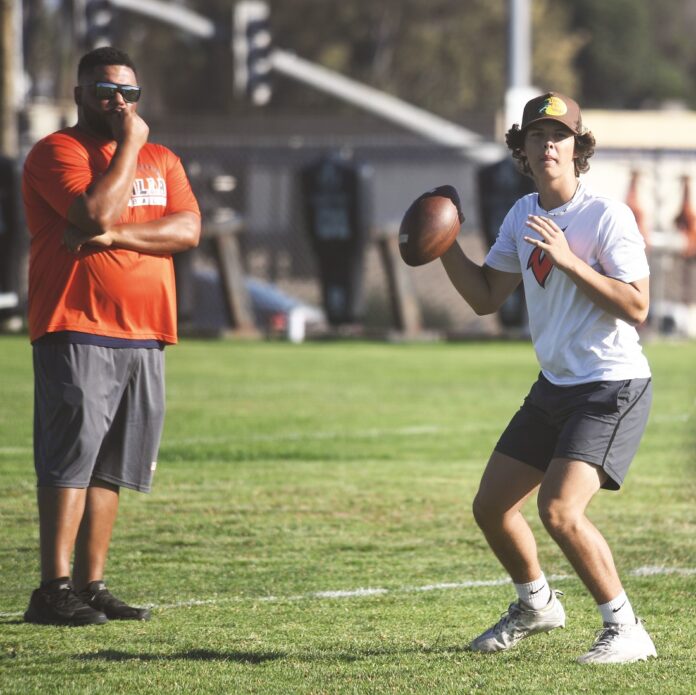 East County's portion of the 2021 high school football season ended in the Southern California regional playoffs with San Diego Section Division I champion Helix Charter bowing, 24-21, to San Diego Section Division III champion Mater Dei Catholic in a remarkably fateful matchup.
Mater Dei Catholic, fueled by the come-from-behind victory, went on to defeat Modesto Central Catholic by a score of 34-25 the following week to capture the California state Division IIAA championship and a magical 13-0 season.
For the Highlanders, it was time for a pat on the back for another superlative season and motivation to hit the gridiron with loftier goals for the next season.
That next season has arrived, and it's time to see what a long offseason of hard work will accomplish.
"We participated in sevenon-seven Grossmont Passing League and hit the weight room three times a week," El Cajon Valley head coach Nick Osborn said. "Many team members reached new pound clubs — 700, 800, 900, 1,000 — which is maximum total power clean, back squat and bench press combined."
Besides Helix's pigskin odyssey to the Division I championship and a berth in the state playoffs, the West Hills Wolf Pack's meteoric run to an 11-0 start also grabbed headlines last season.
Of note, all four Grossmont Hills League teams qualified for last season's Division I section playoffs. The ninth-seeded Grossmont Foothillers and the 10th-seeded Granite Hills Eagles both won first-round games to join the Highlanders in the quarterfinals.
Grossmont defeated league rival Steele Canyon, 17-14, while Granite Hills scored a 31-14 upset of seventh-seeded Oceanside on the road.
West Hills (No. 5 seed), El Capitan (No. 7 seed) and Santana (No. 8 seed) all represented the Grossmont Valley League in the Division III section playoffs.
All three teams won their opening round games to end otherwise standout seasons in the division quarterfinals.
West Hills zipped past 12thseeded Bonita Vista, 41-28, while El Capitan rode past 10th-seeded Orange Glen, 41- 34, in an exciting overtime contest. Santana advanced to the next round with a 24-21 victory against Imperial.
But that was as far as the season would extend for the top three finishers in the league. Santana lost, 34-10, to top-seeded Mt. Carmel while West Hills (51-0 to fourth-seeded Ramona) and El Capitan (55-0 to second-seeded Mater Dei Catholic) both ended their seasons with lopsided shutout losses to higher-seeded opponents that would eventually meet in the division championship game.
Overall, 12 of the 14 East County 11-man football teams qualified for post-season play.
The Christian Patriots earned the No. 9 seed in the Division II playoffs while Mt. Miguel (No. 9 seed) and Valhalla (No. 11 seed) both qualified in the Division IV field. Mountain Empire (No. 9 seed) and El Cajon Valley (No. 10 seed) both participated in the Division V playoffs.
Eight East County teams won at least one playoff game, with seven teams ending their seasons in the division quarterfinals.
Monte Vista (0-10) and Foothills Christian (3-6) were the lone East County teams out of the 11-man playoffs.
Foothills Christian returns to 8-man action this fall.
Thursday Night Lights
Because of a shortage of game officials, some regular season contests, normally played Friday nights under the lights, will now be played either on Thursday or Saturday.
Many teams will not be affected but Mount Miguel has two games rescheduled for Thursday, including its season opener at Sweetwater High School in National City on Aug. 18.
The Matadors will host the Montgomery Aztecs in a Thursday game on Sept.1.
El Cajon Valley has two Thursday dates: Sept. 8 at home
against Montgomery and Sept. 15 at El Capitan.
Steele Canyon is scheduled to host San Marcos in a non-league game on Sept. 1.
The Christian Patriots, who utilize Granite Hills' stadium, will play two Saturday games, both home dates.
Divisional alignment
The Open Division will retain its four-team format while teams in Division I through Division V will have four rounds of playoffs. The division champion in each of those six divisions will qualify for the regional playoffs.
Helix Charter and Steele Canyon remain in Division I while Granite Hills and Grossmont both drop to the Division II level for postseason play alongside Christian.
Patrick Henry, Santana, West Hills and El Capitan are in Division III while Mt. Miguel, Valhalla and Monte Vista will vie for fortunate seeding in Division IV.
El Cajon Valley and Mountain Empire will head the East County charge in Division V while Foothills Christian will compete at the 8-man level (for which there are no regional playoffs yet).
Grossmont Conference
2022 Football Alignment
GROSSMONT HILLS LEAGUE
•Granite Hills Eagles
•Grossmont Foothillers
•Helix Charter Highlanders
•Steele Canyon Cougars
GROSSMONT VALLEY LEAGUE
•El Cajon Valley Braves
•El Capitan Vaqueros
•Monte Vista Monarchs
•Mount Miguel Matadors
•Santana Sultans
•West Hills Wolf Pack
•Valhalla Norsemen