The high school football season has mercifully — and quite eventfully — finally come to an end.
Three San Diego Section teams won state championship titles last weekend at Saddleback College. The Cathedral Catholic Dons defeated Folsom, 33-21, to win the Division 1-AA championship while Mater Dei Catholic defeated Modesto Central Catholic, 35-24, to win the Division 2-AA championship. Scripps Ranch defeated Wilcox, 31-28, to win the Division 2-A title.
Prior to the state bowl games, Cathedral Catholic defeated Carlsbad, 48-19, to win the section's Open Division championship while Mater Dei Catholic defeated Ramona, 37-10, to win the section's Division III championship. Scripps Ranch battered La Jolla, 41-0, to win the section's Division II championship.
Mater Dei Catholic defeated section Division I champion Helix Charter, 24-21, in the Southern California regional playoff to advance to the state championship game.
Cathedral Catholic finished its season with a 12-2 record while Mater Dei Catholic was the section's lone undefeated team at 13-0. Scripps Ranch ended its season of plenty at 14-1.
Another high profile event also took place last weekend.
Fifteen East County players were selected to participate in last Saturday's 31st annual Alex Spanos All-Star Classic at Escondido High School.
The event is known as one of the longest-running high school football all-star events in the state and has been a crown jewel in San Diego County since sponsorship with the Chargers began decades ago.
The first all-star game took place in 1991 at Torrey Pines High School to put a cap on the 1990 season.
East County representation has been key since the current North-South format was adopted.
Grossmont Conference schools contributed more than a third of the players to this year's 43-man South roster.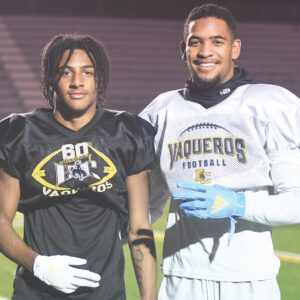 East County players selected to compete included receiver/defensive backs Savigon Yokley and twin brother Antwone Yokley from El Capitan High School; receiver/defensive back Dylan Snyder and center Andrew Engstrom from West Hills High School; quarterback Trenton Giles, linebacker Ryan Odom, defensive back Christian Espino, linebacker Brennen Sanders and receiver Ryan Rodieck from Grossmont High School; linebacker Spencer Campillo, defensive back Nathan Gillis and kicker David Martinez from Steele Canyon High School; offensive/defensive lineman Tanner Vielguth and tight end/defensive lineman Zach Burton from Granite Hills High School; and center/defensive lineman Jackson Dolan from Santana High School.
All players named to the senior all-star squad called it an honor.
"It's a big honor to be selected, be among the top players in San Diego," explained Savigon Yokley, a triple threat on the field. "It was a great run (for the Vaqueros). We went 9-3. It was a great team. We all did hard work and left everything out there."
"It's a great honor,"  Antwone Yokley concurred. "We worked hard all offseason to get where we're at. We went out there every game and gave it our all."
"It feels amazing, first of all, to be out here with all this great competition and show off skills and show off what Santana's about," Dolan said. "I think it's a really fun opportunity. I got to play with West Hills, right next to him, I think that's a one-of-a- kind experience.
"We overcame a lot of adversity during the season. We went through a lot on the season dealing with COVID, dealing with injuries and dealing with a lot of other stupid stuff. But I think we overcome everything and had a great season overall."
"It's a great experience, I love being out here, meeting new guys," Vielguth said. "It was an up-and-down season, a bit of a roller-coaster, but we battled our way through it. We needed that first-round playoff win."
Engstrom was a proud member of West Hills' first undefeated 11-0 regular season team.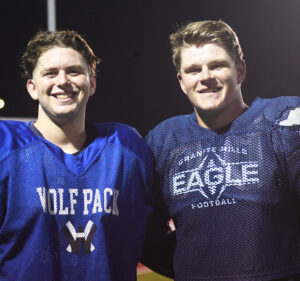 "It felt great, being the first in our school history, it probably would never be done, but it was a great experience. It's a great honor to be selected to this game, I'm meeting new faces, talking to different people about like how they work on their technique and how they prepare for a game is tremendous."
The Bonita Vista High School coaching staff served as the South team's coaches this year, headed by Baron head coach Tyler Arciaga.
"What's really nice about it is just getting a diverse group of kids together from all these different schools — from the City Conference, from the Grossmont Conference, from the Metro Conference — where you have rivalries, you have Bonita-Eastlake, Santana and West Hills, just seeing them kind of come together for a common goal, work together and become kind of friends off the field, too," Arciaga said. "What's neat about it is to put aside all those rivalries and basically bring out the best in people."
Despite all the enthusiasm exhibited by the players and coaches, the South team took it on the chin in a 35-12 loss to the North team. Five turnovers and 13 penalties proved costly in the outcome of the contest.
With an all-star team with a limited number of practices, that might have been expected.
Savigon Yokely scored both South touchdowns — the first came on a 36-yard catch-and-carry from Bonita Vista signal-caller Nathan Roble-Cistobal with 1:25 left in the first half while the second scoring play came on a 35-yard pass from Mission Bay quarterback Clash Osborn.
North MVP Malachi Keels of Orange Glen caught six passes for 55 yards and one touchdown. El Camino's Kiah Reid tossed a pair of TD passes.
The North led 11-6 at halftime.
St. Augustine's Grayson Halton earned MVP honors for the South team and also served as one of its team captains.