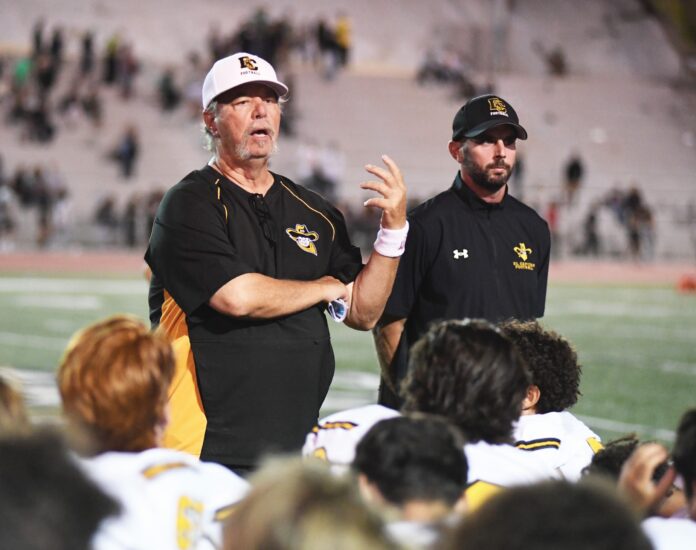 There are just two remaining undefeated teams in Grossmont Valley League play through three weeks of competition: the El Capitan Vaqueros and West Hills Wolf Pack.
The teams are not scheduled to meet until the final week of regular season play on Oct. 28. In the meantime, the pressure will be on both teams to remain undefeated in league play until that potentially fateful meeting.
And it's not going to be easy.
El Capitan discovered that last Friday in a match-up of league unbeatens by shading the host Santana Sultans by a slim 7-0 score.
Sophomore Chance LaChappa scored on a 56-yard pass play from sophomore quarterback Brandt Barker early in the second half for the lone touchdown in the game while the Vaquero defense made it stand up the rest of the way in collectively pitching a shutout.
Senior Dominic Denha recorded an interception and sack for El Capitan which improved to 2-0 in league play, 4-2 overall.
Junior Michael Valenzuela had an interception for Santana, which dropped to 2-1 in league play, 2-5 overall.
The game was memorable not only for its closeness but also for handing El Capitan head coach Ron Burner his 100th career victory.
"I can still remember first one like it was yesterday — it was at Serra, we won big," Burner said. "It's been a journey, for sure, but it's not about me, it's about former players and coaches as well as current players and coaches who have helped me by trusting in me.
"I am honored to join such an amazing group of coaches in the group and even more select group of coaches who have won 100 at the same school.
"I'm glad to get that out of the way, for sure. We love being 2-0 in league but have to focus on Mount Miguel right now."
The Vaqueros host the Matadors (1-2 in league, 3-4 overall) on Friday, Oct. 7, in their next gridiron outing while the Sultans travel to Monte Vista (0-2, 1-5). West Hills, which had a bye, is 2-0 in league play, 4-2 overall. The Wolf Pack hosts El Cajon Valley on Friday, Oct. 7, before meeting Santana in the teams' annual Mayor's Cup rivalry game on Oct. 21.
Magic Matadors
Mt. Miguel recorded its first league win by defeating host Monte Vista, 41-6, in the teams' crosstown rivalry contest last Friday.
Junior Matthew Barton passed for six touchdowns in the game to lead the Matadors, who snapped a four-game losing streak.
Senior Chris Akridge was Barton's favorite target on the evening with four touchdown receptions.
Junior Jeremiah Castillo also caught a touchdown pass.
The win was the 100th in San Diego Section play for Mt. Miguel head coach Troy Starr, who previously coached at Helix Charter before taking over the reins of the Matadors program.
Monte Vista's touchdown also came through the air as Jason Triplett caught a 20-yard scoring pass from junior Diego Peguero.
The Monarchs lost for the fifth consecutive time.
El Cajon Valley 20, Valhalla 13
The offensive yards didn't come in bunches for the host Braves (2-1 in league, 3-4 overall), but they got just what they needed to out-point the winless Norsemen (0-3, 0-7).
Junior quarterback Darick Dubose passed for 50 yards and rushed for 32 yards with a touchdown while senior Kal-el Gordon also scored a rushing touchdown Junior Omar Jaimes keyed the El Cajon Valley defense with six tackles and two sacks. DuBose also had five tackles and a sack on defense. Junior Joseph Johnson IV had a fumble recovery. Junior Cristofer Gonzalez had two extra-point conversions and two field goals to round out the scoring for the Braves.
Valhalla has a bye this week before hosting El Capitan on Oct. 13.
Extra points
Helix Charter (5-1) and Granite Hills (4-2) both had byes last week as they enter their final non-league contests of the season. Helix is set to play at Mission Viejo (5-1) on Friday while Granite Hills had a Thursday night game scheduled against the Christian Patriots (3-3).
Junior Kevin Allen III (80 carries, 581 yards) and Jason Sisneros (49 carries, 339 yards) both lead Helix with seven rushing touchdowns while junior quarterback Ryland Jessee (67 completions, 792 yards) has thrown for 11 touchdowns against five interceptions.
Helix kicks off Grossmont Hills League play Oct. 14 at Steele Canyon while Granite Hills hosts Grossmont.
Both the Highlanders (fifth overall in the section) and Eagles (eighth overall, first in Division II) occupy lofty positions in the latest MaxPreps rankings.
"I think we need to keep developing different sets on defense and continue to polish our run game on the offensive side of the ball," said Granite Hills coach Kellen Cobbs, now the program's all-time leader in wins. "We also need to stay healthy. We're looking forward to playing Christian this week on Thursday. I believe it's the first time our schools have played."
Granite Hills had scored 13 rushing touchdowns and eight passing touchdowns in six games while the defense had recorded eight sacks, eight interceptions and 10 fumble recoveries.
GROSSMONT VALLEY LEAGUE STANDINGS
El Capitan Vaqueros 2-0, 4-2
West Hills Wolf pack 2-0, 4-2
Santana Sultans 2-1, 2-5
El Cajon Valley Braves 2-1, 3-4
Mt. Miguel Matadors 1-2, 3-4
Monte Vista Monarchs 0-2, 2-5
Valhalla Norsemen 0-3, 0-7