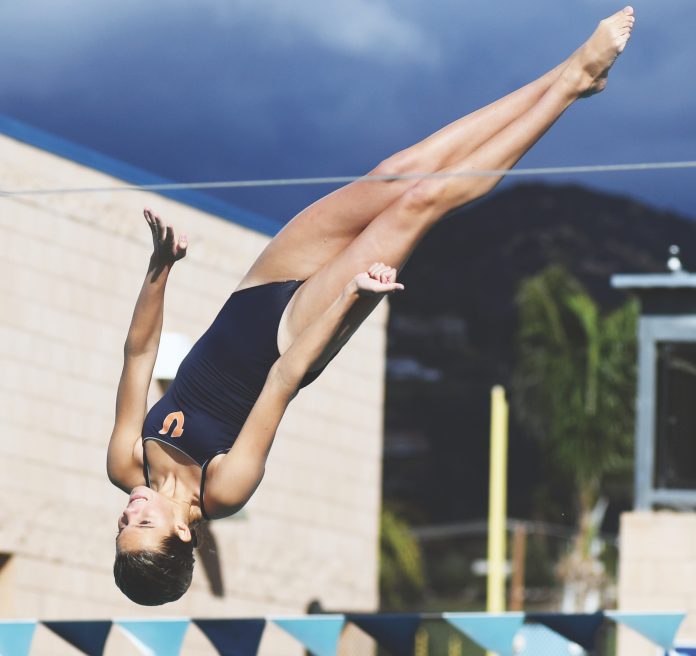 What goes up must come down due to the law of gravity. But what lies between those two points can be true artistry in motion.
Grossmont Conference divers will gather Monday at 4 p.m. at Granite Hills High School to participate in this year's league diving championships.
East County has had no shortage of divers this season; it should be a highly competitive meet.
Valhalla junior Jordan Alstad turned in a breakthrough performance as a freshman by engineering an eighth-place finish in the San Diego Section Division I girls diving championships at Mesa College. She tallied 208.60 points for six dives to place alongside teammate Olivia Zamudio (who placed fifth with 262.15 points).
Alstad has competed in a number of regional and zone diving competitions through USA Diving, including an appearance at the 2019 Zone F Championships.
Her high school sophomore season was wiped out because of the COVID-19 pandemic. Now that it appears the pandemic could be ebbing, competition has resumed.
Alstad was on the board for a March 12 Grossmont Hills League dual meet at Granite Hills High School. Nearly two years after her CIF shining moment, Alstad still has time to perfect her technique before graduation.
She easily captured first place among the six varsity divers at the Granite Hills meet with 179.5 points. Teammate Elle Fishwick finished second with 148.72 points while Granite Hills' Bella Kamahi was third with 137.7 points.
The relatively low scores were the result of the weather as a cold front passed through the region with cloudy skies, rain in the foothills and chilly temperatures.
Alstad said her goal is to continue to compete.
"I'd like to dive in college," she said of her long-term goal.
The VHS junior has already attracted interest from several schools at the next level.
She said her short-term goals are to place among the top three finishers at the section finals and break 400 points for 11 dives. A trip to the state championship meet could come by breaking 300 points for six dives.
It's still up in the air whether the section will hold its championship finals this year. San Diego Section commissioner Joe Heinz announced in a March 26 memo to principals and athletic directors that a difficult decision had been made to cancel the planned 2021 section swim and dive championship meets.
Heinz said the master schedule has been adjusted to show April 24 as the last date of competition for swim and dive, which allows for league championship meets to take place.
"We have been holding out hope that the state's guidance would be adjusted to accommodate larger scaled competitions, yet based upon all the information available to us at this time we do not see any adjustments being made that would enable us to host a section-wide championship event," Heinz wrote in the memo. "We would like to thank our swim and dive student-athletes, coaches, conference presidents, schedulers and officials associations who worked with us in an extremely tight time span to adjust their schedules and seasons to provide this opportunity for student-athletes throughout our section."
A recent meeting at the county level, however, offered the slight possibility that the CIF finals could be reinstated.
Making a splash
The Grossmont Hills League swim finals are also scheduled next week. Varsity prelims are Wednesday, followed by finals on Friday. Both meets are at 4 p.m. at Granite Hills High School.
The Granite Hills Eagles remained undefeated in league dual meets heading into Wednesday's final regular season contest against Helix.
The Eagles and neighborhood rival Valhalla got together for a friendly encounter March 12. Granite Hills captured the girls dual by a score of 130-56 but the boys contest was hotly contested, especially at the start of the meet as the Norsemen snared first-place finishes in four of the opening five events before the hosts eventually pulled out a 106-80 victory.
"Granite Hills is our biggest rival," Valhalla coach Steena Harriman said. "It's the most highly anticipated meet for the kids. A lot of the kids have teammates from club on the other side. Many also went to middle school together. It's just friendly competition."
The Eagles captured four first-place finishes but used their depth to top the Norsemen, who came up with seven first-place touches.
Scoring individual doubles for the Norsemen were Eli Mohr in the 200 freestyle (1:52.78) and 500 freestyle (5:02.16) and Jack Forstot in the 50 freestyle (22.85) and 100 butterfly (56.89) while Alexander Golu won the 100 breaststroke (1:05.53).
The Norsemen captured first-place touches in the 200 medley relay (1:44.13) with Mohr, Golu, Forstot and Tate Clapham each swimming legs and the meet-concluding 400 freestyle relay (3:28.23) with Mohr, Clapham, Forstot and Golu exchanging swims. Aidan Treltas won the boys dive card for Valhalla with 138.1 points.
Aidan Keane recorded an individual double for Granite Hills in winning the the 200 IM (2:04.92) and backstroke (57.77) while Braden Felio won the 100 freestyle (50.80).
The quartet of Riley Thompson, Andrew Stinnett, Cavan Cox and Vaughan Clark won the 200 freestyle relay in 1:37.11 for the Eagles' other event victory.