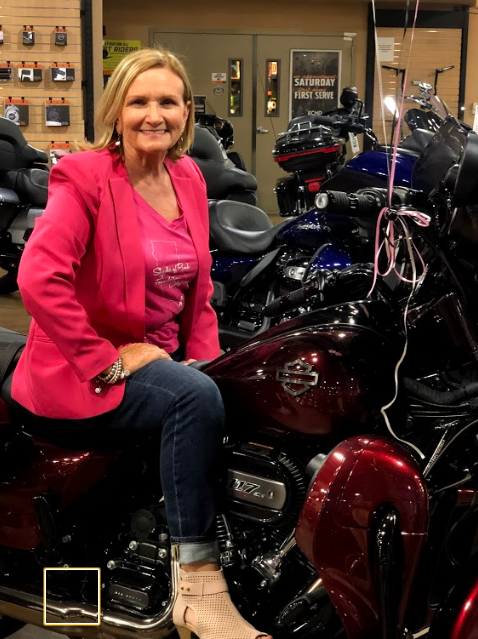 In 2013, Kappa Kappa Gamma (KKG) sorority sisters Kianne Farmer and Christina Fulcher attended an alumni event for their sorority where the founder of Shades of Pink Michigan attended as a guest speaker. The KKG sisters decided to start their own foundation branch in California, where their moms Vembra Holnagel and Sonya Fulcher joined the board of directors.
Holnagel, who is currently the foundation's president, stated, "My daughter asked me to join her in starting a charity in San Diego that would help women during breast cancer and I didn't hesitate to say yes."
The foundation works to raise money for their grant fund program that helps to provide a sense of financial stability to women battling breast cancer and may be unable to work during treatment. When the foundation began they were only able to provide a $500 grant to each applicant.
Today, Shades of Pink Foundation, California provides a $2000 grant to each applicant.
Holnagel stated in an email interview, that the biggest obstacle the foundation faces each year is to raise enough money to grant all of the assistance requests. The foundation runs solely on support from the community.
Shades of Pink California, "…does not receive any government funding so all of our grant program funding is from direct public support whether individuals, corporations and businesses, trusts & foundations or from the board itself," Holnagel said.
On Oct. 3 in El Cajon, California Harley Davidson hosted a 'Girls Night Garage Party' where local vendors attended and donated to a raffle. All money raised was donated to Shades of Pink California
"I loved what they stood for, loved what they did, loved the resources that they gave to women who have breast cancer," said Brooke Crawford, Marketing Manager for Harley Davidson El Cajon. "I just thought 'what a great charity to choose to give back to.'"
Harley Davidson donated an estimate of $1500 dollars in gear and swag to the raffle.
Other local vendors supported the event.
Color Street by independent distributor Christine Cho. donated a Color Street gift basket containing various Color Street nail polish and manicure equipment estimated at $30.
Ginger Lewisson and Deb Wags, independent Young Living distributors, donated a basket with Young Living cleaning supplies estimated at $60.
Lorimer Winery, which donated various wine bottles and wine tasting sets estimated at $150.
Sister-in-laws Sharron Freund and Renee Freund, who are LULAROE distributors, donated a $25 shopping spree to their shop.
Over $330 was raised and donated to Shades of Pink from the raffle.
Lorimer Winery employee, Matt Russell said, "It is an incredible cause and our wine room is happy to contribute."
Russell's coworker, Tom Gruwell, agreed.
"We aren't on the clock, it is just a beautiful cause," he said.
In attendance, was many of the local Harley Davidson male and female riders all there to support female empowerment and the fundraiser for Breast Cancer Awareness.
"The women are more badass than the guys… they empower themselves by putting themselves in the driver's seat," Chuck Abney, Law Tigers Market Manager and Harley Davidson rider said.
Also, in El Cajon, Phil's BBQ joined the cause of helping Shades of Pink, California raise money for their grants. For the entire month of October they will be selling the pink beer, Santizo Pale Ale, named for one of their bartenders who is a cancer survivor. $100 per each beer keg sold will be donated to the foundation. Phil's BBQ has set the goal of selling 40 kegs.
The beer is brewed at the local dispensary, Thorn Brewing. They created the beer especially for Phil's BBQ using hibiscus and purple corn to give it a pink touch. Thorn Brewing also offers the Santizo Pale Ale in their tasting room as well as for sale.
Phil's BBQ partners with many local businesses and charities, as their goal is to help the growth of their San Diego community. However, for October, they decided to branch out and expand their charity work.
"We wanted to do something for breast cancer charity, but we wanted to make sure we did something with somebody local, something from San Diego rather than a nationwide charity," Brittany Thurber, Director of Facilities & Operations Support, stated.
Each month, Phil's BBQ rotates their beer selection offering a new 'Phil's Fav' every four weeks. They decided to do a pink beer in honor of Breast Cancer Awareness Month. One of the bar managers came to Thurber with the idea of finding a charity to donate to, while selling the beer.
"There is a certain value we want to put on our reputation, so we don't as Phil's BBQ want to partner with somebody who doesn't have the same level of integrity as we do," Thurber said.
It was then decided that Shades of Pink would be the beneficiaries of their fundraiser.
"We are honored with each donation no matter the size and would welcome new donors, businesses and individuals who find our mission worthy," Holnagel said.
For anyone interested in joining the Breast Cancer Awareness Movement and supporting Shades of Pink California a check can be made to SOPFCA at 1084 N. El Camino Real, Ste. B345, Encinitas, CA 92024 or visit their website at  https://sopc.z2systems.com/np/clients/sopc/donation.jsp.