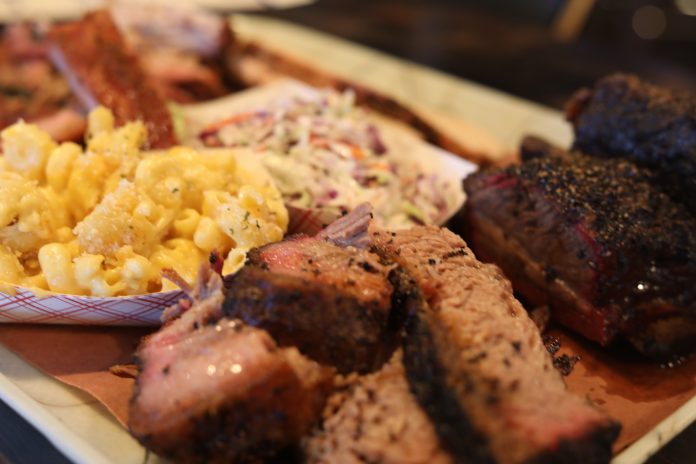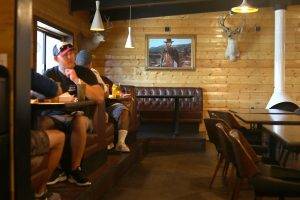 Maybe it would have been hard to predict that it would be Texas-style barbecue that would put East County San Diego on the map, but anyone could have predicted that the Grand Ole BBQ in Flinn Springs would be a haven of perfectly cooked and carved meats.
The barbecue joint in Flinn Springs, which officially opened on Jan. 30, 2019, is a branch of the North Park location, but much more family friendly. Taking over an old trucker bar and renovating both inside and outside, the restaurant is warm and welcoming, tucked right into the canyon walls of backcountry El Cajon. The large patio area outside hosts seating, a stage for live music, play areas for children, a bar and three 1,000 gallon barbecue pits, from which comes some of the best-cooked ribs, pulled pork and turkey in San Diego.
Inside, soft wood paneling lines the walls, embellished with deer heads and a moose. A pinball machine sits next to the table that hosts all of Grand Ole BBQ's house-made sauces.
In fact, everything in this restaurant is made in house, except for the hot links which come from Valley Farms in Spring Valley. Even the dessert menu begins and ends inside the walls of the restaurant, boasting a selection of pies and ice creams made from scratch in the kitchen.
But if great dining and a good atmosphere weren't enough to draw in visitors, a visit from Guy Fieri definitely was. The famous host of Diners, Drive-Ins, and Dives on Food Network made a special visit to the El Cajon restaurant for a segment of the show.
"It aired at six o'clock, ended at seven. At 7:15, people started walking through the door saying they saw us on TV," said general manager John "JP" Patton. "Since then, every weekend we've had has been a record weekend. Our biggest problem now is that we don't have enough parking."
Patton said there were 300 people in the parking lot before the place even opened on Father's Day and there was a two-hour wait all day.
Parking is indeed a problem as some folks are driving a mile out to park and walking in along the roadside. Patton said they may try to find other lots and have a shuttle to bring people safely to the restaurant on busy weekends.
They are also having to keep up with the high demand for barbecue which has included adding another 1,000 gallon pit since the opening, with two more being made in Texas. In total, the Grand Ole BBQ will host five 1,000 gallon pits for slow-cooking their meats – an all night process that is fastidiously timed by the pit masters – and two rotisseries.
But Patton said he has no complaints about the new challenges brought on by the increase in attendance.
"The weekdays are getting better, too, because now people know that it's hard to get in on the weekends," he said.
Live music runs till 8 p.m., and food goes till 9 p.m. (10 p.m. on weekends). The bar closes when things slow down, Patton said.
Andy Harris, La Mesa resident and owner of Grand Ole BBQ y Asado in North Park, said the new location is doing better than they had hoped it would in its first year.
"It has pretty much surpassed all our high hopes," Harris said with a grin, leaning back in one of the refurbished chairs that sit around the tables inside the restaurant.
Patton agreed.
"I've been in the restaurant business for a long time and I have a pretty good grasp is something is going to do well, and I knew this was special," he said. "The idea that the owners had of turning this into family-friendly big outdoor venue with live music, I knew it was going to be great, I just didn't know it was going to be so great so fast."