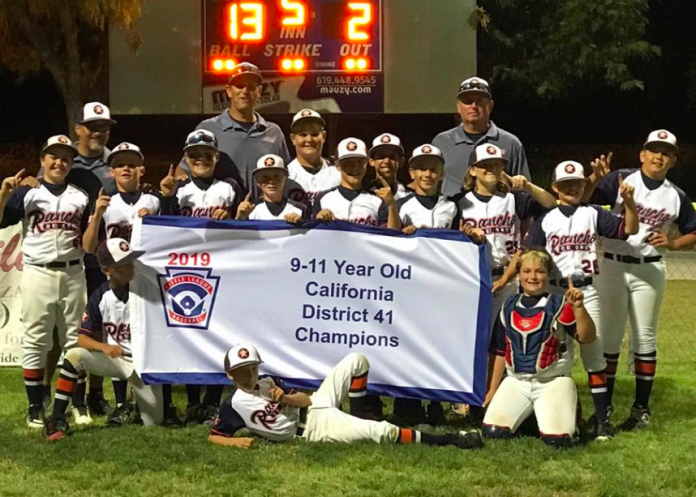 All-Stars teams from Rancho de Oro and Lakeside American Little Leagues were scheduled to meet last Monday night to determine the District 41 12-and-under championship at Lakeside National Little League.
Lakeside American forced the deciding game after defeating RDO on Sunday night, 5-3, also at LNLL.
It was the first loss of the tournament for RDO in six contests. Rancho is trying for a third straight District 41 title and a return to the Section 7 tournament, just the second step on the road to Williamsport, Pennsylvania and the Little League World Series.
The two teams had split a pair of All-Stars contests during the district tournament, with Rancho earning a 1-0 win in a winner's bracket semifinal on July 1.
Rancho de Oro reached the initial title game contest with a 6-1 victory over host LNLL.
Benji Molina hit a two-run double in the bottom of the third to give Rancho de Oro a 2-1 lead. 
Luke Bailey delivered a complete game for the victory for RDO, striking out four batters.
Lakeside American reached the championship series with a 12-2 win over rival LNLL.
In District 66, Spring Valley Little League won the District 66 championship banner for the second time in three years, advancing to the Section 7 tournament, which includes D41 and national superpower District 42, which was won in impressive fashion by section favorite Sweetwater Valley Little League.
The Section 7 tournament will be hosted by Fletcher Hills Little League beginning on July 13.
The team from District 42 has won 10 consecutive section championships. 
The team from District 41 hasn't advanced to the division tournament is 12 years, while the District 66 team hasn't qualified for divisional play in 11 seasons.
Meanwhile, Rancho de Oro's 11-and-under and Intermediate division All-Stars team won the District 41 championship banners in their respective tourneys.
The 10-and-under tournament was awaiting a champion heading into a decisive game on Monday night between Rancho de Oro and host Lakeside National.
Lakeside National forced a final game in the series by outlasting RDO, 12-11, on Sunday.