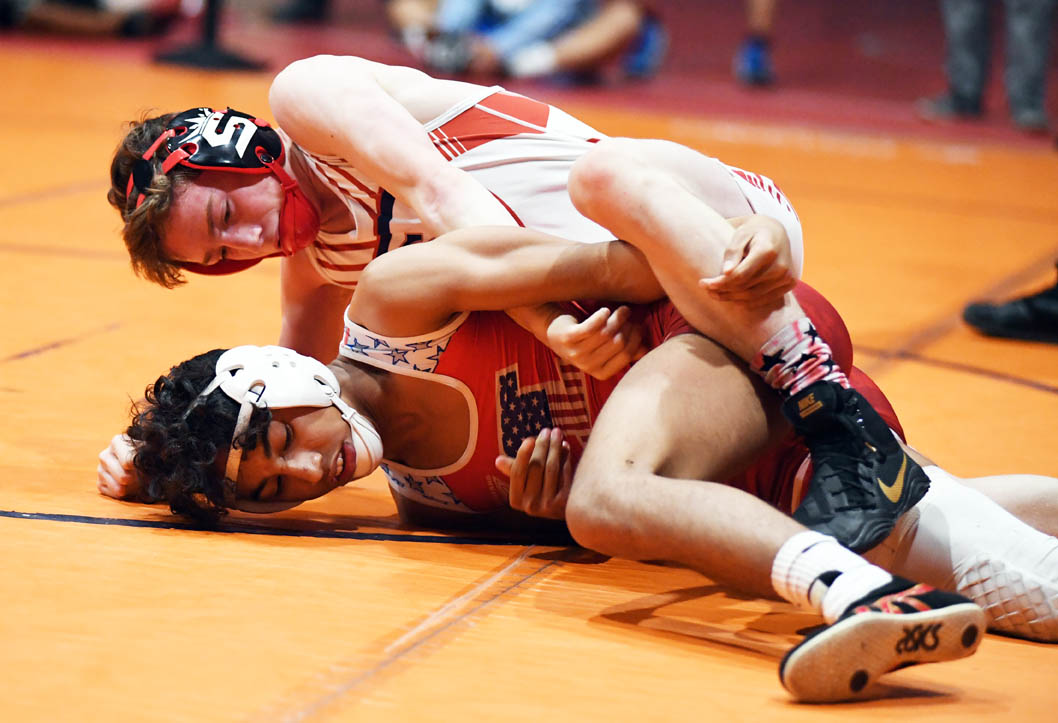 The 49th annual El Cajon Invitational wrestling tournament is San Diego County's longest-running tournament with a rich tradition. It has grown to become one of the premier wrestling events in Southern California.
This year's event took place last weekend, Dec. 13-14, at San Ysidro High School to accommodate the 50-team field that showcased some of the best teams and wrestlers from not only the San Diego Section but from around the western region as well.
Forty-three teams from the section participated. Also on tap in the strong field were teams from the Southern Section, Central Coast Section, Central Section and one team each from Arizona and Washington.
East County was well represented with wrestlers from Granite Hills, Valhalla, Helix, Steele Canyon, Santana, West Hills, Monte Vista and Mountain Empire high schools competing.
Granite Hills finished 15th in the team standings with 80 points to lead Grossmont Conference schools while tournament host Valhalla finished 18th with 76.5 points. Helix finished 19th with 75 points while Steele Canyon was 21st with 74 points.
Santana finished 26th with 51 points while West Hills finished 28th with 50 points; Monte Vista finished 35th with 33 points while Mountain Empire finished 41st with 22 points.
Two East County wrestlers made the championship round. Steele Canyon sophomore Logan Robinson finished second in his 106-pound weight class while Valhalla senior Matthew Jordan finished second at 120 pounds.
Robinson dropped a highly competitive match to Imperial junior Nathan Galbiso by a 10-7 decision. The score was tied 7-7 before the Tiger wrestlers scored the decisive points late in the match to remain undefeated on the season (10-0).
Robinson, seeded third, finished the two-day tournament with a 3-1 record, with all his wins coming by pins, including two first-period falls. He pinned second-seeded Dominic Pacheco of St. Augustine in 2:33 in the semifinals.
"I just want to keep working hard, each day try my best whether it's on the mat or off the mat," Robinson said. "I was actually hoping to win this tournament and get the most valuable wrestler award but I'm pretty happy. I beat some good kids. I lost a close match to a good kid."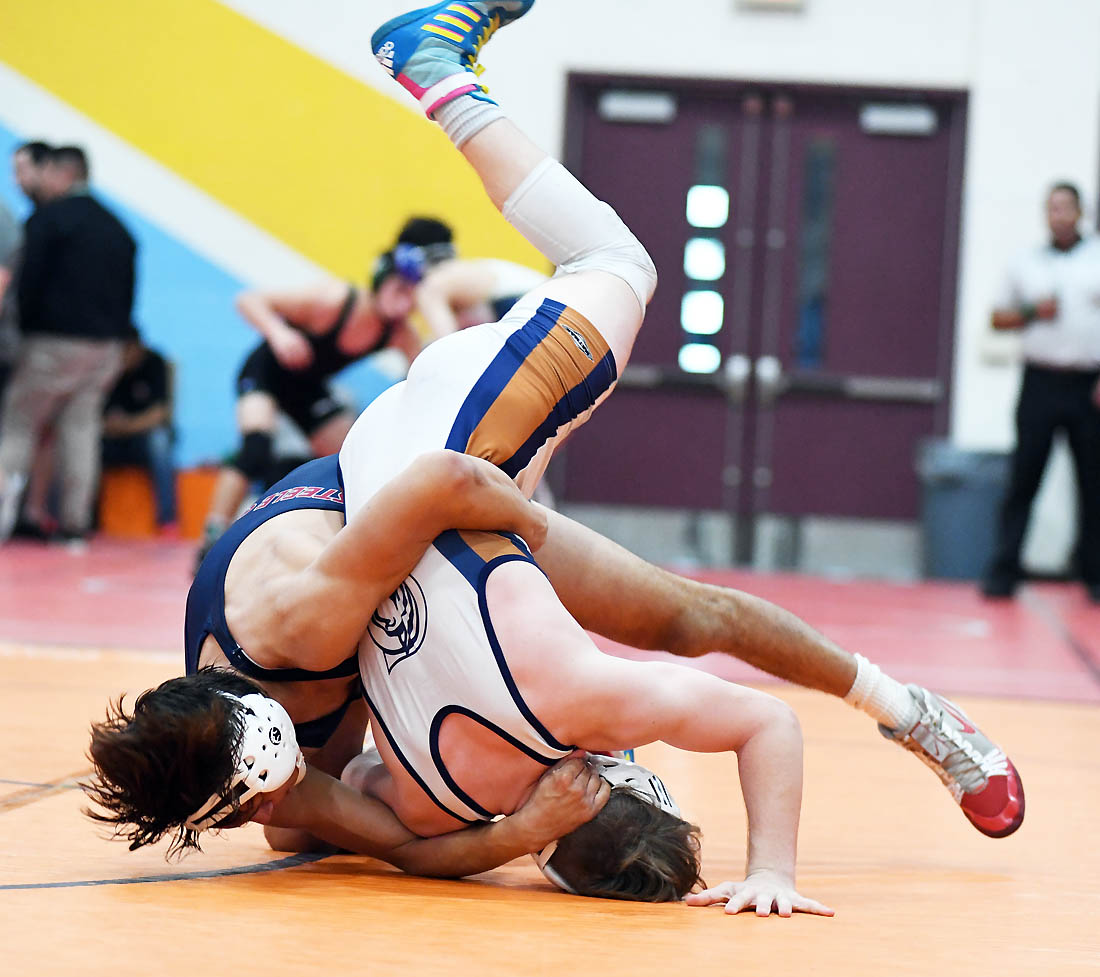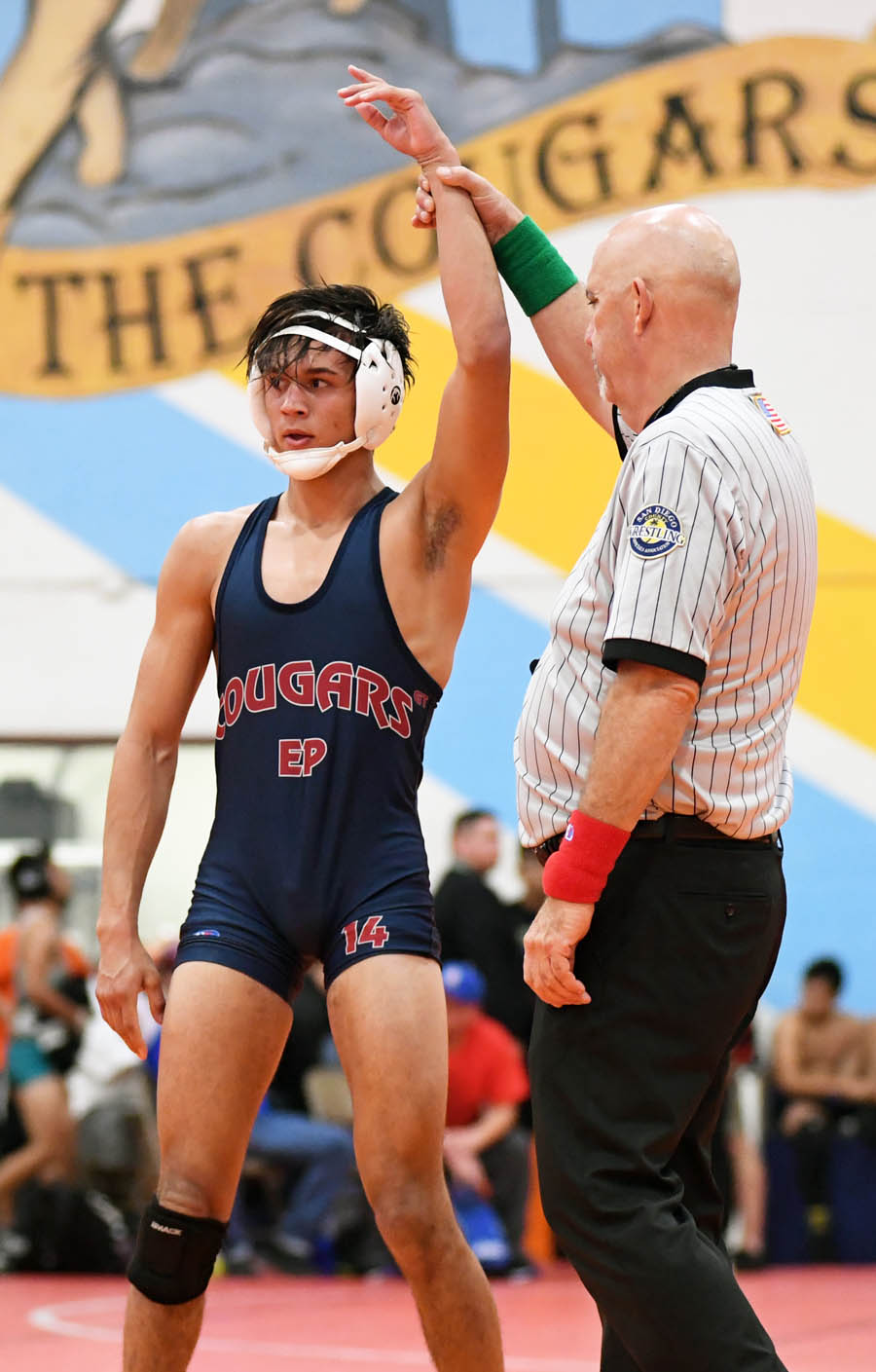 Steele Canyon finished the tournament with two medalists as returning state meet qualifier Ezra Cardenas finished third in his 138-pound weight class. Cardenas finished 5-1, with his lone loss to Sultana senior Ryan Spangler, ranked third in the state.
Cardenas, seeded fourth, won his opening three matches. Following a loss by a 1:27 pin to top-seeded Spangler in the semifinals, Cardenas wrestled back with two more victories to place third in the weight class.
Cardenas defeated Hilltop's Dominic Gurule-Metzig, the champion at the preceding weekend's Mira Mesa Marauder Invitational, by a 7-1 decision in the consolation semifinals.
Cardenas captured a 9-3 decision from Cole Hickey from Cienega (Vail, Ariz.) to complete his tournament odyssey in the bronze medal match.
Spangler (6-0) earned the lower weight MVP award with four pins and a 5-0 record. He defeated Frontier senior Jose Landin (8-2), ranked 13th in the state, by a 7-2 decision in the championship round.
"It was a tough tournament," Steele Canyon head coach Mark Gerardi said. "I'm pleased with how our guys did. We didn't bring a full team, had a couple of placers. They wrestled well.
"Logan wrestled fantastic and so did Ezra, whose only loss was to the champion.
"We're a young team; I think we have a couple guys who are contenders to qualify for state."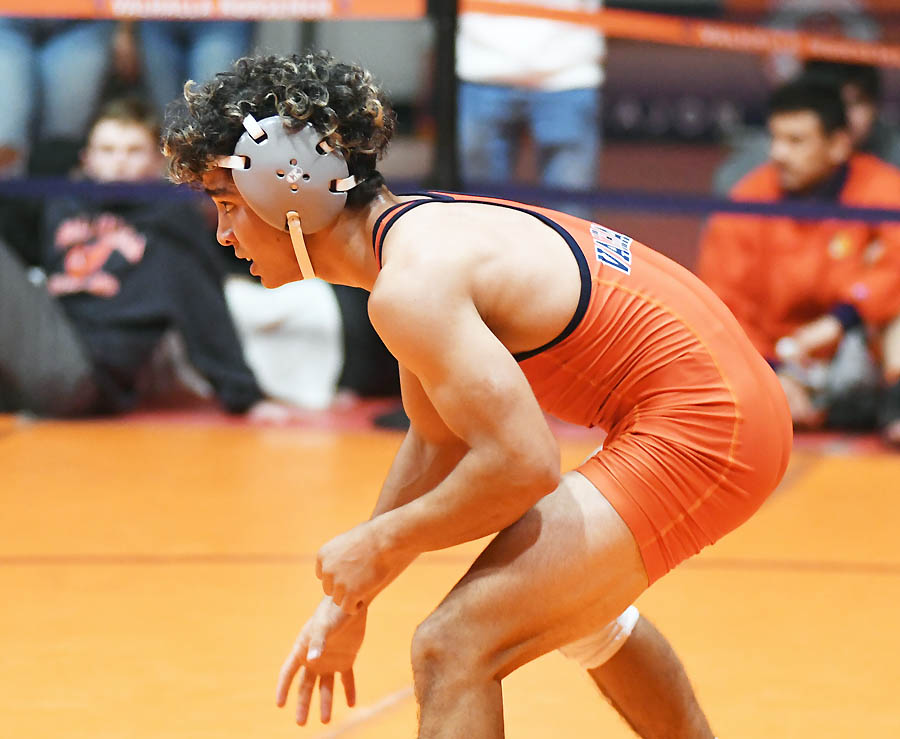 Jordan won his opening four matches, including three by pin, to reach the championship round before dropping a 7-1 decision to Frontier senior Josh Acala in the finals.
Jordan, who previously finished first in his weight class at the Mira Mesa Marauder Invitational on Dec. 7, pinned San Ysidro's Rahman Ferguson in the semifinals.
Valhalla finished the tournament with three medalists as Guadalupe Garcia finished fourth at 160 pounds and Michael Carmona finished eighth at 195 pounds.
Jordan, Garcia and Carmona all won their weight classes at the preceding weekend's Marauder Invitational in which the Norsemen scored a second-place team finish.
Steele Canyon won the Grossmont Hills League dual meet championship two years ago. Granite Hills and West Hills shared last year's title.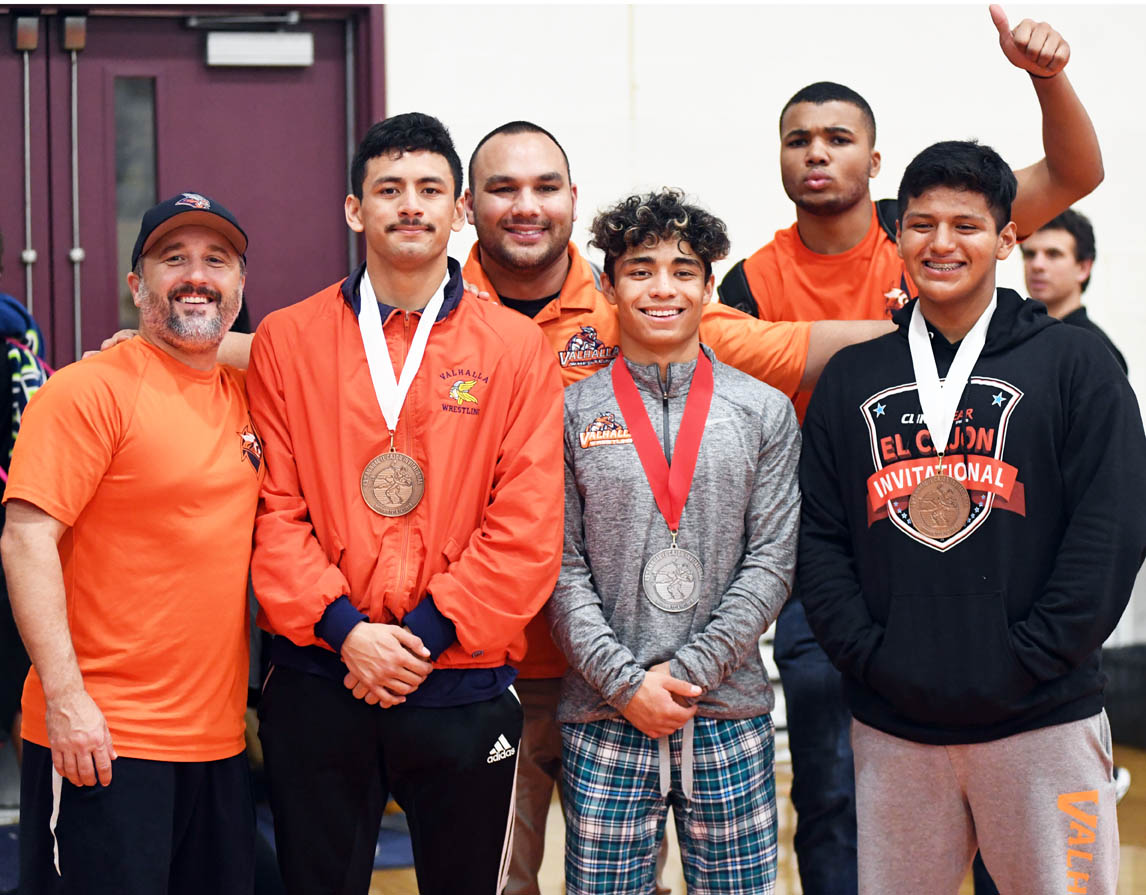 Second-year Valhalla head coach Jason Bedsole believes his team can be a contender this season after placing 3.5 points behind Granite Hills at last weekend's ECI tournament.
"We have a mix of seniors and underclassmen — it's going to be interesting," said Bedsole, who graduated from Valhalla in 1995 before going on to wrestle at Palomar College and Fresno State. "We have a good blend. It's building.
"We had three medalists at this tournament this year; we had no medalists last year."
Valhalla hosts Granite Hills Jan. 9 in what is shaping up to be one of the highlights of the season.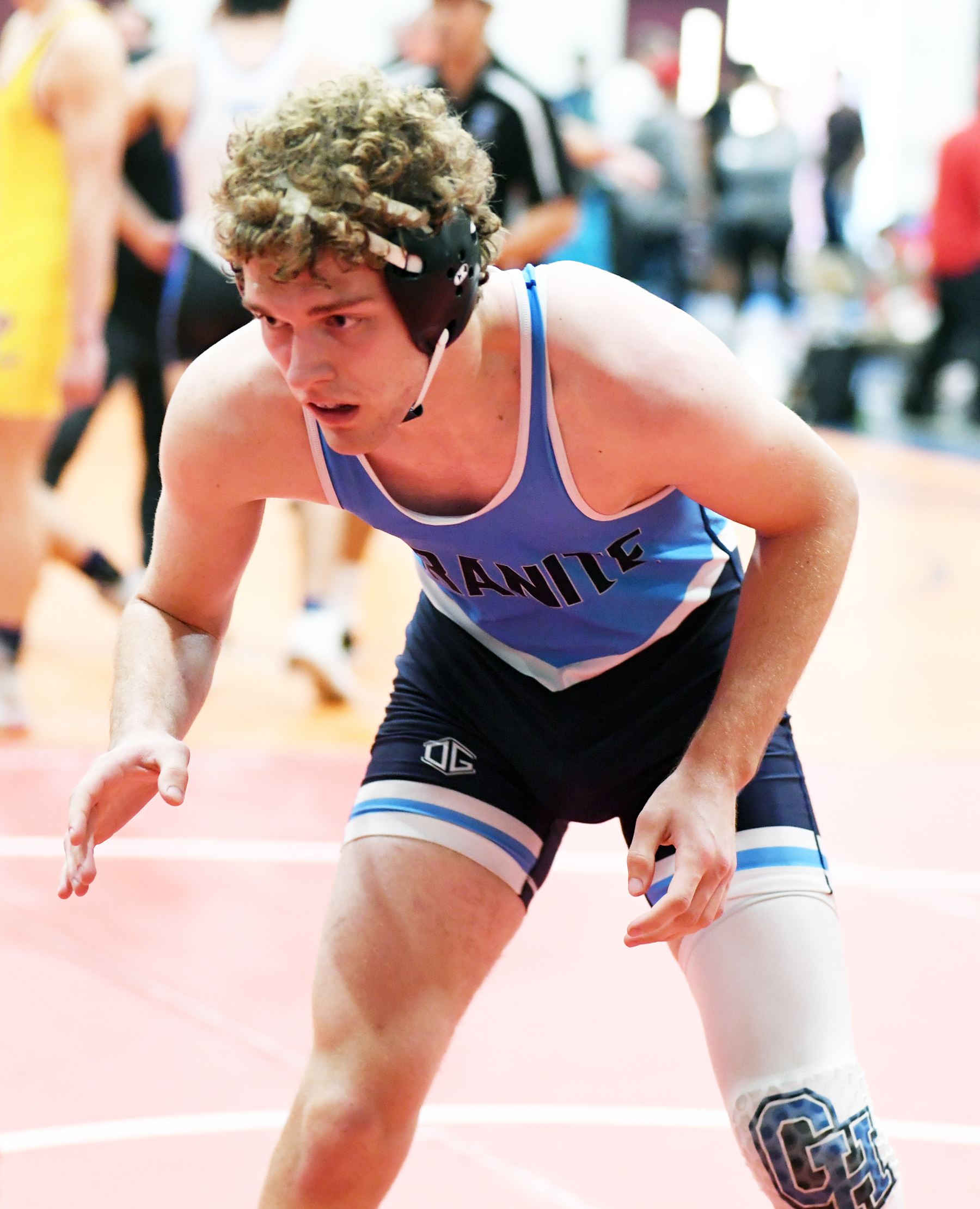 Granite Hills recorded two medalists: Jeremiah Satberry (sixth, 182 pounds) and Skyler Hillberg (seventh, 170 pounds).
Satberry won his opening four matches, including three by pin, to reach the semifinals. After dropping an 11-7 decision to Mt. Carmel's Nick Burwell, Satberry took sixth place by a medical forfeit.
Hillberg, who had two pins in the tournament, defeated Olympian's John Johnson by a 3-1 decision to place seventh.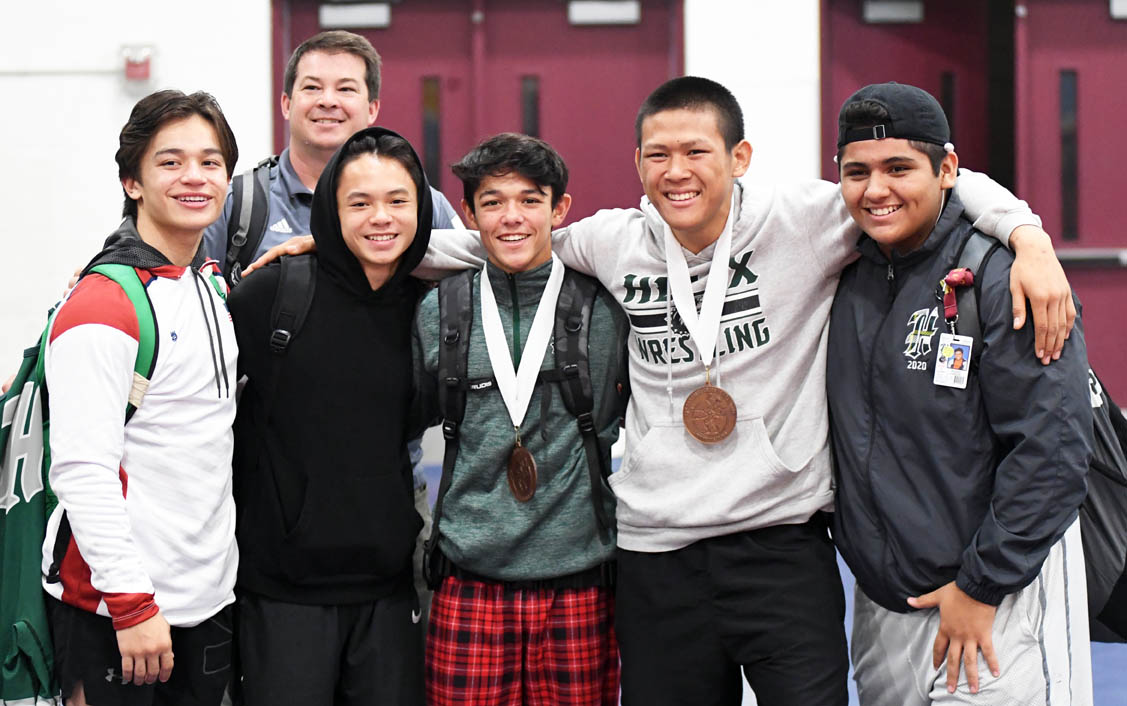 Helix, which qualified five wrestlers for the second day of competition, recorded two medalists: Lex Lo (fourth, 170) and Isaiah Graves (seventh, 120).
Lo finished 4-2 in his weight bracket with four pins. He advanced to the semifinals on the strength of three consecutive pins, including two in the first period, before dropping a match by a 1:27 pin to Maranatha Chrisitan's Noah Rupp, the eventual runner-up.
Lo bounced back with a 3:21 pin of Cienga's Ritchie McCormack in the consolation semifinals to reach the third-place match, which he dropped by a 17-1 technical fall to Sultana's Nathan Aguiniga.
Graves also posted a 4-2 record at this year's ECI, scoring one pin, one major decision and one technical fall. He defeated Olympian's Brandon Dequito, 18-3, to place seventh.
Helix moves to the Grossmont Valley League for dual meet competition this season, joining Monte Vista, Mount Miguel, El Cajon Valley, Santana and El Capitan in what looks like to be a very competitive field.
"We have a mix of veterans who will lead the team and some freshmen who will make us competitive for the league title," Helix coach Adam Krzywicki said.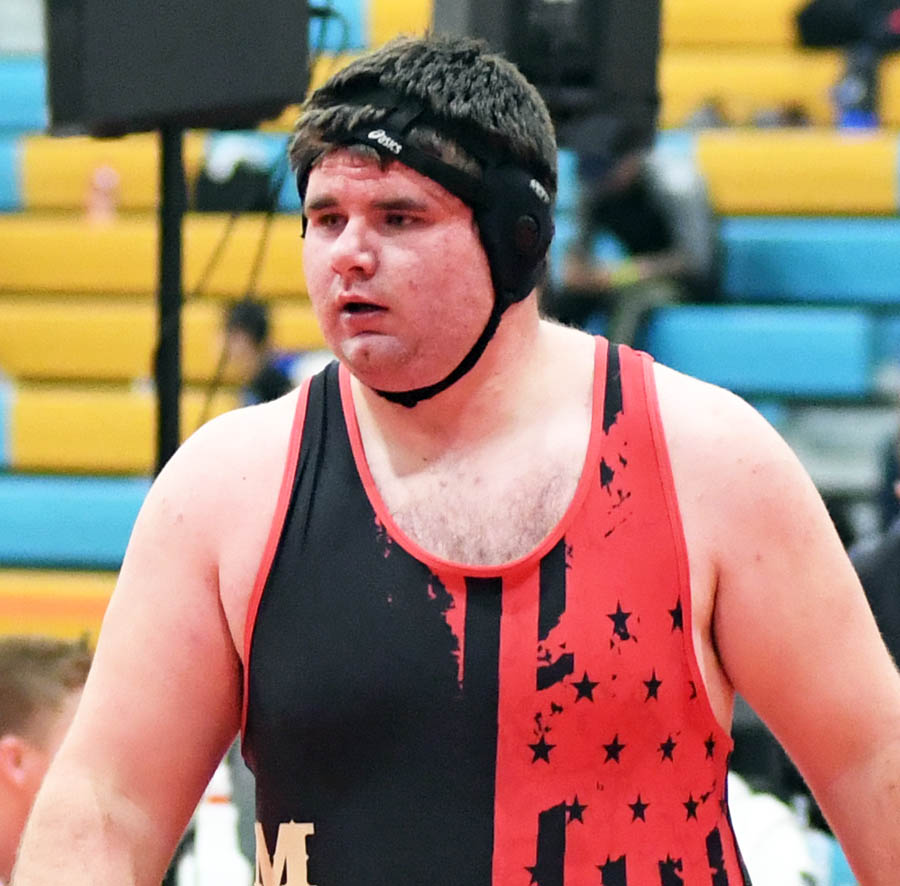 In rounding out East County place-finishers, West Hills' Mathais Brooks finished eighth at 152 pounds while Mountain Empire's Dillynn McMillan finished eighth in his 285-pound heavyweight division.
Brooks won three consecutive matches in the single-elimination wrestle-backs to reach the medal rounds.
McMillan won four matches over the two days, recording three pins. His three losses came to the first-, fourth- and seventh-place medal-winners.
McMillan lost by a 4:22 pin in his final match to San Marcos's Ricky Johnson.
Mat attack
Rancho Bernardo, with 12 medalists in the 14 weight classes, won the team title with 284 points, followed by runner-up Moses Lake from Washington with 231.5 points. Bakersfield Frontier (Central Section) finished third with 223.5 points while Hesperia Sultana (Southern Section) was fourth with 198.5 points.
Imperial (fifth, 191.5 points), Olympian (sixth, 143.5 points), Mt. Carmel (seventh, 142.5 points), Cienega from Vail, Ariz. (eighth, 121.5 points), Vista (ninth, 113.5 points) and Fallbrook (10th, 92 points) rounded out the top 10 team finishers.
Rancho Bernardo advanced five wrestlers to this year's ECI finals, winning three individual weight class titles.
Moses Lake, with nine medalists, had two finalists and one weight class champion.
Frontier, with eight medalists, had six finalists and three individual champions.
Sultana, with eight medalists, matched Imperial (five medalists) with two individual champions.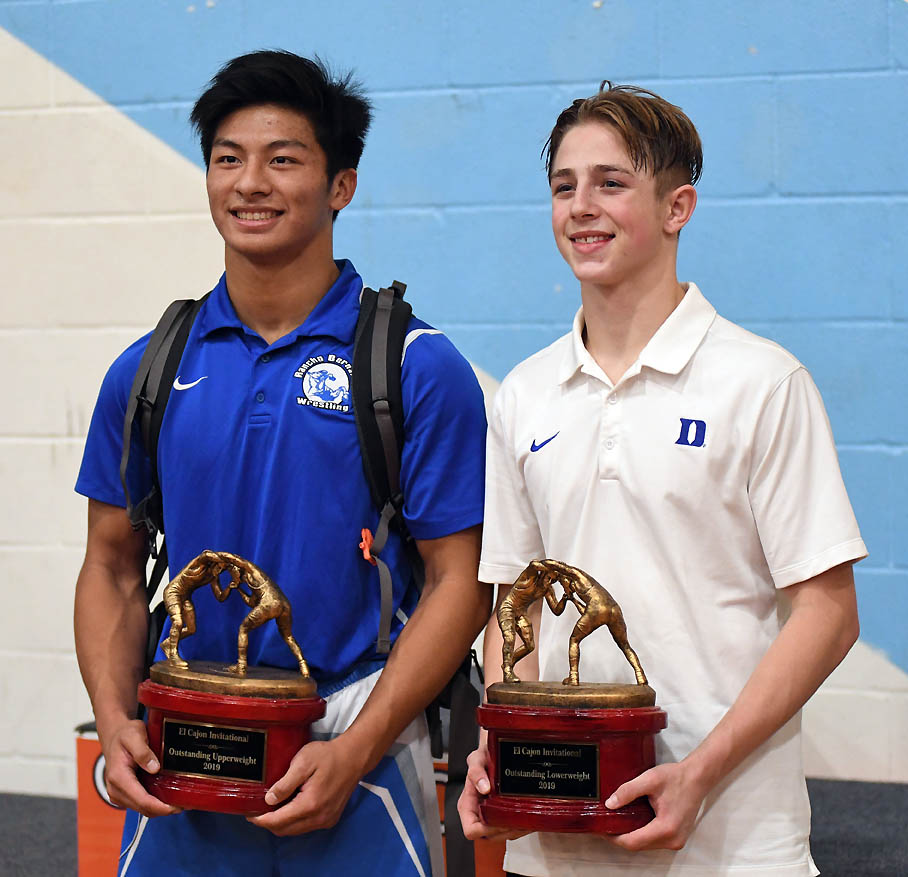 Sultana senior 138-pounder Ryan Spangler, ranked third in the state, earned the lower weight MVP award with four pins and a 5-0 record. He defeated Frontier senior Jose Landin, ranked 13th in the state, by a 7-2 decision in the final.
Rancho Bernardo junior 182-pounder Javen Jovero, ranked second in the state, captured the outstanding upper weight award with four pins and a major decision. He pinned Mt. Carmel senior Nick Burwell in 59 seconds in the championship round.
Pete Salmu received the Most Outstanding Wrestling Officials award at this year's ECI. The award was presented prior to the finals. "It took me by surprise," said Salmu, who is part owner of Santa Fe Meats in Chula Vista.
PARADE OF CHAMPIONS
Championship Matches
106: Naythan Gabliso (Imperial) won by 10-7 decision over Logan Robinson (Steele Canyon)
113: Jonathan Tanguma (Moses Lake) won by injury default over Nikko Beato (Rancho Bernardo)
120: Josh Acala (Frontier) won by 7-1 decision over Matthew Jordan (Valhalla)
126: Matthew Nelson (Vista) won by 5-4 decision over Brayden Concepcion (Ranch Bernardo)
132: Jose Cisneros (Sultana) won by 7-5 decision over Jay Appleton (Frontier)
138: Ryan Spangler (Sultana) won by 7-2 decision over Jose Landin (Frontier)
145: Jaden Le (Rancho Bernardo) won by 7-0 decision over Garrett Fletcher (Frontier)
152: Tyler Badgett (Rancho Bernardo) won by 9-1 major decision over Mico Gonzalez (Olympian)
160: Paul Ortiz (Imperial) won by 12-2 major decision over Carlo Castangnaro (Cienega)
170: Christian Landin (Frontier) won by 9-1 major decision over Noah Rupp (Maranatha Christian)
182: Javen Jovero (Rancho Bernardo) won by 0:59 fall over Nick Burwell (Mt. Carmel)
195: Shane Hansen (Oceanside) won by 18-5 major decision over Nicholas Pira (Guajome Park Academy)
220: Andrew Castillo (Central Union) won by 3:24 fall over Andrew Kile (Moses Lake)
285: Jake Andrews (Frontier) won by 1:02 fall over Javier Montoya (Fallbrook)