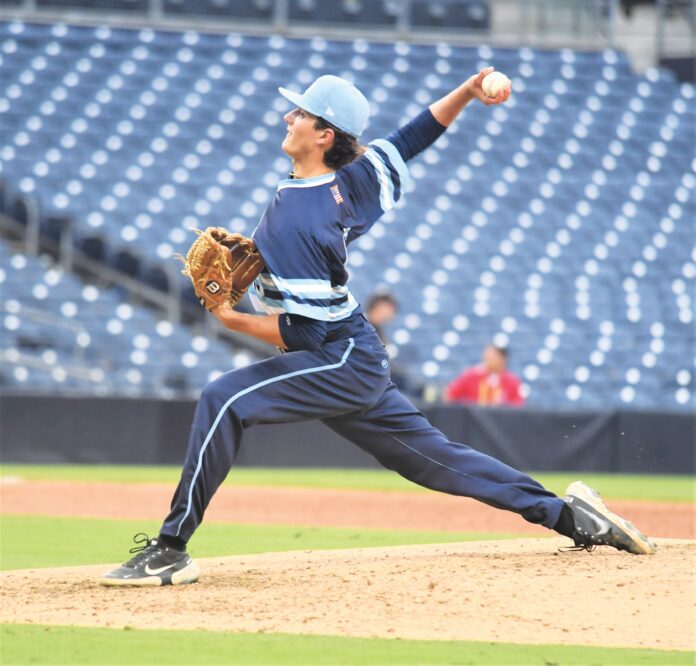 The San Diego Padres' Petco Park remains a field of dreams not only for Major League Baseball talent but for baseball players of every age locally.
The same cascade of "oooooohs" and "aaaaaahs" played out again during Sunday's fourth annual Padres' High School All-Star Night at the downtown venue. Not all 42,445 seats were filled for the East versus West format, but the adrenaline was definitely pumping for the — in many cases, once in a lifetime — showcase opportunity.
San Diego Section Commissioner Joe Heinz addressed both teams before the game with the same message.
"Enjoy the experience and make the most of it," he told players and coaches.
There was certainly no lack of thrills as the teams combined for 13 runs in the regulation nine-inning game, won 7-6 by the East all-stars.
Granite Hills High School junior shortstop Camden Sos earned honors as the game's Most Valuable Player with a two-run scoring triple in the seventh inning to help secure the victory for the East team.
"It was amazing to win the game and win the MVP trophy," said Sos, an Alpine resident who has committed to continue his baseball career at UC San Diego. "There were a lot of good players here, so this means everything."
Sos was a member of the Eagles' top-seeded Open Division team that went on to secure a runner-up finish in the divisional playoffs and earn a berth in the ensuing Southern California regional playoffs.
The reigning Grossmont Hills League champions ended the 2022 season with a 24-7 overall record following a 5-2 setback to top-seeded (and eventual SoCal runner-up) JSerra Catholic.
"Everyone gave everything," Sos said in retrospect. "There was no pressure on us being the No. 1 seed. We had the mentality to go out and win every game."
Sos was a contributor to the Eagles' success this spring with a 0.323 hitting average, 27 runs scored, 30 hits, 21 RBI, five doubles and two home runs in 27 games. He has a career 0.299 hitting average, 0.370 on-base percentage, 64 hits, 42 RBI and 40 runs scored in 62 games, including freshman, sophomore and junior seasons.
"It was an honor to be out here," Sos said in regard to his all-star selection. "It's a whole different experience with the stadium being enclosed and everything around you. It's one of the best in the country, it's amazing. But once you're in the batter's box, it's like anything else."
Sunday's East team was chock full of East County talent, led by East team head coach Cole Holland from Helix Charter High School, his Highlanders coaching staff (Tyler Soto and Diego Reynoso), and four players: senior first baseman/pitcher Ben Haar, senior infielder/pitcher Wyatt Laub, junior first baseman/designated hitter James Whitman and sophomore Gabe Lainer (bull pen catcher).
Granite Hills head coach James Davis served as an assistant coach. The Eagles were represented by three players in the all-star tilt: senior catcher Cody Macias, junior pitcher Nico Tomasello and Sos.
Santana was represented by coach Rigo Ledesma and three players: senior pitcher Koda Alto, senior second baseman Elijah Reber and senior infielder/outfielder Ethan Wright.
Other East County players included Steele Canyon junior catcher/first baseman/outfielder Tommy Molina and Cougar senior pitcher/outfielder Gabe Diaz (injured, did not play), Grossmont junior outfielder/pitcher River Diaz De Leon and Christian High School junior pitcher Vaughn Major.
Molina, Wright, Haar, Laub and Diaz De Leon all earned first team all-Grossmont Hills League honors while Laub was named the league's pitcher of the year.
Macias, Sos, Whitman, Reber and Diaz were among the league's all-league second team selections while Alto and Tomasello were honorable mention picks.
"It was awesome to coach this group," said Holland, whose team finished 8-4 in Grossmont Hills League play as the runner-up team en route to advancing two rounds in the Open Division playoffs with a final 16-12 record. "We had a great time with the kids. We're thankful to Bill Johnston (Padres vice president of community relations) for putting this on. It's such a class act. I'm grateful to have this experience.
"We had good pitching on both teams, the offense just had to catch up to get it going. I thought we did a good job of that."
Macias hit 0.307 with 12 RBI and six doubles during the 2022 season while Tomasello finished 7-1 with a 2.88 ERA with 46 strikeouts in 48.2 innings. Macias had one RBI in Sunday's game while Tomasello pitched 1.2 innings.
Wright batted 0.432 in 27 games with 26 runs scored, 25 RBI and 11 stolen bases. He had a productive night on Sunday with a single, two stolen bases and one run scored.
Major, who has a career 1.64 ERA with 206 strikeouts in 149.1 innings with the Patriots (22-9 this season), recorded one RBI at the plate and put down the West in order in the bottom of the ninth inning, striking out the final batter to cap Sunday's festivities.
Haar pitched 1.1 innings on Sunday, helping the East team get out of a jam in the bottom of the seventh inning after narrowing the score to 7-4.
"It's amazing to be among these premier players here, a once in a lifetime experience," said Haar, who led the Highlanders with a 0.368 hitting average in 25 games, topping the team with 26 runs scored, 28 hits, 36 RBI and eight home runs.
Haar will continue his baseball career at the University of San Diego, which posted a 37-20 record this spring, won the West Coast Conference tournament and advanced to the NCAA Corvallis Regional.
"We battled," Haar said of the Scotties' 2022 season. "At one point we were tied for 17th in Division I and came back to earn the eighth seed in the Open Division. It was a great senior season to be with my boys."
Haar also served time on the mound with a 3-3 record, 3.00 ERA and 48 strikeouts in 51.1 innings.
Whitman hit 0.325 with 20 RBI and five home runs this season while Laub batted 0.291 with 14 RBI while posting a 7-1 record and two saves on the hill with a 2.65 earned-run average and 36 strikeouts in 37 innings. Whitman had a RBI single in Sunday's game while Laub started on the hill for the West with one scoreless inning.
Reber hit 0.347 with 21 runs scored, 15 RBI and 11 stolen bases while Alto was 7-3 on the mound with two saves and a 2.47 ERA. Diaz De Leon hit 0.305 in 36 games with 32 runs scored, 28 RBI and eight home runs.
St. Augustine junior M.J. Sweeney (6-7, 245) swung the big stick for the West team with a two-run home run over the 340-foot sign in right field in the bottom of the eighth inning to make the final score 7-6.
Long ball
Madison senior infielder Maddox Haley (West team) won the pregame home run hitting contest in a final head-to-head duel against Poway senior outfielder/ pitcher Nick Cook (East team). Each team had four players selected with the top two point-getters from the first round squaring off in the final. Haley chalked up 34 points to Cook's 24 points to win this year's derby.
Grossmont's Diaz De Leon and Helix's Whitman both participated on the four-man East roster. Cook had a double and RBI in the regulation contest.
This year's all-star game roster and home run derby participants were chosen by the section's baseball advisory committee.
GROSSMONT HILLS LEAGUE
Granite Hills 10-2, 24-7
Helix Charter 8-4, 16-12
Santana 6-6, 18-11
Grossmont 4-8, 16-19-1
Steele Canyon 2-10, 14-15
GROSSMONT VALLEY LEAGUE
West Hills 10-0, 20-9-1
Valhalla 7-3, 13-15
El Capitan 7-3, 16-13
Monte Vista 4-6, 11-18
Mount Miguel 2-8, 6-22
El Cajon Valley 0-10, 4-17-1