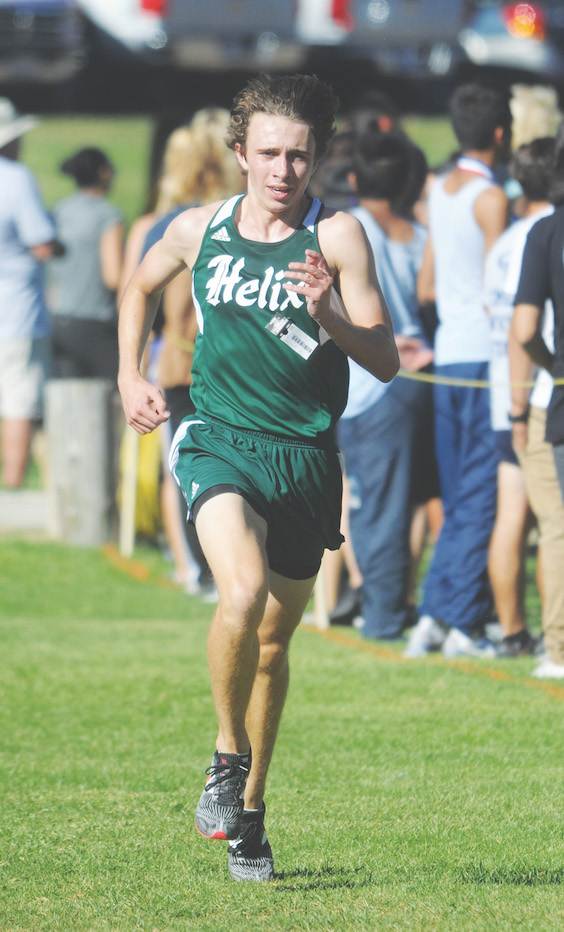 The 2021 fall cross country season has stepped off in very favorable fashion for the Grossmont boys team after the Foothillers captured their division title at the Vaquero Stampede Aug. 21 and navigated a third-place finish at the Bronco Round-up Aug. 28 at Kit Carson Park in Escondido.
Grossmont tallied 58 points in the Division I boys junior/senior division at the Vaquero Stampede, which took place on campus at El Capitan High School because of construction at Lindo Lake park. The Foothillers easily finished ahead of runner-up San Marcos, which had 107 points.
Grossmont junior Russell Blakely finished as the top individual in the 2.0-mile race with a time of 9:51 — six seconds ahead of San Marcos senor Levi Taylor, the second-place finisher in the 127-deep race.
Overall, the Foothillers placed four runners among the top 20 finishers and all five scorers in the top 25. Junior Ian Rosen finished fourth among individuals with a time of 9:59, followed by classmates Mason Coyle (17th place, 10:26) and Joshua Edwards (18th, 10:27). Senior Ken Okura rounded out Grossmont's top five scorers in 21st place in 10:31.
Steele Canyon finished fourth in the division with 123 points while El Capitan finished eighth in the team standings with 170 points.
Steele Canyon juniors Bradley Bell and Juan Pablo Arredondo both timed 10:17 on the course to place 12th and 13th, respectively, among individuals while El Capitan senior Dominic Villaruel placed 16th in 10:24.
Bronco Round-up
Grossmont scored 101 points to finish behind team champion Mt. Carmel (79 points) and runner-up Otay Ranch (93) points on a warm day in North County. Blakely once again took top individual honors in the 95-deep race by timing 9:51.4 on the 2.0-mile course.
The Foothillers placed their five scorers among the top 37 individuals. Rosen finished eighth in 10:05.5, followed by Okura (27th, 10:28.2), Edwards (35th, 10:35.6) and Coyle (37th, 10:37.5).
Grossmont's girls team captured fourth place in the Division II standings. Pacing the Lady Foothillers in the 67-deep field were sophomore Suhey Arce (seventh, 13:20.4) and senior Isabel Cervantes (20th, 13:53) while junior Savannah Mooney finished 31st in14:31.4.
Vaquero Stampede
Steele Canyon's girls team finished fourth in the Division I junior/senior division with 95 points while Grossmont finished in sixth place with 169 points.
El Capitan junior Samantha Mauzy was the top East County finisher in the 2.0-mile race with a time of 12:40. Steele Canyon junior Yarell Alvarez placed 10th in 12:47, followed by teammates Brooklyn Sitta (18th, 13:08) and Brenda Alvarez (19th, 13:08). Grossmont senior Penelope Medina finished 22nd in the 92-deep field in 13:25.
El Capitan, buoyed by sophomore Austin Boinus, finished fifth in the Division I boys frosh/soph team standings. Boinus placed fourth among individuals in the 95-deep field in 10:48. Steele Canyon freshman Micah Senn finished 16th in the 2.0-mile race in 11:43, followed by El Capitan sophomore Aundrey Calvert in 17th place, also in 11:43. El Capitan freshman Johnny Webb made the top 25 cut-off with a time of 12:05 in 25th place.
"Due to construction at Lindo Lake, we needed to relocate the Vaquero Stampede to El Capitan High School — all grade levels raced two miles," El Capitan coach Tyler Ludwig said.  "We (as a team) had some decent season opening times."
Steele Canyon finished third in the Division I girls frosh/soph division, though El Capitan sophomore Jillian Rudolph (fourth, 12:32) and Grossmont's Arce (sixth, 12:56) paced East County runners on the two-mile course.
Santana sophomore Trevor McDonald finished third among individuals in the Division II boys frosh/soph race in 11:43 while Mount Miguel sophomore Garrett Cloyd placed 11th in 12:23.
Valhalla senior Manuel Campos placed fourth among individuals in the Division II boys junior/senior race in 10:45 as the Norsemen captured third place in the team standings.
Wolf Pack Invitational
East County runners excelled Aug. 27 at the annual West Hills High School event, which is contested by grade level. Steele Canyon won team titles in the girls freshman division, girls junior division, boys junior division and girls senior division while Santana finished second in the boys junior division, Granite Hills captured runner-up honors in the girls junior race and Valhalla finished second in the boys senior division.
Additionally, El Capitan finished third in the boys freshman race while Granite Hills finished third in the boys sophomore race. Valhalla posted a fourth-place showing in the boys junior race.
Steele Canyon freshman Taylor Carter topped the 77-deep ninth-grade field by covering the 1.5-mile course with a winning time of10:03.
Granite Hills freshman Orlando Carrillo (8:51) and El Capitan's Webb (8:57) finshed second and third, respectively, among the 94 finishers in the 1.5-mile boys freshman race.
East County runners grabbed the top four place-finishes in the girls sophomore race. El Capitan's Rudolph finished first in 9:35, followed in order by West Hills' Taya O'Harran (second, 9:56), Granite Hills' Karli Howard (third, 10:12) and Steele Canyon's Katarina Stock Montano (fourth, 10:21).
Santana's Mikayla Horning won the 63-deep junior girls race in 9:46 ahead of El Capitan's Mauzy (third, 9:56) and Granite Hills' Kelly Cahill (fourth, 10:02).
Steele Canyon's Arredondo covered the 2.1-mile course in 10:32 to win the 97-deep boys junior race, closely followed by teammate Bell in second place in 10:37. A pair of Santana runners, juniors Jayson Oliver (10:37) and Connor Cheary (10:43), followed in third and fourth place, respectively.
Valhalla's Alyssa Kasyouhannon (8:51) placed second among the 35 individuals in the 1.5-mile girls senior race while Steele Canyon's Alvarez (10:29) finished third. Kasyouhannon won in breakaway fashion by a margin of 95 seconds.
The top six finishers in the boys junior race were all from East County as El Capitan junior Trey Dixon placed fifth in 10:49 and Steele Canyon's Dominic Rizzo finished sixth in 11:04.
El Capitan's Calvert (sixth, 11:32), Granite Hills' Collin Guffey (seventh, 11:38), Helix's Dylan Towne (ninth, 11:52) and Mount Miguel's Cloyd (11:53) all managed top 10 finishes in the boys sophomore race.
Up next
East County teams will head south for this Friday's Ian Cumming/Tim Latham Invitational at Rohr Park in Chula Vista.
The annual Mt. Carmel Invitational is Sept. 18 at Morley Field.