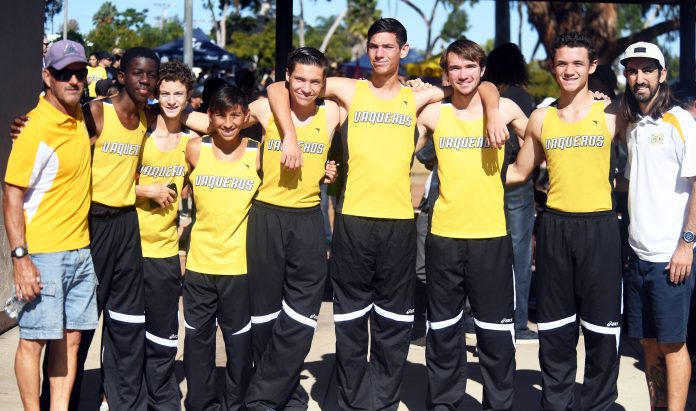 East County high schools will be sending three teams and five additional individual qualifiers to this weekend's state cross country championship meet in Fresno following spirited competition at last Saturday's San Diego Section finals at Morley Field.
El Capitan High School qualified both its boys and girls teams for the Nov. 30 state meet while West Hills High School's boys team also qualified.
Christian High School junior Alaina Zamorano highlighted the area's individual qualifiers by winning her third consecutive San Diego Section Division V title with a breakaway time of 18:14.7 on the 2.96-mile course.
Zamorano won by a 29-second margin over runner-up Eloise Martenson, a sophomore from team champion Santa Fe Christian.
Zamorano also bested Martenson to win last year's division title.
"It feels great," said Zamorano, who finished 10th in her division at last year's state championships and sixth as a freshman. "I wanted to go out and get a good time; I wanted to qualify for state again. I definitely want to put up a good time to win state."
Zamorano is clearly moving up the rankings. She bettered her time by 23 seconds from last year's section finals. Prior to last weekend's division finals, she set a new meet record at September's Coach Downey Cross Country Classic.
She finished second in her division at October's 72nd annual Mt. SAC Invitational, which is considered the largest cross country meet on the planet.
Despite her success, she admitted she still gets butterflies before some races.
"I felt pretty good (at the section finals) but I got pretty nervous before the race," she said. "My knees were hurting. That was a bummer. But it felt good to win again.
"I want to keep getting faster and faster. I want to be the first Division V girl to win four CIF championships."
Christian senior Madelynn Worley finished 20th in 21:01.8 in the 123-deep field to complement her teammate with an upper tier finish.
Vaquero pride
El Capitan swept both boys and girls Division III championships at last year's section finals but had to contend with an especially strong Cathedral Catholic team at this year's meet en route to posting runner-up finishes.
The Lady Dons placed their five scorers among the 11 finishers in the 108-deep girls race to finish with 39 points. El Capitan out-pointed Ramona 72-73 to finish in second place.
In the boys race, Cathedral Catholic recorded the top two individuals en route to posting a division best 64 points. El Capitan finished second with 125 points, followed by West Hills with 127 points.
El Capitan coach Jeff Hines said the pair of second-place team finishes was still very satisfying this year.
"We beat Ramona by one point to take second place in the girls race," Hines said. "Anything could have happened at any time in the race. It was a really big deal to beat them."
El Capitan freshman Amber Chase led the charge for her team with a meteoric second-place individual finish with a time of 18:14.6. Senior Carolinh Calvert finished seventh in 19:16 while freshman Samantha Mauzy finished 17th in 19:42.6.
Senior Dayana Lopez (24th, 20:06.8) and junior Ashley Boinus (28th, 20:16.8) rounded out El Capitan's top five scorers in the girls race.
The top 20 finishers in the race earned medals.
Santana freshman Mikayla Hornung finished fifth in 18:54.6 to buoy East County with three finishers among the top seven runners.
Six Grossmont Conference runners finished among the top 20 individuals in the Division III boys field.
West Hills senior Dylan Shubert finished third with a time of 15:51.1 while chasing Cathedral Catholic senior Max Wilson (first in 15:38.8) and Dons sophomore Blake Levy (second in 15:47.8) on the course.
Junior Parker Dixon led El Capitan with a seventh place individual finish in 16:15.5. El Capitan senior Andrew Sager finished 10th in 16:19.8, followed by West Hills sophomore Mark McCowin in 16:23.7.
El Cajon Valley junior Daniel Monganga finished 15th in 16:30.3Santana junior Jack McMackin finished 19th in 16:31.8 to also earn medals.
El Capitan's five scorers in the 123-deep field also included sophomore Ryan Quamina (30th, 16:52.4), freshman Trey Dixon (38th, 17:06.9) and junior Dominic Romero (40th, 17:10.8).
The top four girls teams and the three boys teams in Division III qualified to advance to the state meet.
West Hills out-pointed fourth place San Dieguito Academy by 16 points to secure third place in the boys field while Santana missed the team cut by 18 points with a fifth place finish.
West Hills's five scorers also included senior Aiden Calcutt (22nd, 16:36.6), junior Sean Willweber (44th, 17:17.3) and junior Landon Morales (47th, 17:22.1).
Santana finished eighth in the girls field with 226 points; West Hills finished ninth with 236 points.
Also famous
Other East County individual state meet qualifiers included Grossmont senior Devin Provence (sixth in Division II boys in 15:36.9), Steele Canyon senior Richard Cleaves (10th in Division II boys in 15:56.6), Grossmont junior Madeline Minutelli (sixth in Division II girls in 18:21.0) and Steele Canyon senior Trinity Birdwell (seventh in Division II girls in 18:27.1).
Helix senior Jaden Forester finished ninth among Division I boys individuals in 15:45.4. However, only the top five individual finishers qualified for the state meet.
Also earning CIF medals were Steele Canyon freshman Graziella Mineo (18th in Division II girls, 19:09.2) and Valhalla junior Kate Branksi (19th in Division II girls, 19:13.7). Mountain Empire senior Jose Arredondo finished 14th in the Division V boys field in 16:41.9.
The top three teams in the Division II boys race advanced to the state meet. Steele Canyon finished sixth while Grossmont was 10th and Valhalla was 11th.
The top three teams in the Division II girls race qualified for the state meet. Steele Canyon finished fifth while Valhalla was ninth and Grossmont was 10th.
Steele Canyon swept the field at this year's Grossmont Hills League finals, winning championship titles in the boys and girls varsity divisions and also the boys and girls junior varsity divisions.
"It was a good day for us," commented coach Gary Stathus.
This weekend's state championship meet is scheduled for Saturday, Nov. 30, in Woodward Park, Fresno. For a time schedule and results, visit the website at www.cifstate.org.