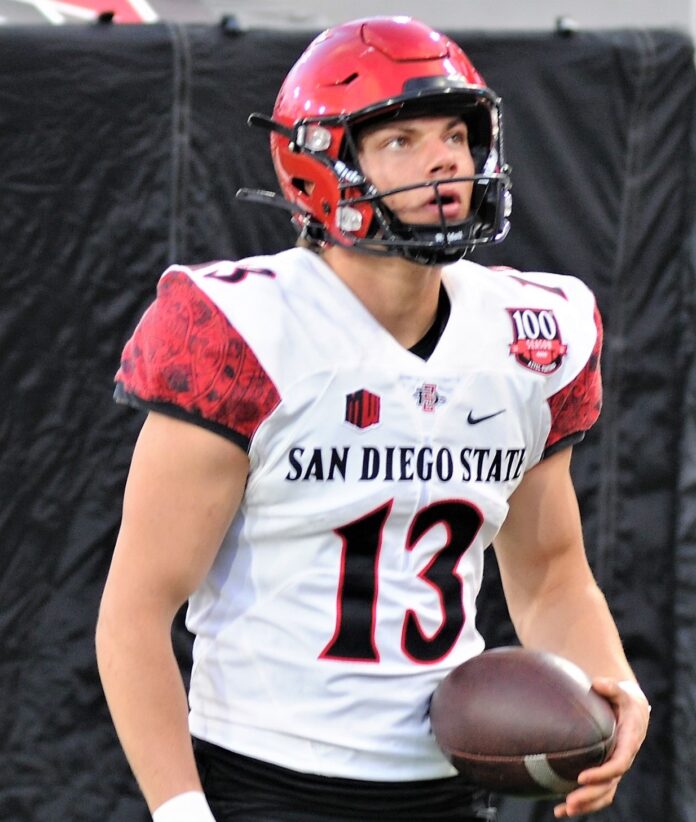 High school football teams kicked off official fall practices on July 31. College football teams got an earlier start prior to the start of the weekend.
All teams will be looking forward to the new season and a chance to make a name for themselves.
Granite Hills High School is coming off its most successful season in school history after winning Grossmont Hills League, San Diego Section Division II, Southern California regional and Division 2-A state championships.
The Eagles finished 13-2 overall with nine consecutive wins to conclude their memorable monster season.
Granite Hills kicks off the highly anticipated 2023 season with a scrimmage this Friday, Aug. 11, against 2022 Open Division champion Lincoln before hosting Mission Hills on Aug. 18 in a nonleague game in its season opener.
The Eagles play St. Augustine on Sept. 1 (neutral site), Eastlake on Sept. 8 (home), Central Union on Sept. 14 (away) and Madison on Sept. 22 (home) in a string of non-league encounters before kicking off league play in a realigned Grossmont Hills League following the addition of Santana and West Hills.
Granite Hills travels to Santana on Sept. 29 then hosts West Hills on Oct. 6. The Eagles play at Steele Canyon on Oct. 13 and host Helix Charter on Oct. 20.
Granite Hills closes out regular season play with a league matchup at Grossmont on Oct. 26.
With the expansion of the GHL to six teams, each team will play five league games as opposed to just three league games in recent seasons. Thus, the 2023 league season will be more challenging for all teams concerned.
"Moving into the Grossmont Hills League will be a challenge," West Hills coach Casey Ash admitted. "We'll be a very small team with a good group of skill players. But do we have enough linemen to make it matter?"
Battles are often won in the trenches, not over the top.
West Hills will get a preview of things to come when it hosts the Imperial Tigers on Aug. 18 in its season opener.
Top returners for the Wolf Pack include seniors Collin Dill, Diego Calderon and Nathan Stevens and sophomore Kyler Oberg.
Dill a first team all-Grossmont Valley League selection in 2022, passed for 723 yards with four touchdowns while rushing for 596 additional yards.
Calderon, a second team all-league pick last season, rushed for 408 yards and had 214 receiving yards with one touchdown.
Ash lists sophomore offensive/defensive lineman Aiden Ramsey as the team's impact newcomer.
Pigskin pride
Steele Canyon kicks off its season Aug. 18 with a non-league road match at Heritage, followed by a non-league home game Aug. 25 against Madison. The Cougars host neighborhood rival Valhalla in a non-league game on Sept. 15 before hosting Grossmont in its league opener on Sept. 29.
This year's five-team Grossmont Valley League lineup includes Mount Miguel, El Capitan, El Cajon Valley, Monte Vista and Valhalla. Each team will play four league games and six nonleague games.
Defending league champion El Capitan kicks off its season with non-league road games Aug. 18 at Valley Center and Aug. 25 at Canyon Hills before hosting La Jolla on Sept. 1. The Vaqueros' league opener is Sept. 29 against visiting Monte Vista.
Games are once again being played on Thursday, Friday and Saturday this season throughout the section.
Girls flag football makes its debut as a section sport this fall. First games are scheduled Aug. 12 with final regular season games scheduled Oct. 31 prior to playoff competition.
Red and Black
San Diego State University's football team opened training camp with a month to prepare for its season opener.
"We're excited to start fall camp," SDSU head coach Brady Hoke said. "It's been a really good summer. We have to do a great job to finish our development. That's one thing I think this football team has done a really good job of, is developing during. the summer and here in the spring, but we've got some more to do before we play Ohio University on Aug. 26."
"As coaches, the most important things and responsibilities are fostering and developing our players. Not just as football players and individuals, but as men. We're constantly putting the pressure on to develop our players, and our team has worked hard. We came off another bowl season, which was great, but we were disappointed with the finish of the season. Obviously, we want to win championships, and we haven't done that since 2016, so we have a lot of work to do but I'm excited about what's ahead of us."
The Aztecs host the first three games of the upcoming 2023 season at Snapdragon Stadium: Aug. 26 against the Ohio Bobcats (4 p.m. start), Sept. 2 against Idaho State (7:30 p.m. start) and Sept. 9 against UCLA (4:30 p.m. start).
SDSU makes a quick road trip to Oregon State on Sept. 16 (12:30 p.m. start) before returning to Mission Valley to host Boise State (7:30 p.m. start) in its Mountain West Conference opener.
The Aztecs' final eight games comprise the team's MW schedule.
Home games include Nevada on Oct. 21 (TBA start), Utah State on Nov. 4 (TBA start) and Fresno State on Nov. 25 (TBA start). Road games include Air Force Academy on Sept. 30 (5 p.m. PT start), Hawaii on Oct. 14 (8 p.m. PT start), Colorado State on Nov. 11 (4 p.m. PT start) and San Jose State on Nov. 18 (7:30 p.m. start).
SDSU is fourth in the conference preseason rankings behind No. 1 Boise State, No. 2 Air Force and No. 3 Fresno State. Rounding out the 12-team conference rankings are No. 5 San Jose State, No. 6 Wyoming, No. 7. Wyoming, No. 8 Utah State, No. 9 UNLV, No. 10 Hawaii, No. 11 Nevada and No. 12 New Mexico.
The Aztecs finished 7-6 last season and have put together a streak of 13 consecutive seasons without a losing campaign.
Five of SDSU's first six games will be against teams that qualified for a bowl game last season, including four 10-win programs: Ohio (10-4), Oregon State (10-3), Boise State (10-4) and Air Force (10-3). UCLA finished 9-4.
Getting his kicks
SDSU senior specialist Jack Browning enters the 2023 season with much expectation after receiving numerous preseasons awards, including a first-team All-American at punter by Sports Info Solutions, the MW Special Teams Player of the Year by the league's media, and a first-team all-MW pick at punter and a third-team selection by Pro Football Focus, Phil Steele Magazine and Athlon Sports at kicker.
Big things are certainly expected out of the West Hills and Grossmont College alumnus after most recently landing on a pair of national watch lists: the Ray Guy Award Watch List and the Lou Groza Award Watch List. The Ray Guy Award goes out to the best collegiate punter while the Lou Groza Award is for the top placekicker.
Browning, from Lakeside, is the only player in the country to make both lists.
Since earning the No. 1 job, Browning has handled kick-offs, place-kicking and punting as the Aztecs' go-to man with extraordinary success.
"I feel like it was something I felt very confident in actually," Browning said. "I've been competing in all three ever since my junior college career at Grossmont. It's something I've had a lot of practice with handling all three duties, and I just felt very confident in working with coach Hall (SDSU strength and conditioning coach Adam Hall) and the strength staff to make sure my body felt right the whole season and it ended up being pretty successful and very confident."
Browning said he's also grown under the tutelage of former Chargers kicker Nick Novak, with whom he has been training since June 2020.
"He's been one of my greatest mentors," Browning said in regard to Novak, who played for the Chargers from 2011-14 during a playing career from 2005-20.
"Not only just the mechanics of punting and kicking but also the mentality of what you need to do and the mindset you need to have when you are in those situations with a game on the line. You've got to be able to hone all those emotions and just channel it into one energy and do what needs to be done. So definitely a lot has come from working with Nick and I'm just truly blessed and grateful to be able to work with him."
Taking over for 2021 Ray Guy Award winner Matt Araiza, Browning had an impressive 2022 season for the Aztecs with 68 punts for 3,135 yards (46.1 average, long of 63 yards) and 20 of 25 field goal attempts made (80.0 percent, long of 52 yards).
He converted all 30 point-after-touchdown kicks en route to being named a second-team Pro Football Focus All-American and an honorable-mention College Football Network All-American, both at punter.
Additionally, Browning was named the Mountain West Special Teams Player of the Year by the league's head coaches and media, SDSU's second straight punter to win the award and fifth winner since 2015.
Browning has exemplified pinpoint accuracy on his kicks. Out of Browning's 68 punts, 28 landed inside the 20-yard line, including 14 inside the 10 and six inside the five-year line to own a 42.3 net punt average.
He also kicked off 59 times for 3,784 yards (64.1 average) with 37 touchbacks, and had two designed rushes for 59 yards (29.5 average) on a pair of fake punts — the first going for 26 yards and the second for 33 yards.
According to Pro Football Focus, Browning had the second-best punt grade (84.4) in the country. He ranked third in SDSU single-season history in punt average (46.10), tied for third in field goals (20) and tied for seventh in field goal percentage (80.0).
Browning is one of 50 punters on the initial watch list for the Ray Guy Award and one of 30 placekickers in line for the Lou Groza Award. Semifinalists will be announced Nov. 9-10. Award winners will be announced in December.