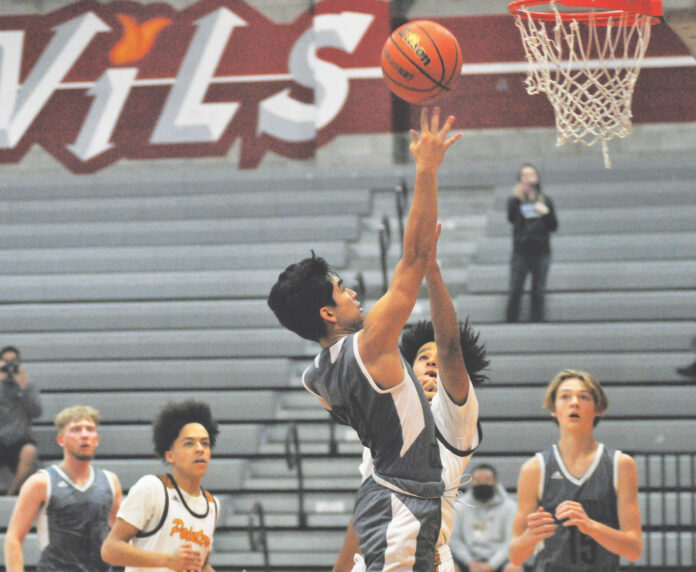 It's tournament time as the 2021-22 high school basketball season tips off.
While some teams have gotten off to fast starts, others are still trying to find their way in the early going of the new season.
Santana High School boys squad dropped to 0-11 on the season following last Saturday's 62-41 loss to Point Loma that dropped the team to 0-2 in the opening rounds of the Frank Pekarek National City Host Lions tournament at Sweetwater High School.
Foothills Christian is also playing in the Sweetwater tournament and fell to 1-8 on the season, 0-2 in tourney play, following Monday's 62-52 loss to Point Loma.
As fate would have it, Santana and Foothills Christian — schools with purple both in their colors — were scheduled to meet Tuesday in a third-round game at Sweetwater High School, thus assuring that one team would pick up a victory before the Christmas break.
Foothills Christian is admittedly in a rebuilding phase with just three seniors: Joseph Hankins, Josh Nafarrete and Nicolas Hadge. The Knights have eight freshmen on the roster.
"We're building on what our program has done in the past," Foothills Christian assistant coach Nate Stieglitz said. "We're building for the future. Our seniors are providing good leadership. We play hard, go after loose balls. We continue to build in what Foothills Christian basketball is built on."
The Knights have built quite a foundation in their history with San Diego Section championships in 2007-10 and 2012 in Division V, 2015 in Division II and 2016 in the Open Division.
Foothills went 24-7 during the 2018-19 season with a runner-up finish in the Open Division championship game and finished 20-10 during the 2019-20 season that included a trip to the Open Division playoffs and another berth in the state playoffs.
The Knights finished 8-17 during the 2021 spring season.
The team's lone win this season entering Tuesday's matchup was 75-68 at Escondido Charter on Dec.10. Hankins led Foothills with 26 points while Hadge poured in 24 points. Nafarrete also scored in double digits with 10 points.
Foothills is 0-2 in Coastal League play after dropping an 82-26 decision to visiting La Jolla Country Day on Dec. 15 and a forfeit loss to Francis Parker on Dec. 17.
Hadge has provided good on-court leadership with a 20.0 points per game scoring average while Hankins is right behind with a 19.6 ppg average.
The Knights will compete in the Aztec Classic at Montgomery High School Dec. 27-30.
Santana finished 7-11 during the 2021 spring season.
Senior Jacob Ortiz paced the team with a 15.7 points per game average through six games this season, followed by sophomore Kaden Heinricy with 7.3 ppg.
The Sultans are scheduled to host Granite Hills and Horizon Prep in non-league games on Dec. 28 and Dec. 30, respectively, to close out the 2021 calendar year.
Santana tips off Grossmont Valley League play Jan. 7 at El Capitan.
The Grossmont Conference looks to be fairly competitive this season. Granite Hills is off to an 8-2 start while Monte Vista is 9-3 and West Hills is 9-4. El Cajon Valley and El Capitan are both 5-5. Grossmont is 6-6, Valhalla is 4-4, Steele Canyon is 5-6 while Helix is 4-6. Mount Miguel (3-7) and Santana (0-11) are currently at the bottom of the conference standings.
Girl power
Mount Miguel (6-2) and Monte Vista (7-4) have already started to pile up wins to tip off the 2021-22 season. Grossmont, meanwhile, was unbeaten in its opening three games while Helix was 2-2 and El Capitan was 5-7.
West Hills had compiled a 5-1 record while Santana was 5-3, Granite Hills was 6-4, Valhalla was 5-5, El Cajon Valley was 5-6 and Steele Canyon was 0-8.
Mount Miguel junior Jennifer Moreno had averaged 20.0 points through five games.