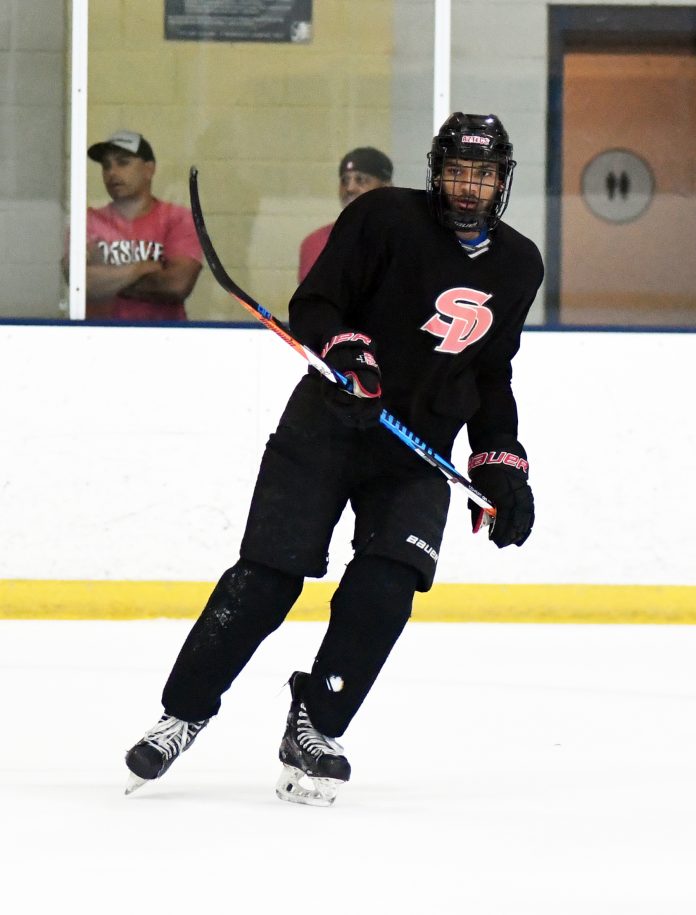 The 2018-19 season ended all too abruptly for San Diego State University's men's ice hockey team, and in brutal fashion at that.
The Aztecs had built a 5-2 lead on the University of Oregon midway through the third period in the opening game of the PAC-8 championship tournament last February in South Lake Tahoe only to see the ice melt beneath their skates in a very unkind 7-5 elimination loss to the Ducks.
Oregon used the momentum of that dramatic victory to sweep through the tournament to claim the championship, defeating the top-seeded Cal Bears by a 3-0 shutout margin in the final, en route to claiming a berth in the American Collegiate Hockey Association's Division II West regional tournament in Tempe.
The Aztecs are back in 2019-20, apparently with a stronger team and definitely with a stronger resolve to find success.
"You always have to watch out for a team with a chip on its shoulder," SDSU head coach Phil Bateman noted after the Aztecs concluded their two-day training camp last weekend at The Salvation Army Kroc Center's ice arena. "This year's team is going to be excellent."
Twenty-seven hopefuls attended last weekend's tryouts, including 12 returners from last season's 13-8-2 squad. Bateman said 11 of the newcomers impressed the coaching staff enough to likely earn roster spots on this season's team.
Fans will not have long to wait to find out how the new-look Aztecs will mesh on the ice when SDSU faces off the new season with a non-conference game against Loyola Marymount University on Friday, Sept. 13, at the Kroc Center. Puck drop is scheduled for 8 p.m.
East County will once again have a sizable presence on the Aztecs, keyed by La Mesa's Elisha Reece, who finished sixth in team scoring last season with 17 points as a freshman.
"My first year was really fun," Reece said. "There were a lot of freshmen on the team and it was really easy to relate to the guys, some of whom I had either played with or against before."
Reece had played one season for the San Diego Sabers in the Junior A Western States Hockey League prior to joining the Aztecs last season, logging six goals and 14 points in 51 games.
"There are a lot less games (in the ACHA college division) but this league is still pretty physical," Reece said.
"There's a lot more bonding here. You see your teammates every day
at school."
Reece, one of the speediest players on the SDSU roster, helped anchor last season's very productive freshman line along with Darien Theberge and Mickey Sullivan. The trio produced 23 goals, including three game-winners.
"It should be a lot of fun this season playing with the same guys I did last year," Reece said. "This year I think we will be a pretty good team. I think we could easily compete for the PAC championship."
Game on
SDSU boasts 17 home games this season — eight against PAC-8 rivals and four against two teams from the Big Ten: the University of Iowa (Jan. 10-11) and the University of Michigan (Jan. 17-18).
The Aztecs will host one of their two home games against Michigan at Pechanga Arena.
The University of Georgia Bulldogs will skate into the Kroc Center for a two-game series Sept. 27-28.
Conference opponents on the home schedule include the Cal Bears (Oct. 18-19), University of Washington (Nov. 1-2), UCLA (Nov. 3), San Jose State (Nov. 8-9) and Arizona State (Nov. 10). The Aztecs will play USC in a two-games road series Oct. 25-26.
SDSU hosts the University of San Diego in a non-conference game on Sept. 22 at 5 p.m.
Bateman said the outlook for the upcoming season is decidedly positive.
"We seem to be adding talent every year," the SDSU coach said. "Our large freshman class last season helped lead us. Of those 11 freshmen, all but three are back. We have a good returning veteran core coming back. We have the makings of a good year. With 17 home games this season, it's going to be exciting."