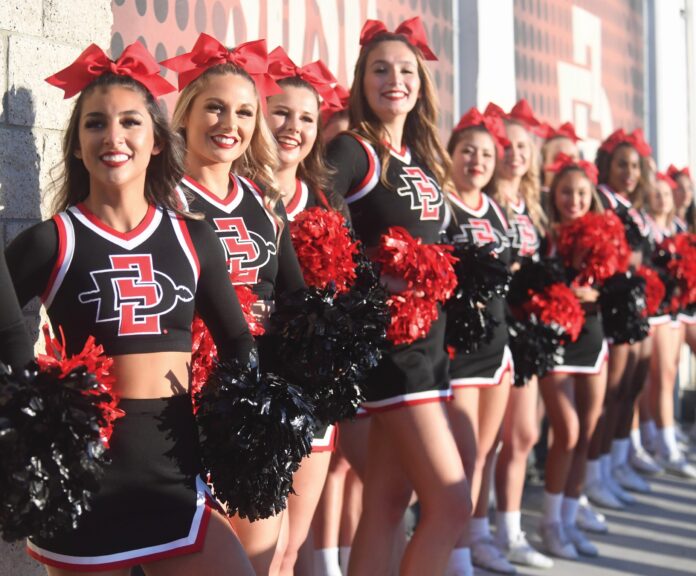 The San Diego State University football program has been looking forward to this date for two years — the date players and coaches could finally play a real home game.
Vanquished from their Mission Valley playing site for two complete seasons while their new 35,000-seat stadium was under construction, the Aztecs will finally take the field at Snapdragon Stadium on Sept. 3 in a high-profile non-conference matchup against the University of Arizona. Kick-off is 12:30 p.m. on CBS-TV.
The impending media blitz should be something to behold. SDSU will play a total of seven home games at Snapdragon Stadium this season before the San Diego Wave of the National Women's Soccer League grabs some of the spotlight by completing their season in the new venue.
Snapdragon Stadium will also host concerts besides sporting events. Jimmy Buffet will grace the stage at the stadium for an Oct. 22 concert. The venue capacity will be expanded to 55,000 for this special event.
The Aztecs' next home game is Sept. 10 against Idaho State, followed by a third home game in September against Toledo on Sept. 24.
SDSU will play eight Mountain West Conference games, starting Sept. 30 at Boise State and concluding Nov. 26 at Snapdragon Stadium against the Air Force Academy.
The conference championship game is scheduled Dec. 3. If the Aztecs fare well, they could conceivably host it in their spanking new digs.
But that's putting the cart before the horse.
Several milestones have been reached during construction. The stadium held its topping off event on July 14, 2021, when the final beam was put into place to complete the structural steel operations. From there, completion of the facility has included seating, scoreboards, concessions, luxury boxes and field installation and a parking lot, among many other items to check off on the list.
SDSU has announced that more than 90 percent of premium seating has been sold to date and the season-ticket base from the last full season has doubled. Tickets to individual games are to go on sale in August. As a perk, season-ticket holders can purchase single-game tickets on Aug. 8, while all remaining Aztec Club members can purchase on Aug. 12. Tickets for the general public will be available on Aug. 15.
Locals only
The 2022 Aztec fall roster lists 16 San Diego region high school alumni, including five from East County schools: junior kicker/ punter Jack Browning (West Hills), redshirt freshman Jaden Brown (Helix Charter), senior receiver Jesse Matthews (Christian), senior linebacker Michael Shawcroft (Helix Charter) and red-shirt-freshman offensive lineman Josh Simmons (Helix Charter).
Matthews and Shawcroft both have three years of experience while Browning has one year of experience on the team.
Headliners among other county locals include senior transfer Braxton Burmeister (La Jolla Country Day) at quarterback and junior cornerback Noah Tumblin (Mira Mesa) and senior receiver T.J. Sullivan (Mt. Carmel), both with two years of experience.
SDSU 2022 FOOTBALL SCHEDULE
SEPTEMBER
3: Arizona at SDSU, 12:30 p.m. PT
10: Idaho State at SDSU, TBA
17: SDSU at Utah, 8 p.m. MT
24: Toledo at SDSU, TBA
30: SDSU at Boise State, 6 p.m. MT
OCTOBER
8: Hawaii at SDSU, 7:30 p.m. PT
22: SDSU at Nevada, 7:30 p.m. PT
29: SDSU at Fresno State, TBA
NOVEMBER
5: UNLV at SDSU, 4 p.m. PT
12: San Jose State at SDSU, TBA
18: SDSU at New Mexico, TBA
26: Air Force at SDSU, 6 p.m. PT
DECEMBER
3: Mountain West championship game, TBA