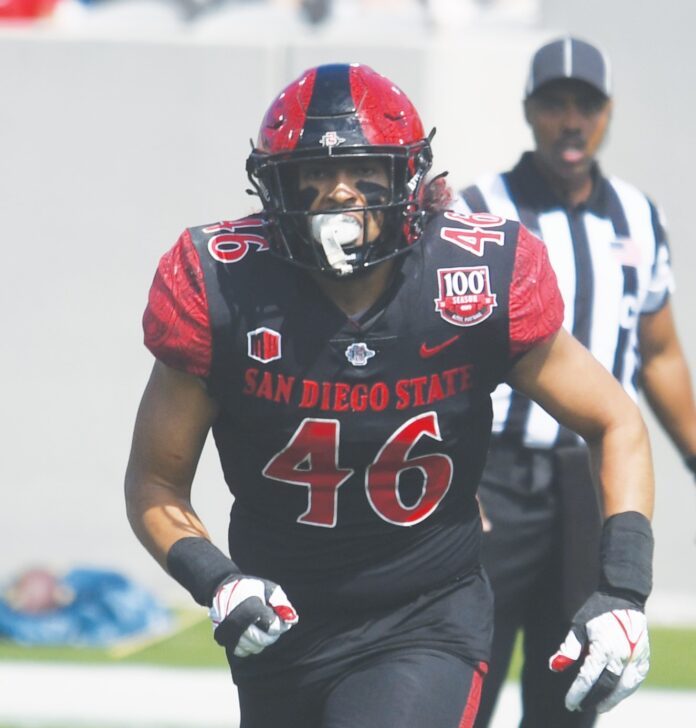 From staff reports
San Diego State University senior linebacker Michael Shawcroft earned honors as the Mountain West Defensive Player of the Week following his performance in last Saturday's 23-7 victory at Nevada-Reno.
The former Helix Charter standout posted a team-high seven tackles, including six unassisted tackles and two tackles for loss of 11 yards, a nine-yard sack and a forced fumble.
It is the first conference weekly award for the former Highlander standout.
The forced fumble was the fifth of Shawcroft's career, which is tied for the ninth most in program history. It was recovered by Patrick McMorris and returned 30 yards for a touchdown to put SDSU on the scoreboard just 54 seconds into the game.
Shawcroft helped limit the Wolf Pack to just 227 total yards, its fewest in a home game since having 203 against Hawaii on Sept. 28, 2019. Nevada's seven points were also its fewest in a home game since the same Hawaii contest (three points). The Wolf Pack managed only 35 rushing yards on 21 carries (1.7 average) against San Diego State with 27 coming on one play.
On the season, Shawcroft leads the Aztecs with 42 tackles (27 solo), six tackles for loss, three sacks (tied) and one forced fumble (tied), while adding three pass breakups and five quarterback hurries. Shawcroft is ranked in a tie for fifth in the MW in tackles for loss per game (0.50), a tie for eighth in sacks per game (0.50), a tie for ninth in sack yards (26) and 10th in tackle for loss yards (35).
The win elevated the Aztecs (4-3 overall) into a first-place tie in the MW West Division standings alongside Fresno State (3-4, 2-1) and San Jose State, all with 2-1 conference records.
SDSU will aim to break that tie atop the division standings when visiting Fresno State on Saturday, Oct. 29. Kick-off is 7:30 p.m. Red and Black
The Aztecs took a 7-0 lead on a 30-yard fumble recovery by Mc-Morris and a PAT kick by West Hills alumnus Jack Browning.
Browning completed scoring in the opening quarter with a 30-yard field goal to put SDSU up 10-0.
The visitors extended their lead to 13-0 with a 27-yard field goal by Browning to cap a 14-play, 79-yard field march midway through the second quarter. Nevada followed with a touchdown in the final minute of the first half as Spencer Curtis caught a 20-yard scoring pass from Shane Illingworth.
SDSU led 13-7 at halftime. The Aztecs added the only 10 points in the second half on a 23-yard field goal by Browning – his third field goal of the game – and a 32-yard scoring run by quarterback Jaylen Mayden to cap a quick four-play, 51-yard scoring drive late in the third quarter.
Nevada dropped to 2-6 overall, 0-4 in conference play, in front of 16,363 fans who braved the 45-degree temperature at kick-off.
SDSU out-gained the host 317-227 in total offensive yards, including a wide margin of 161-35 net rushing yards.
The Aztec defense forced the Wolf Pack into seven punts. Mayden completed 12 of 25 passing attempts for 156 yards with no touchdowns, no interceptions and two sacks. He added 58 yards on the ground on seven carries.
Chance Bell rushed 12 times for 57 yards while Jordan Byrd had 10 carries for 32 yards. Tyrell Shavers had three catches for 36 yards while Mark Redman had two catches for 34 yards.
Christian alumnus Jesse Matthews had two catches for 27 yards. Brionne Penny had one catch for 22 yards while Braxton Burmeister had one catch for 19 yards. Mekhi Shaw had one catch for 13 yards as Mayden targeted 10 different receivers.
Browning once again led the team in scoring with 11 points on the three field goals and two extra-point conversions. He averaged 47.4 yards on five punts with a long of 59 yards to tie a career best. The Grossmont College transfer averaged 64.0 yards on six kick-offs with three touchbacks.
On the season, Browning is 12-for-13 on field goal attempts (92.3 percent) and perfect on all 14 extra-point conversions. He leads the Aztecs in team scoring by a wide margin with 50 points compared to runner-up Byrd (30 points).