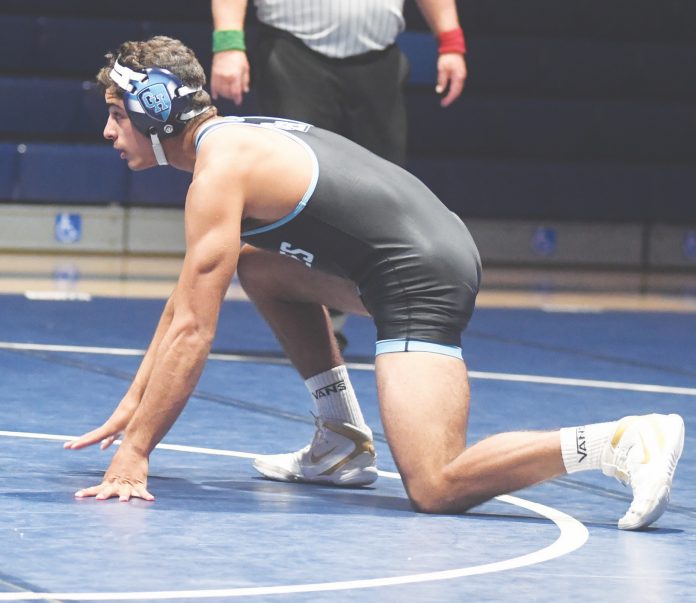 It was a memorable season for the five seniors — and everybody else — on the Granite Hills High School wrestling team during the recently completed 2020-21 season.
Coed competition continued through the conference finals before separating into girls (May 22) and boys (May 29) divisional championship tournaments.
Senior Kailey Smith won her 103-pound weight class as the Eagles' lone representative at the single-division girls tournament at Santana High School.
She showed her dominance by pinning all three of her opponents in the first period to walk off the mat with the individual weight class championship.
In all, Smith finished her highly decorated Granite Hills career as four-year varsity letter-winner, CIF champion, Masters champion and state qualifier.
"Kailey has locked down our 106-pound weight class the last four years," Eagles head coach Jesse Sheard said. "Her dedication to getting better and winning is what made her so tough."
The Granite Hills class of 2021 included three four-year letter-winners. Joining Smith at the top of the team's honor roll were fellow seniors Justin Carroll and Joel Corella.
All three grapplers finished as Grossmont Conference champions at the league finals held May 15 at Granite Hills High School.
Additionally, both Carroll (138 pounds) and Corella (152 pounds) finished runner-up in their weight classes as the Eagles soared to a runner-up finish at this year's Division II finals held at San Pasqual High School.
Carroll finished his high school wrestling career as a Holtville Invitational champion and CIF runner-up.
He won the 145-pound title at this year's conference tournament with a 59-second pin. He opened the division finals with a pair of first-period pins (1:13 and 0:59), then tacked on an 11-1 major decision in the semifinals to advance to the championship round.
He dropped a 13-8 major decision to Poway's Johnny Lopez in the gold medal match.
"Justin has been a great asset to our team the last four years," Sheard said. "He is a great kid who will be very successful in his life. We are definitely going to miss him."
Corella ended his high school career as a two-time CIF runner-up, Masters runner-up and 2020 state qualifier.
He won the 152-pound title at this year's conference tournament with a 16-2 major decision. He won his opening three matches, including two by pins, to advance to the championship round at the division finals.
Corella lost by a 5:23 fall to Poway's Anthony Ching in the gold medal match.
"Joel has been a big part of our team's success," Sheard said. "He is always ready to work hard and do what needs to be done for the team. Joel has had a good run at Granite and will be missed."
Senior Izak Arredondo finished his career as an Eagle as a three-year varsity letter-winner.
"Having Izak in the upper weights was always an advantage for us," Sheard said. "Izak was a hard worker who never gave up no matter the circumstance."
Broc Ludeke, who also played on the school's football's team, finished his senior year with a 1-2 record at the division finals with a first-period pin while competing at 195 pounds.
"Broc was someone we could count on whenever we needed to fill a weight," Sheard said. "The majority of the time being undersized, Broc would give it his all and do what is best for the team."
Soaring Eagles
Granite Hills finished runner-up to Poway in the team standings at the Division II boys championship tournament. The Titans, with a tourney best 328 points, won their 40th section title in program history while winning nine individual weight class titles.
The Eagles finished second in the 18-team field with 172.5 points to place ahead of Mt. Carmel (third place, 108 points), Bonita Vista (fourth place, 83 points) and Olympian (fifth place, 78.5 points).
Vista (sixth place, 76.5 points), San Pasqual (seventh place, 63 points), Grossmont (eighth place, 60 points), Escondido (ninth place, 50 points) and Rancho Buena Vista (45.5 points) rounded out the top 10 teams.
Granite Hills advanced four wrestlers to the championship round, with sophomore Collin Guffey winning the 120-pound weight class with a 6-2 decision over Poway's Paul Kelly.
Guffey finished 3-0 at the tournament with two pins.
Carroll and Corella joined heavyweight Logan Ransdell as runner-up finishers.
Ransdell finished second in his 285-pound heavyweight division following a loss by a 1:33 pin to Poway's Jamikael Lytle. The Eagle mat man opened the tournament with pins of 1:47 and 4:13 to advance to the championship round.
Granite Hills had a total of nine wrestlers earn place-finishes at the Division II finals.
Desean Floyd finished third in his 106-pound weight class with a 2-1 record that included a 27-second pin and 6-0 minor decision.
Camren Carmickle placed third in his 113-pound division with a 3-1 record that included an 18-12 decision, 19-4 technical fall and 2:39 pin.
Ian Brown finished third in his 132-pound weight class with a 4-1 record that included three pins. His only loss was by a 17-2 technical fall to Poway's Andre Gonzales, the weight class champion.
Zachary Waterhouse placed third in his 145-pound class with a 4-1 record after battling back with four consecutive wins following a quarterfinal-round loss to eventual weight class champion Nolan Tolentino of Poway.
Carson Boehm placed third in his 170-pound division with a 3-1 record, including a win by a 3:23 pin and 17-4 major decision.
Eight Eagles advanced as far as the championship semifinals.
CIF roll call
Grossmont's division place-winners included four wrestlers with fourth place medals: Andrew Mercado (106), Jacob Barnes (113), Alishan Zhushkinov (132) and Andres Virgen-Gonzales (182).
West Hills finished third in the team standings at the Division III finals held at Montgomery High School while Santana finished eighth in the 18-team entry field.
El Capitan's Manuel Lopez decisioned El Cajon Valley's Soihail Ameer Hussain by a 16-1 technical fall in an all-East County championship match at 126 pounds.
Monte Vista's Zahi Davis won the 145-pound individual title with a 10-2 major decision over Cathedral Catholic's Nick Rodriguez.
West Hills' Adler Osborn finished runner-up in his 182-pound division following a loss by a 1:45 pin to La Costa Canyon's Jaden Tackett.
Santana's Liam Clark placed runner-up in the 220-pound division following a loss by a 51-second pin to Brawley's Alan Carrillo.
Santana's Jessie Hernandez (113), El Capitan's Stryder Prather (145), West Hills' Ryder Dearborn (160), Monte Vista's Josiah Plascencia (220) and West Hills' Jacob Espinosa (285) all placed third.
The Division IV tournament took place at Mount Miguel High School. Mountain Empire engineered a tie for third place in the team standings with 85.5 points alongside Mater Dei Catholic while host Mount Miguel placed sixth with 65.5 points.
Holtville emerged as division champion with 216.5 points while runner-up Imperial finished with 151.5 points.
Mountain Empire's Larry Clark (182) and Mount Miguel's Seamus Boyle (285) both won individual titles while Mount Miguel's Christopher Pedroza (126) and Mountain Empire's Aidan Hamada (152) both finished second.