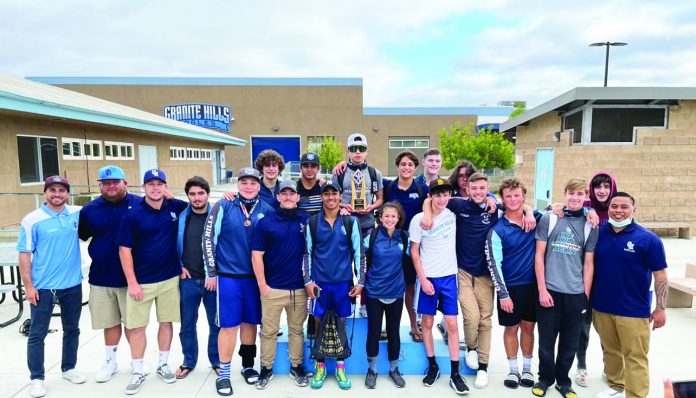 The high school wrestling season was a hodge-podge of matches. Due to the ongoing coronavirus pandemic and associated protocols, not all teams had full rosters.
Thus, dual meet competition may not have exactly showcased the strength of each team's lineup.
The Grossmont Conference had long held a season-ending tournament but that was discarded several years ago as the San Diego Section schedule expanded. Coaches renewed the concept this year in order to fill in the gaps in  lineups.
Eleven teams scored points in last Saturday's conference-wide coed field, topped by the Granite Hills Eagles with 234.5 points.
Granite Hills finished as last year's Grossmont Hills League dual meet champion and finished undefeated in dual meets this season.
"Not having a dual meet against Valhalla or Steele Canyon was definitely a bummer but winning the league tournament definitely does validate the season for us," Eagles head coach Jesse Sheard said. "This year the tournament decided two things — who was the Grossmont team league champion, and who was all-league and second team all-league.
"I was impressed with the way we wrestled. We had nine finalists with seven champions and 13 placers. Our athletes showed up and wrestled tough. Our upperclassman did what they were supposed to, but our underclassman came out and made a statement. Our team has worked hard for a really long time, so it was awesome to see it all pay off. Winning league is just the beginning for us. We have CIF in two weeks, so we are going to get prepared for that now."
Parade of champions
The Grossmont Foothillers finished in second place at last weekend's conference tournament with 164 points, followed on the scoresheet by Helix Charter in third place with 122 points, West Hills in fourth place with 102 points and Santana in fifth place with 74 points.
El Capitan (sixth, 57 points), Mount Miguel (seventh, 55 points), Valhalla (eighth, 53 points), Steele Canyon (ninth, 45 points), El Cajon Valley (10th, 19 points) and Monte Vista (11th, 17.5 points) rounded out the remainder of the field.
Granite Hills led the conference with seven individual weight class champions: Kailey Smith (108 pounds), Camren Carmickle (115), Collin Guffey (122), Devon Wells (128), Ian Brown (134), Justin Carroll (147) and Joel Corella (154).
Helix Charter had three individual weight class champions: Lex Lo (184), Ryuto Peery (197) and Jayden Avila (287).
Valhalla had two weight class champions: Anthony Kai Treltas (162) and Ezra Moore (172).
Steele Canyon's Randall Lockwood won the 140-pound class while Santana's Liam Clark captured the 222-pound division.
Carroll earned honors as the tournament's outstanding lightweight wrestler while Lo was bestowed with the outstanding heavyweight award.
Eight of the 14 championship matches were decided by a pin while two ended in major decisions. One match was decided by a technical fall while three matches ended in minor decisions.
Grossmont finished with six weight class runners-up while Granite Hills had two wrestlers place second in their respective weight classes. Helix, Santana, El Cajon Valley, El Capitan, Monte Vista and Mount Miguel were also represented in the championship round.
In finals matches:
Smith, who became the first East County wrestler to win her weight class at last year's inaugural San Diego Masters state qualifying girls tournament, recorded a 7-2 decision over Grossmont's Andrew Mercado to win this year's coed conference tournament 108-pound title.
Carmickle out-pointed Santana's Jessie Hernandez 7-4 to win the 115-pound division while Guffey pinned Helix's Isaiah Graves in 4:28 to claim the 122-pound title.
Wells won by a 15-0 technical fall over El Cajon Valley's Ahmed Sohail Ameer at 128 pounds while Brown pinned El Capitan's Manuel Lopez in 5:15 in the 134-pound title match.
Lockwood won by a 10-6 decision over Grossmont's Hasan Bassam at 140 pounds while Carroll pinned Monte Vista's Zahi Davis in 59 seconds at 147 pounds.
Corella won by a 16-2 major decision over Grossmont's Moses Saucier at 154 pounds to conclude the string of championship-round victories by the Eagles.
Treltas defeated Granite Hills' Keagen Kroeger by an 11-2 major decision at 162 pounds while Moore pinned Grossmont's Onel Hanna in 1:36 to win the 172-pound title.
Lo pinned Grossmont's Andres Virgen-Gonzales in 3:02 at 184 pounds while Peery won by a 2:32 fall over Granite Hills' Kade Gaeir at 197 pounds.
Clark pinned Grossmont's Adrian Rodriguez Blass in 5:27 to win the 222-pound title while Avila won by a 2:57 fall over Mount Miguel's Seamus Boyle at 287 pounds.
In third-place matches:
DeSean Floyd of Granite Hills pinned Helix's Sebastian Bagtas in 2:51 at 108 pounds while Brady Warren of West Hills recorded a 3:14 fall over Grossmont's Jacob Barnes at 115 pounds.
Mount Miguel's Christopher Pedraza won by a 14-8 decision over El Capitan's Jacob Jones at 122 pounds while El Capitan's Lucas Mattalone pinned Grossmont's Brett Biesel in 5:27 at 128 pounds.
Grossmont's Dylan Instone pinned El Capitan's Joshua Rosson in 3:45 at 134 pounds while Granite Hills' Zach Waterhouse pinned Mount Miguel's Abran Sotelo in 53 seconds at 140 pounds.
El Capitan's Stryder Prather won by a 10-7 decision over West Hills' Justin Zingale at 147 pounds while Dylan Manley of West Hills won by a 2:00 fall over Helix's Jacob Epperson at 154 pounds.
Grossmont's Zack Jones out-pointed Steele Canyon's Jonathan Kaiser, 4-0, at 164 pounds while Granite Hills' Carson Boehm captured an 8-4 decision from West Hills' Cesar Aguilar at 172 pounds.
Adler Osborn of West Hills pinned Valhalla's Anthony Coyle in 3:05 at 184 pounds while Cody Musser of West Hills pinned Santana's Zachery Bader in 4:52 at 197 pounds.
Santana's Gavin Clark pinned Mount Miguel's Dionte Floyd in 45 seconds at 222 pounds while Granite Hills' Logan Ransdell pinned West Hills' Jacob Espinosa in 2:00 at 287 pounds.
Next up
The San Diego Section has approved culminating divisional championship events in both boys and girls competitions.
The girls divisional is scheduled May 22 at Santana High School while four boys divisional tournaments are scheduled May 29.
San Pasqual High School will host the Division II tournament while Montgomery High School will host the Division III tournament. Mount Miguel High School will host the Division IV tournament while a venue is still under determination for the Division I tournament.
There will be no section Masters tournament or state championship events this year.