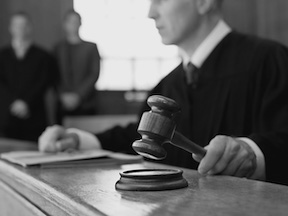 A Santee man who carjacked a 77-year-old woman and assaulted an inmate in jail afterwards will face a maximum term of 7 years in prison after pleading guilty.
Christopher Frank DiSalvo, Jr., 31, was promised a 7-year term by an El Cajon Superior Court Judge John Thompson Feb. 26.
Deputy District Attorney James Koerber said DiSalvo faced up to 14 years in prison without a plea agreement. Sentencing was set for March 26, and DiSalvo remains in jail without bail.
DiSalvo asked unsuccessfully to remove a sentencing enhancement that required him to admit he committed elder abuse when he carjacked the woman outside a Santee restaurant at 1 p.m. on June 19, 2020.
DiSalvo drove away after taking the woman's purse and cell phone, but crashed into a tree in the 4600 block of Palm Drive in La Mesa. He was arrested across the street.
Three counts of auto theft and evading police with reckless driving were dismissed against DiSalvo "in the furtherence of justice and a 7-year prison term," said Koerber in court.
Sheriff's deputies administered a dose of Naloxone, a lifesaving nasal spay that can reverse the effects of an opioid overdose after DiSalvo showed symptoms of a drug overdose after his arrest. Deputies said DiSalvo admitted taking drugs before the carjacking.
•••
A June 10 preliminary hearing has been set for George Louis Garcia, 42, who is accused of killing his ex-girlfriend's adult son in El Cajon.
Fabian Esteban Cerda, 21, was shot during an argument on Aug. 18, 2020 in the 1500 block of E. Main Street in El Cajon.  Garcia was arrested six days later by members of the San Diego Regional Fugitive Task Force in a La Mesa hotel parking lot.
Court records show that Garcia was convicted of attempted murder in 2000. As a felon, he was not allowed to possession firearms or ammunition as he was on parole.
Garcia is charged with possessing firearms and ammunition by a felon as well as evading police with reckless driving.  He has pleaded not guilty and remains in the George Bailey Detention Facility without bail.
•••
A bank robber who stole money from three tellers in La Mesa and committed two other hold-ups was sentenced Feb. 25 to five years in federal prison.
Ryan W. Nelson, 38, was ordered to pay $11,572 to the businesses he robbed by U.S. District Court Judge Cynthia Bashant in San Diego.
"These robberies were a terrifying and unforgettable experience for the victims," said U.S. Attorney Robert Brewer before he stepped down on Feb. 28.
Nelson pleaded guilty to all three robberies in Oct., 2020. He robbed the Wells Fargo Bank inside a Vons supermarket at 8011 University Ave. which lost $9,600 on Aug. 23, 2019.
He also robbed a U.S. Bank branch also inside a Vons store and held up a Shoe Palace store in National City at gunpoint to a pregant worker in 2019. He pretended to be a construction worker and came with a disguise at the shoe store.
"Violent crime investigations are a priority and our agents are dedicated to bringing justice for the victims and the communities affected by these robberies," said Suzanne Turner, FBI special agent in charge.
"The FBI's Violent Crime Task Force is out on the street with our local partners every day working to keep San Diegans safe," said Turner.
Nelson was arrested several days after the last robbery at his San Diego home. Agents found a gun and $2,030 in cash, records say.