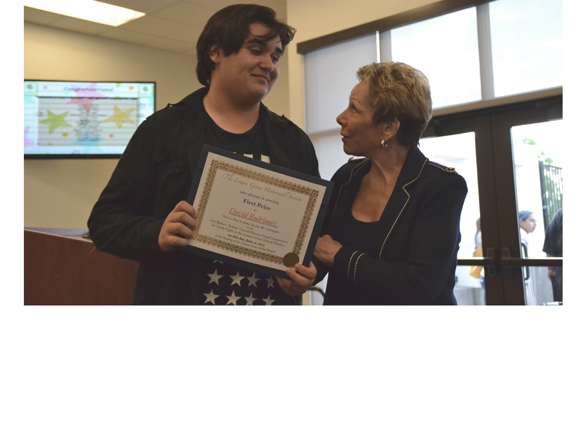 La Mesa Chamber of Commerce President Mary England's son, Bobby Carroll loved English. According to her, it was one of his favorite subjects. England is the businesswoman and community figure who knows someone everywhere, is always making conversation and plans, and seems the type to do something, when something could be done. In honor of her son, she started the Annual Bobby Carroll 8th Grade History Essay Competition with the Mary England Endowment for Education Endowment, and each year, first, second and third place winners are selected from persuasive essays submissions.
Awards were presented on June 9 during the Lemon Grove School Board meeting at the Lemon Grove Library on Monday.
The topic for the 2015 essay contest was "How do we achieve virtue and freedom in a democratic republic form of government?" The students chose from quotes by George Washington, Benjamin Franklin, Thomas Jefferson, and James Madison as a basis for their position.
This year there was an unusual tie for third prize, Alissa Laverdiere of Lemon Grove Academy for the Sciences and Humanities, and Melesio Huizar of Vista La Mesa Academy. Second prize went to Hannah Gonzalez of Lemon Grove Academy for the Science and Humanities. David Rodriguez of Vista La Mesa Academy took first prize.
England was pleased with the quality of the submissions, but it made judging difficult. The essays represented at the award ceremony were all deserving, all students demonstrating critical thinking and sound understanding of what virtue and freedom truly mean in society and government.
"I judge essays for the Miss La Mesa Pageant and those ladies are [ages] 16 to 22, and you parents should be proud of your essay writers, the grasp of the subject matter was amazing. It is my pleasure to endow this in my son's memory," said England.
"All the essays were fabulous, but first prize, David Rodriguez, is going to get into politics or something, I can already tell," England said of the first place winner.
Teachers Doris Christopher and Frank Wulftange were also honored by England for their guidance and mentoring of the prize-winning students.
"I think that what impacted me the most was my teacher, Mr. Wulftange. He made me see things in a different way," said second prizewinner Hannah Gonzalez. "When I was writing it I was thinking, how would it push me to go farther in life, how is this going to help me, what is virtue in my life?"
Wulftange, however, gave Gonzalez all the credit.
"If you were to see her in class, she would impress you to no end," said Wulftange. "She is very kind and respectful. The essay was about the connection between freedom and virtue, and she is a perfect example of that very thing."
Laverdiere, third place winner, has a lot to say about power and government.
"People think government has all the power, but the people have the power, because they control the government. We have the decision, who is in control. We know that we have freedom, but we don't appreciate it as much as we should," said Laverdiere, who is interested in a career in physical therapy.
The teachers and school board members shook hands with and patted the essay winners on their backs, the parents beamed, and optimism took up all the space in the community room of the library, because the four students standing proudly did remarkably well what educators asked of them—they asked them to think, and to think critically. To make a good argument and support it, in an application to society.
Rodriguez, Gonzalez, Laverdiere and Huizar are off to high school now, with good perspective and a notch in their favor.