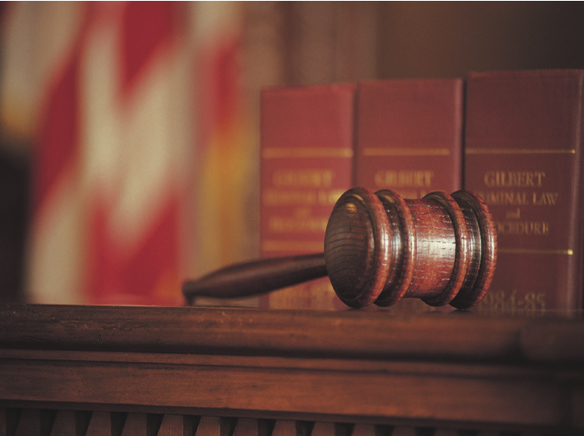 A suspect in a 2017 deadly burglary in Lemon Grove will have a preliminary hearing on July 14.
Joshua Tanielu Manu, 26, who is also known as Joshua Story, was not arrested until Aug. 21, 2019, and has remained in jail without bail.
He is charged with murder of his alleged burglary companion, Derek Harris, Jr., 15, whom a homeowner fatally shot on Feb. 7, 2017. The homeowner's son was also shot during the 2 a.m. home invasion.
Manu is also charged with attempted murder and robberies of the son and his father. In addition, he is charged with five robberies the previous night, burglary, and possession of a firearm by a felon, according to court records.
Manu appeared on a video screen from jail before El Cajon Superior Court Judge John Thompson and waived his right to have a speedy hearing.
•••
Steve Homoki, 31, of Spring Valley, will have a July 16 preliminary hearing on charges he illegally possessed assault weapons after he video recorded himself practicing a mass shooting.
Homoki was given the date May 12 by San Diego Superior Court Judge Laura Halgren. Homoki, who remains in jail on $1 million bail, appeared on a video screen from jail.
Attorneys also appeared on video during the hearing due to the emergency declaration about the spread of the coronavirus.
Homoki has pleaded not guilty to three counts of possessing an assault weapon in his home and three counts of child endangerment. Prosecutors said the weapon was unsecured in his home where he lived with his children.
Homoki made a video on March 22, 2019, in which he depicted himself pointing weapons outside a hotel window in downtown San Diego.  He posted the video in Sept., 2019, and someone eventually reported it to the FBI.    
Homoki is not charged with any offense from making the video, but all six counts stem from a visit by the FBI to his home when they seized 14 weapons.
•••
A Ramona man will remain in federal prison until 2035 for distributing heroin that resulted in the death of another Ramona man, according to the U.S. Bureau of Prisons.
Maxwell Joseph Gaffney, 26, was sentenced Feb. 12 to 20 years, but he will be released in 2035, after receiving credits of two years behind bars recently.
Kyle Rodriguez, 23, died Feb. 17. 2017.
It is a little known law that carries a mandatory 20-year penalty, but U.S. Attorney Robert S. Brewer, Jr., has filed multiple cases against others where illegal drugs have caused deaths.
A federal jury convicted Gaffney in 2019 after deliberating only two hours.
Judge Michael Anello noted the law didn't allow for a judge's discretion to reduce the sentence.
Anello said the victim was "a good friend of the defendant (who) was selling drugs to support his own habit."
The victim's mother, Sheila Scruggs, and Kyle's girlfriend, Patty Corona, both told a reporter after the sentencing that "there are consequences" for such a crime.
Scruggs recounted how they found Kyle Rodriguez collapsed in the bathroom. Scruggs, a nurse who has done CPR many times, could not get a pulse and neither could paramedics.
Her son's drug struggles began after he became addicted to painkillers after his foot was crushed by an off-road vehicle.
Gaffney's attorney, Thomas Matthews, told the judge it was "a miscarriage of justice here" for such a long sentence for his client, whom he described as "a small town dealer trying to support his own habit."
Matthews said the law is meant for fentanyl cases, not heroin, and called it "a flaw in our judicial system."
Gaffney told the judge "I don't think it will deter anyone from using heroin."