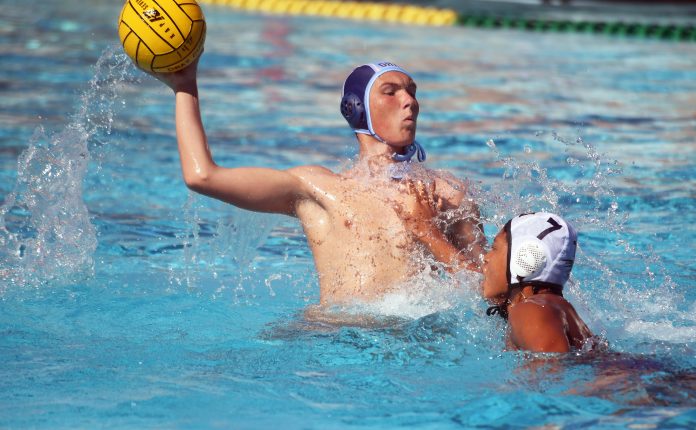 High school boys water polo fans got a preview of the 2019 season when the 14 annual Dick Draz Classic splashed down at the Granite Hills High School Aquatic Center Aug. 9-10.
Warm weather greeted players, coaches and fans over the two-day event that showcased 16 games and spotlighted eight East County teams. Action also got hot in the pool via a number of competitive match-ups.
As is tradition, the goal for all teams at this point of the season is to compete for their respective league titles and go deep into the San Diego Section playoffs.
Thus, optimism reigned at this year's preseason gathering.
"We have a small, fairly inexperienced group but we have a ton of potential," explained longtime Granite Hills coach Rhett Gaeir, who has coached at the school since 1995. "We have all the tools to be very successful this season."
The Eagles swam past the Del Norte Nighthawks, 11-8, at the Draz Classic as Kobe Gaeir and Mason Smalls each scored three goals and Adam Plotts and Drew Stinnett both scored two goals.
Coach Gaeir is joined on this year's team by nephews Kobe and Austin Gaeir.
Austin Gaeir was credited with one goals in the preseason win over the Nighthawks.
Top returners include the Gaeir cousins, as well as Smalls, Stinnett, Plotts and Ryder Harris. All are seniors expect Stinnett, a junior.
Sophomore goalie Lucas Johnson headlines the team's impact newcomers.
The Eagles are shooting high this season after ending last year with an 8-7 loss to Patrick Henry in the Division II quarterfinal playoffs.
"We know our league is very tough and we want to be competitive within our league," the Granite Hills coach said. "We want to win Division II CIF. There are a lot of teams in the division that are capable of winning it. The division is going to be fun this year."
Joel Hull and James Searls are other longtime East County coaches who are returning to the bench this season.
Hull started coaching at Helix in 1992 while Searls is entering his 20th year at West Hills.
Helix finished 22-7 last season, winning the Grossmont Valley League championship while advancing as far as the Division III semifinals. The Highlanders won the Division III title in 2016.
Hull said he'd like to see more consistency from his group that has been bouncing back and forth between the Division II and Division III levels the past few years.
Hull said the team's key to success this season will be from contribution throughout the lineup.
"We return two of our nine players," Hull assessed of the team's hit to graduation. "A lot are coming up from JV but a lot of them have played water polo before high school. We have a pretty even group. We can't have one guy do everything. Everyone has to contribute."
Top returners include Lucas Osborn and Lucas Theroux, two-meter guards Javier Gamez and Ryan Salas, as well as Baden Gloyer, Gavin McMillan and Kyle Lemler.
Theroux, Gloyer and McMillan each scored two goals in Helix's 10-6 preseason win over Classical Academy.
The Highlanders will be vying for the league title with El Capitan and West Hills this season. El Capitan and West Hills finished in a tie for second place last year.
"I think all three of us have something to prove," Hull said. "West Hills would like to say they have a chance. El Capitan always seems to sneak up on people. We know each other so well. Whenever we play them, it doesn't matter who has the better record. It's a dog fight."
Searls noted his team, which finished 17-14 last season, features "a solid goalie (Noah Dare) and a lot of speed this year."
Top returners include junior Tony Obregon and senior Ayden McClure from last year's Division II quarterfinalist team.
The opening of the campus pool has definitely helped enhance the Wolf Pack program. "We have a more consistent group of kids coming out," Searls said.
In other games during the preseason event, Steele Canyon doubled up La Jolla, 14-7, while Valhalla out-pointed Point Loma by a score of 10-6.
Steele Canyon won last year's Division II championship after winning the Division III title the year before that. The Cougars are shooting for a three-peat this season at either the Division I or Open Division level.
The preseason win over La Jolla, a state qualifier last season, has already sent waves rippling throughout section pools.
Trevor Moore led the Men of Steele with seven goals in the preseason win over the Vikings.
Valhalla received five goals from Erik Nordquist in the win over Point Loma. 
The Norsemen have since followed that up with regular season wins over Clairemont (19-8 on Aug. 19) and Scripps Ranch (12-6 on Aug. 23) to start the new season 2-0.